Homepage
> Les profils Sciences Po nous intéressent pour leur pluridisciplinarité, diversité, ouverture d'esprit et adaptabilité
Les profils Sciences Po nous intéressent pour leur pluridisciplinarité, diversité, ouverture d'esprit et adaptabilité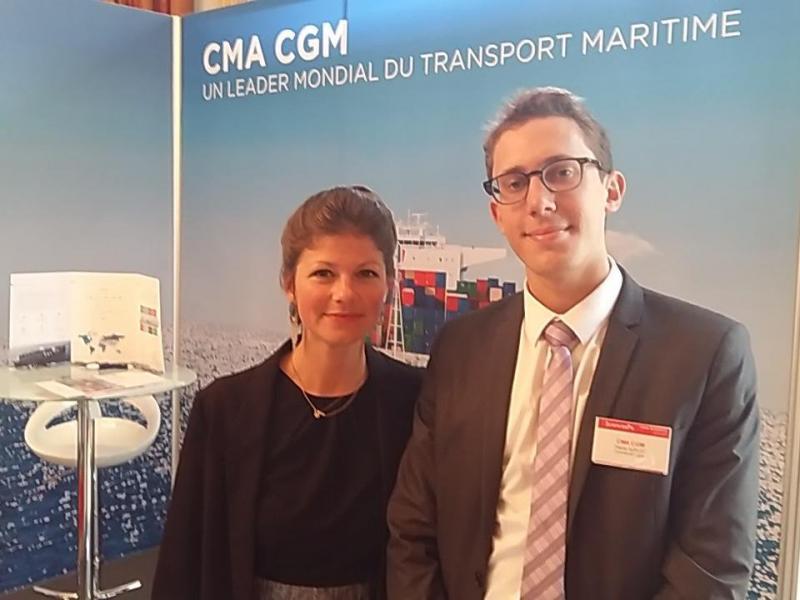 Lena Silberberger est responsable RH et des relations écoles au sein de CMA-CGM et participera pour la 3ème fois au Forum Sciences Po entreprises vendredi 30 septembre. Elle explique pourquoi CMA/CGM s'intéresse aux profils de Sciences Po et sur quelles fonctions ils sont recrutés...
Service carrières (S.C) - Pourquoi voulez-vous recruter les profils de Sciences Po ? Quels sont leurs atouts et particularités ?
Lena Silberberger (L.S) - Les profils Sciences Po nous intéressent pour leur pluridisciplinarité, diversité, ouverture d'esprit et adaptabilité. Les étudiants et diplômés de Sciences Po ont en effet une autre vision du monde, ils savent amener une réflexion et des points de vues différents pour une situation donnée. De plus, ils disposent souvent d'une ou plusieurs expériences à l'étranger, ce qui leur confère la maîtrise de plusieurs langues. Ces qualités nous intéressent d'autant plus que nous travaillons en immersion dans un environnement international !
(S.C) À quels postes travaillent les Sciences Po en emploi ou en stage chez CMA/CGM ?
(L.S) - La plupart des opportunités que nous offrons sont proposées au sein de notre siège social CMA/CGM à Marseille où nous disposons d'une très large palette de métiers. Pour en citer seulement quelques-uns: commercial/marketing, business development, finance, communication, RH....De plus, nous offrons de belles opportunités de VIE dans le monde entier, et le plus souvent en Afrique et Asie.
Nous proposons aux étudiants et diplômés de Sciences Po des stages et emplois dans tous les domaines et pouvons retrouver des stagiaires et aussi diplomés Sciences Po sur des métiers très diversifiés : directeur financier ou directeur logistique/terreste, des stagiaires en business development sur les lignes maritimes, dans notre cellule innovation et development, dans le service juridique ou encore dans notre service SSE (Sécurité/Sureté).
S.C - Avez-vous déjà recruté à l'issue du Forum ? Dans quels cas recontactez-vous les étudiants après le Forum ? quels sont les profils qui retiennent le plus votre attention ?
(L.S) - Nous avons recruté plusieurs stagiaires suite au Forum entreprises 2015 pour différents départements et nous espérons bien recruter à nouveau vendredi 30 septembre lors de cette nouvelle édition. En général, nous recontactons l'étudiant à l'issue du Forum si son projet professionnel correspond à un de nos besoins et si sa personnalité nous a convaincu et correspond à la culture de notre groupe, à savoir : dynamisme, imagination, la créativité et la détermination.
en savoir plus
Voir la fiche CMA/CGM et les opportunités d'offres le jour du Forum
Mon premier emploi chez CMA/CGM : un aboutissement après des stages variés à l'international
En stage chez CMA/CGM, on est content de marcher le long du vieux port en direction de son bureau
Crédit photo : Sciences Po
Lena Silberberger et Pierre Auplat au Forum Sciences Po Entreprises 2015
2016-09-27
Students / Graduates
Login
29.03.2017
Are you willing to recruit at Sciences Po in job or internship ? The Career service's website allow you to autonomously post and monitor your offers.
02.11.2017
Le 16 Juin, Sciences Po Avenir change de nom et dévoile le nouveau site du Service carrières. Plus clair et plus fluide, il offre à l'ensemble des utilisateurs de nouveaux outils pour favoriser la mise en relation étudiants / employeurs et l'insertion professionnelle.
Read more news