Homepage
> International Organisations Career Day
International Organisations Career Day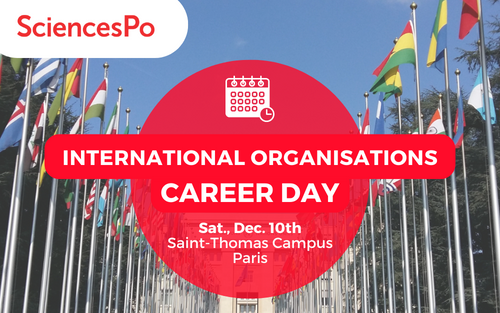 Sciences Po's employability survey shows that International Organisations are one of the key targets for many Sciences Po graduate students. They work in a variety of positions: analysts, specialized consultants, advocacy managers, project managers, foreign affairs specialists, policy advisors, program managers, lawyers, and journalists...
For one day, HR representatives of various IOs are invited on campus to meet with students and alumni to discover their future career paths. You will learn the competencies and skills needed to work with them, as well as tips and guidance to stand out in their recruitment process.
Registration for students is mandatory here
PROGRAMME
9.45AM-11am
General opening
Panel 1 : Overview of the future skills needs in IOs
with IOM, UNESCO, UNDP, FAO
Live in Amphi Jean Moulin + replays in Simone Veil (28SP) and B001 (1ST)
------
9.45AM- 6PM
Exhibition Center with HR representatives open all day
1 Saint-Thomas in Cafeteria, rooms CS and McCourt Institute
------
11AM-2PM & 3PM-6PM
Individual presentations by organisations
Amphi Jean Moulin (13U), Simone Veil & H101 (28SP)
Rooms in 1 Saint-Thomas Campus
------
2PM-3PM
Panel 2: How to Prepare an Outstanding Application
with ADB, UNICEF, OECD, UNGeneva
Live in Amphi Jean Moulin + replays in Simone Veil (28SP) and B001 (1ST)
PROGRAMME OF INFORMATION SESSIONS
EXHIBITION CENTER
PARTICIPATING ORGANIsATIONS
Last modified 2022-12-08
04.09.2023
If you are looking for interns or future employees, our guide 'Recruit at Sciences Po' will provide the relevant information about our students, the careers we train them for and how to leverage this great pool of talent to meet your recruitment needs.
06.09.2023
Launched by two graduates (class of 2020) from Law School : Agnès de Fortanier (Master in Economic Law) and Thomas Harbor (dual degree Sciences Po HEC), What's up EU is a newsletter putting together a concise, well-documented, and informative weekly wrap-up of the news that matters at a continental scale — from a European perspective. Sciences Po Careers interviewed Augustin Bourleaud, in charge of its edition, who is currently a double master's degree student between Sciences Po and the London School of Economics.
Read more news