Forum apprentissage 2023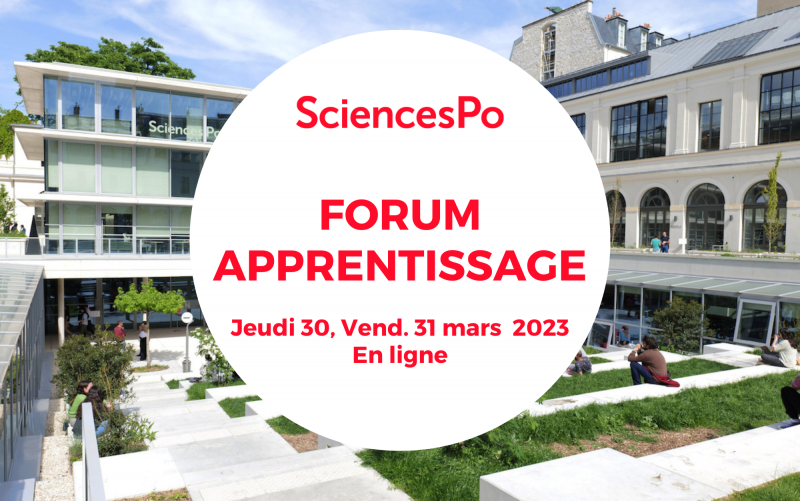 Quinze masters sont aujourd'hui ouverts à l'apprentissage en 2ème année de master et une formule plébiscitée tant par les entreprises que par les apprentis (près de 400 en 2022-23) qui permet de former de jeunes professionnels qui, grâce à une excellente formation à la fois théorique et pratique, sont immédiatement opérationnels.
Forum apprentissage
Jeudi 30 et Vendredi 31 mars 2023
En ligne sur Seekube
Le Forum se tiendra en ligne sur la plateforme Seekube.
Il vous permettra notamment de:
accéder à la CVthèque de l'ensemble des étudiants à la recherche d'un apprentissage inscrits en amont du Forum et jusqu'à 15 jours après le Forum.
informer via des présentations groupées en ligne, les étudiants sur les activités, valeurs, opportunités et process de recrutement en apprentissage
recruter vos futurs apprentis, lors de rendez-vous inidividuels prédéfinis dans la plateforme
Découvrez les 15 masters en apprentissage
Inscrivez-vous
> Complétez le formulaire d'inscription
Coûts et conditions de participation
Participation gratuite pour les entreprises partenaires de Sciences Po
Un stand virtuel sur Seekube: 1 500 € HT (700 € pour les PME)
Prestations incluses:
Stand virtuel personnalisable (description de votre entreprise, photos, vidéos, liens vers votre page de site...)
Entretiens et rendez-vous individuels qualifiés avec les étudiants
Nombre de collaborateurs illimité
Sessions Lives de votre entreprise illimitées
Accès à la CV-thèque des étudiants inscrits au Forum jusqu'au 15 avril 2023
Accompagnement dans l'utilisation de la plateforme (Sciences Po Carrières et SAV Seekube)
Date à retenir:
Avant le 20 mars : créez votre stand virtuel, ajoutez vos collaborateurs, renseignez vos créneaux de disponibilité, publiez vos offres, créez vos lives
Mercredi 22 mars : Ouverture du forum en ligne aux étudiants & diplômés (Ils postulent aux offres, demandent des rendez-vous, s'inscrivent aux lives)
Vendredi 24 mars : Chaque collaborateur confirme ou infirme les demandes de rendez-vous soumises par les étudiants et diplômés. Les collaborateurs peuvent aussi proposer des rdv
CONTACTS
Pour toute question relative à votre inscription au Forum, à votre devis, au profil des étudiants de Sciences Po :
Caroline TOUSSAIN
forum.carrieres@sciencespo.fr - T: 01 45 49 72 94
Responsable des événements carrières (Sciences Po Carrières)
Pour toute question sur les modalités de mise en place de l'apprentissage
Affecter à Sciences Po le solde de votre taxe d'apprentissage
Last modified 2023-02-17
04.09.2023
If you are looking for interns or future employees, our guide 'Recruit at Sciences Po' will provide the relevant information about our students, the careers we train them for and how to leverage this great pool of talent to meet your recruitment needs.
06.09.2023
Launched by two graduates (class of 2020) from Law School : Agnès de Fortanier (Master in Economic Law) and Thomas Harbor (dual degree Sciences Po HEC), What's up EU is a newsletter putting together a concise, well-documented, and informative weekly wrap-up of the news that matters at a continental scale — from a European perspective. Sciences Po Careers interviewed Augustin Bourleaud, in charge of its edition, who is currently a double master's degree student between Sciences Po and the London School of Economics.
Read more news