Homepage
> EN APPRENTISSAGE CHEZ HERMÈS J'OCCUPE DES MISSIONS À LA FOIS STRATÉGIQUES ET OPÉRATIONNELLES
EN APPRENTISSAGE CHEZ HERMÈS J'OCCUPE DES MISSIONS À LA FOIS STRATÉGIQUES ET OPÉRATIONNELLES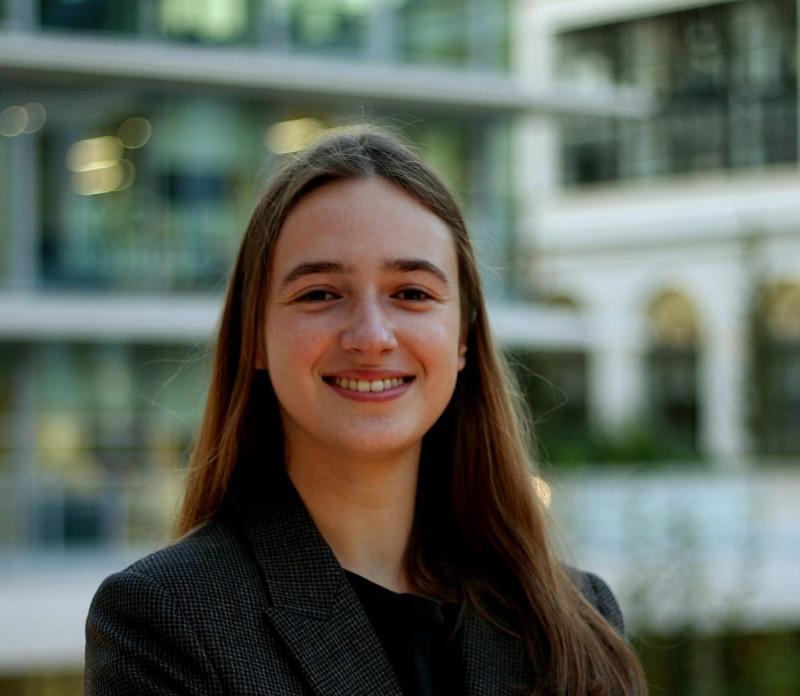 Etudiante du master Marketing et Société au sein de l'Ecole du management et de l'impact, Romane a fait le choix de l'apprentissage pour sa deuxième année de master. Nous l'avons interrogée sur ses missions en tant qu'Assistante Cheffe de Projet de la Direction Commerciale d'Hermès.
En quoi consiste votre mission d'apprenti ?
Romane Parès (R.P) - Avec ma manager, nous travaillons sur différentes problématiques liées aux concessionnaires d'Hermès, notamment au niveau des budgets et des chiffres d'affaires réalisés. Nous collaborons également avec le service central d'après-vente ainsi qu'avec le service en charge de l'aménagement immobilier des magasins.
Mes tâches s'articulent autour de deux dimensions : une première stratégique/analytique et une seconde opérationnelle.
Côté analytique tout d'abord, j'ai en charge d'analyser la performance des concessionnaires et du service après-vente à travers différents indicateurs, mais également d'effectuer les reportings et analyses ponctuelles au regard des problématiques du moment et des projets à valoriser ou à mettre en place.
Mon rôle est par ailleurs d'accompagner les concessionnaires dans l'estimation de leur futur CA et de leur budget.
En parallèle, j'ai pour mission de réfléchir à la gouvernance des projets immobilier tout en mettant en lumière des indicateurs permettant la prise de décision au niveau de ces derniers.
Puis, d'un point de vue opérationnel, mon travail contribue, entre autres, à l'accompagnement de l'après-vente dans la mise en place de projets dont le but in fine est l'amélioration des performances des magasins via la mise en place d'outils ou de processus.
Mais mes missions ne s'arrêtent pas là et sont multiples, puisque je participe aussi à l'animation de la communauté des chargés d'après-vente afin de faire remonter les bonnes pratiques.
Je sers également de relai auprès des chargés d'après-vente, auprès des concessionnaires, tout en suivant l'avancement des projets immobiliers.
Pourquoi conseillez-vous l'apprentissage ?
(R.P) - Je pense que l'apprentissage représente une transition logique entre la théorie des études et la mise en application dans le monde du travail.
Selon moi, l'alternance permet de se confronter à des missions plus diversifiées, et dont les échéances alternent entre le court-terme et le long-terme.
Ce fait-même permet de bénéficier davantage de responsabilités, ce qui constitue forcément un apprentissage d'autant plus enrichissant.
Et par ailleurs, j'estime que l'alternance est un atout lors de l'insertion dans le monde professionnel, car les employeurs accordent plus de confiance à des personnes qui ont une expérience d'au moins un an dans la même entreprise.
En savoir plus
Last modified 2023-03-24
03.04.2023
If you are looking for interns or future employees, our guide 'Recruit at Sciences Po' will provide the relevant information about our students, the careers we train them for and how to leverage this great pool of talent to meet your recruitment needs.
22.03.2023
Launched by two graduates (class of 2020) from Law School : Agnès de Fortanier (Master in Economic Law) and Thomas Harbor (dual degree Sciences Po HEC), What's up EU is a newsletter putting together a concise, well-documented, and informative weekly wrap-up of the news that matters at a continental scale — from a European perspective. Sciences Po Careers interviewed Augustin Bourleaud, in charge of its edition, who is currently a double master's degree student between Sciences Po and the London School of Economics.
Read more news