Homepage
> Les participants du Forum Sciences Po Entreprises édition 2015
Les participants du Forum Sciences Po Entreprises édition 2015
Près de 70 entreprises et une dizaine de start-ups participeront au Forum Sciences Po Entreprises. Découvrez leur fiche et opportunités à pourvoir le jour du Forum
Guide pratique du Forum 2015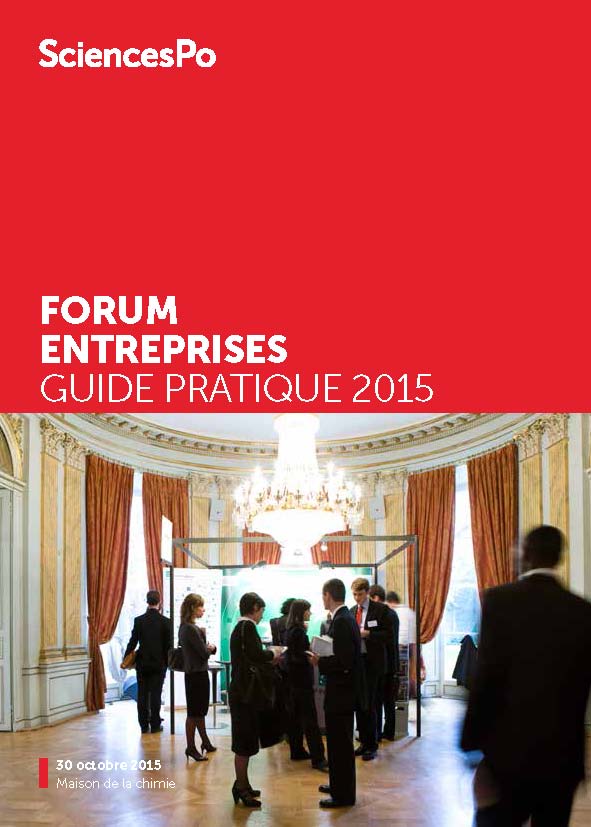 fiches entreprises et opportunités
audit conseil
| | | | | |
| --- | --- | --- | --- | --- |
| | | | | |
| | | | | |
| | | | | |
| | | | | |
industrie services luxe distribution transport environnement
banque finance assurance
media presse communication divertissement
corner start up
espace Sciences Po Alumni :
rencontrez des entrepreneurs qui ont fait sciences po
Lors du Forum, sur l'espace Sciences Po alumni, une quinzaine d'entrepreneurs, tous diplômés de Sciences Po et de toutes générations confondues sont disponibles pour vous rencontrer individuellement, vous aider dans vos choix et vous délivrer des conseils utiles pour vos futurs projets.
En savoir plus
préparation aux entretiens de recrutement avec Looking for Talents
Looking for Talents est une association gérée par les étudiants du master Organisations et Management des Ressources Humaines de SciencesPo qui vise à mettre en pratique, en partenariat avec diverses entreprises (BNP Paribas, Stagiaires sans Frontières, Ubisoft ...), leur formation au recrutement et à l'entretien RH.
Si vous souhaitez passer un entretien de simulation, vous entraîner au pitch (se présenter en 2 minutes auprès des entreprises du forum) ou renouveler votre photo de CV, rendez-vous au stand LFT où des étudiants motivés et des professionnels des ressources humaines vous attendent.
Last modified 2015-10-30
27.01.2023
If you are looking for interns or future employees, our guide 'Recruit at Sciences Po' will provide the relevant information about our students, the careers we train them for and how to leverage this great pool of talent to meet your recruitment needs.
20.12.2022
On Friday, September 29, the Careers Fair was held for the first time on Sciences Po's 1 Saint Thomas Campus. More than 1,000 Sciences Po students and graduates attended the event where they met with over 70 different employers to discuss internships, apprenticeships and job opportunities.
Read more news