Homepage
> Le jour du forum, saurez-vous aborder les recruteurs avec les bonnes questions?
Le jour du forum, saurez-vous aborder les recruteurs avec les bonnes questions?
Vous avez manqué les conférences de préparation au Forum ? voici un rappel des étapes à suivre pour réussir votre Forum
"qu'avez-vous à me proposer? " : la question piège
Chaque année, le jour du Forum de nombreux étudiants abordent les professionnels avec cette question lors de la première approche.
En posant cette question, vous restez centré sur vous même alors que vous devriez être orienté vers votre interlocuteur et montrer que vous connaissez déjà bien l'entreprise.
le forum: la rencontre de deux univers
Le jour du Forum les mondes de l'étudiant/diplômé et de l'entreprise se rencontrent:
> quand VOUS pensez études, connaissances théoriques, programmes de formation, masters...
> VOS INTERLOCUTEURS, professionnels des entreprises, pensent activité, métiers, objectifs, résultats, performances, compétences, profils, postes, missions, motivation, personnalité, produits, marques...
> ENSEMBLE, le jour du Forum, vous devez trouver un terrain de communication commun.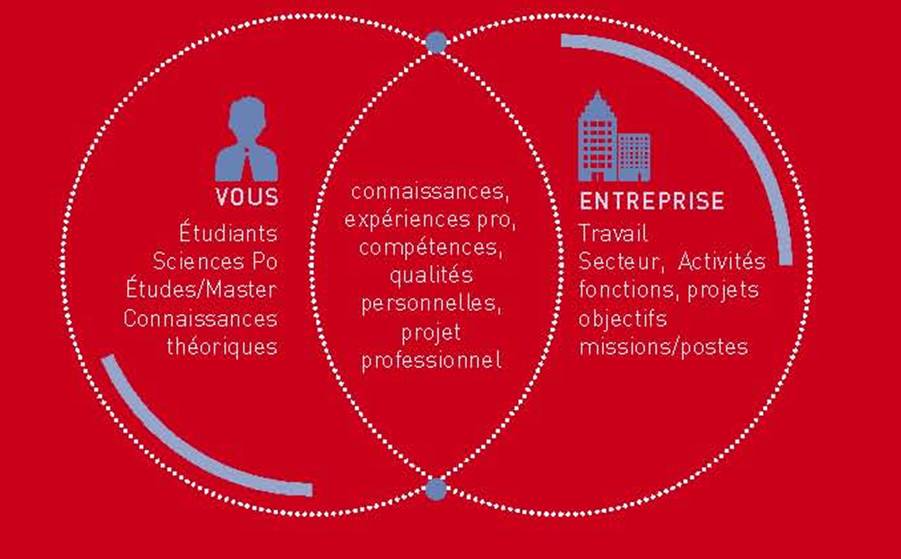 s'imprégner du language de l'entreprise
Afin de vous mettre sur le terrain de l'entreprise, il est impératif de vous imprégner de son language, sa culture, ses valeurs, activités, missions...en vous renseignant sur les entreprises, vous pourrez alors traduire votre formation et vos expériences en compétences immédiatement opérationnelles et susceptibles d'intéresser vos interlocuteurs.
Consultez les fiches des entreprises participantes
étudiez bien leurs activités, actualités, missions, profils, processus de recrutement, offres sur notre site et leur site...
Consultez les sites carrières des entreprises
En cliquant sur les logos des entreprises, vous accédez à la page de présentation des entreprises qui vous donne le lien vers le site carrières de l'entreprise
Consulter les offres et missions dans le jobboard du Service carrières
Pour aller plus loin, vous pouvez également:
Consulter l'annuaire des alumni de Sciences Po
Vous informer sur les secteurs d'activités des entreprises sur le site de l'APEC
Last modified 2015-11-04
15.07.2021
The results of the 2021 Graduate Employability Survey on the class of 2019 show that Sciences Po students remain very attractive to employers, with 9 out of 10 graduates in professional activity. Despite a job market facing difficulties, 82% of our 2019 graduates found their first job in less than 6 months, and nearly ¾ of them have a stable profession. There are still just as many (37%) working abroad, in 84 countries. Discover all the results of our survey!
30.08.2021
You are a student looking for information about internships or career fairs? you are an employer willing to recruit our students in jobs or an internship? Find here the list of your Sciences Po Careers
Read more news