Homepage
> Le jour du forum, saurez-vous aborder les recruteurs avec les bonnes questions?
Le jour du forum, saurez-vous aborder les recruteurs avec les bonnes questions?
Vous avez manqué les conférences de préparation au Forum ? voici un rappel des étapes à suivre pour réussir votre Forum
"qu'avez-vous à me proposer? " : la question piège
Chaque année, le jour du Forum de nombreux étudiants abordent les professionnels avec cette question lors de la première approche.
En posant cette question, vous restez centré sur vous même alors que vous devriez être orienté vers votre interlocuteur et montrer que vous connaissez déjà bien l'entreprise.
le forum: la rencontre de deux univers
Le jour du Forum les mondes de l'étudiant/diplômé et de l'entreprise se rencontrent:
> quand VOUS pensez études, connaissances théoriques, programmes de formation, masters...
> VOS INTERLOCUTEURS, professionnels des entreprises, pensent activité, métiers, objectifs, résultats, performances, compétences, profils, postes, missions, motivation, personnalité, produits, marques...
> ENSEMBLE, le jour du Forum, vous devez trouver un terrain de communication commun.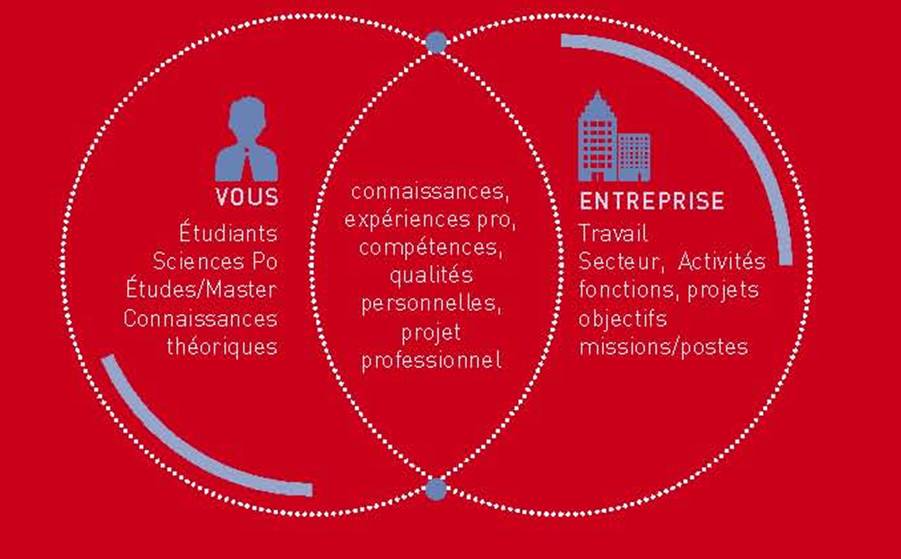 s'imprégner du language de l'entreprise
Afin de vous mettre sur le terrain de l'entreprise, il est impératif de vous imprégner de son language, sa culture, ses valeurs, activités, missions...en vous renseignant sur les entreprises, vous pourrez alors traduire votre formation et vos expériences en compétences immédiatement opérationnelles et susceptibles d'intéresser vos interlocuteurs.
Consultez les fiches des entreprises participantes
étudiez bien leurs activités, actualités, missions, profils, processus de recrutement, offres sur notre site et leur site...
Consultez les sites carrières des entreprises
En cliquant sur les logos des entreprises, vous accédez à la page de présentation des entreprises qui vous donne le lien vers le site carrières de l'entreprise
Consulter les offres et missions dans le jobboard du Service carrières
Pour aller plus loin, vous pouvez également:
Consulter l'annuaire des alumni de Sciences Po
Vous informer sur les secteurs d'activités des entreprises sur le site de l'APEC
Last modified 2015-11-04
21.08.2019
The 2019 Graduate Employability Survey asked the Class of 2017 what they were up to now. Their responses indicated that Sciences Po graduates are entering the job market even more quickly than in previous years, with 87% landing a job less than 6 months after graduating (compared to 83.6% for the Class of 2016).
26.11.2019
Sciences Po Careers will be closed from Monday 23rd of December 2019 to Thursday 2nd of January 2020 icluded. During this period of time, no internship agreement will be signed.
Read more news