Homepage
> Le meilleur moyen de réussir un stage ? rester déterminé, ne pas céder à l'absence de réponses et surtout faire ce que l'on souhaite faire
Le meilleur moyen de réussir un stage ? rester déterminé, ne pas céder à l'absence de réponses et surtout faire ce que l'on souhaite faire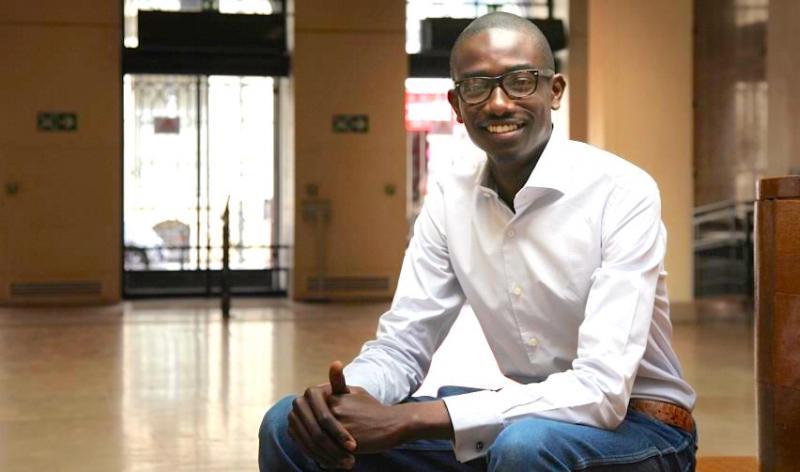 Trois ans avant de passer l'examen d'entrée, Adama Gaye savait déjà qu'il voulait étudier à Sciences Po. Entré au Collège universitaire en 2009, il poursuit ses études par le Master Affaires Publiques, et sort diplômé en 2014. Désormais en poste dans le développement commercial chez Saint-Gobain, Adama revient sur son stage de 3eme année aux Nations Unies à New York.
Pourquoi avoir choisi un stage à l'étranger pendant votre 3A?
Adama Gaye (A.G.) - J'ai souhaité effectuer un stage durant ma 3A pour deux raisons : tout d'abord, pour avoir une première expérience professionnelle, car selon moi la sortie de Sciences Po se prépare dès notre entrée en première année et pas seulement en master. Par ailleurs, je m'intéressais beaucoup aux relations internationales, avec un intérêt particulier pour les questions liées à l'Afrique. Il me paraissait donc intéressant d'essayer d'avoir une expérience auprès des Nations Unies à New York. Ceci m'a donc conduit à réaliser un stage de 8 mois auprès de l'Ambassadeur Représentant Permanent de la Mauritanie auprès des Nations Unies.
Comment avez-vous trouvé votre stage à la Mission permanente de la Mauritanie auprès de l'ONU à NYC?
A.G. :J'ai trouvé mon stage en envoyant plusieurs candidatures spontanées. C'est au milieu du mois d'août que j'ai reçu une réponse positive de la part du Premier Conseiller – Chargé d'Affaires, il m'aura fallu envoyer de nombreux emails, candidatures, mais surtout rester déterminé, croire jusqu'au bout, à un moment où la plupart de mes camarades de promotion avaient déjà commencé leur expérience, je pense notamment aux étudiants en échange universitaire dans les pays de l'hémisphère sud.
Quelle a été votre mission et votre encadrement pendant les 8 mois de stage à temps complet ?
A.G. : Durant mon stage, j'ai été encadré par l'Ambassadeur et le Premier Conseiller - Chargé d'Affaires. Mes missions étaient multiples, j'ai pu écrire des discours, élire un juge à la Cour Internationale de Justice (sur indication de l'Ambassadeur bien évidemment), participer et préparer pour la Mauritanie la 66ième session de l'Assemblée Générale des Nations Unies.
Comment expliquez-vous l'impact de ce stage sur votre choix de Master et sur votre carrière actuelle?
A.G. : Ce stage en immersion totale au sein du système onusien m'a conforté dans l'idée de poursuivre une carrière en lien avec le secteur public, la chose publique, l'intérêt général. Mon choix de master s'est ainsi naturellement porté vers celui des Affaires Publiques à mon retour de 3A. Aujourd'hui opérant dans des pays de l'Afrique de l'ouest pour Saint-Gobain Glass, je suis en relation avec des acteurs publics, je travaille sur des projets en lien avec le secteur public tels que la rénovation des locaux du siège du gouvernement au Sénégal ou en Côte d'Ivoire par exemple. Sur ces projets nous essayons d'apporter une fine expertise à la rénovation d'édifices publics, afin qu'ils soient le plus durables possibles, et peu trop consommateurs en énergie.
Le stage vous a permis de développer des nombreuses compétences. Quels sont les éléments de satisfaction les plus pertinents pour votre poste chez Saint-Gobain?
A.G. : Ce stage m'a permis de travailler dans un environnement où cohabitent différentes cultures, personnalités et intérêts. Ce qui impose finalement la concession, la négociation, le rapport de force parfois et une ouverture d'esprit. Tous ces aspects aujourd'hui je les retrouve, je les utilise dans mon métier au quotidien.
Est-ce que votre stage à NYC vous a permis d'améliorer votre niveau d'anglais?
Mon stage au sein des Nations Unies m'a permis de progresser en anglais, mais le système onusien est un monde où 6 langues officielles (anglais, français, mandarin, espagnol, arabe et russe) sont utilisées, cela parfois peut être un frein à la progression. Je dirais que mon immersion dans la ville de New York m'a beaucoup plus aidé dans l'amélioration de mon niveau d'anglais en général.
Quelles sont vos objectifs de carrière dans le futur proche?
A.G. : Je n'ai pas un plan de carrière clairement établi, je me sens bien dans ce que je fais chez Saint-Gobain. Donc avancer dans cette entreprise si possible. Mon souci est de bien faire mon travail et je me dis que les opportunités découleront de cela, c'est d'ailleurs en réalisant mon stage de fin d'études à Lagos, au Nigéria auprès de la Chambre de Commerce Franco-Nigériane que j'ai rencontré les représentants de Saint-Gobain. Mon stage auprès de l'Ambassadeur Mauritanien à l'ONU m'ayant fortement marqué, je serais tenté de renouveler une autre expérience auprès de l'organisation des nations unies.
Quel conseil et recommandations donnez-vous aux futures stagiaires?
A.G. : Il faut toujours rester déterminé à réaliser ses objectifs, ne pas céder à la pression, ne pas céder face à l'absence de réponses, et surtout de faire ce que l'on souhaite faire, c'est le meilleur moyen d'avoir un stage réussi. Prendre le risque d'attendre un peu plus longtemps avant de décrocher son stage rêvé, plutôt que d'accepter très tôt un stage moyen qui garantit certes une sécurité, mais qui au final ne vous marquera pas tant que cela.
Photo: Adama Gaye, diplômé 2014
Crédits Sciences Po
Last modified 2016-06-16
15.07.2021
The results of the 2021 Graduate Employability Survey on the class of 2019 show that Sciences Po students remain very attractive to employers, with 9 out of 10 graduates in professional activity. Despite a job market facing difficulties, 82% of our 2019 graduates found their first job in less than 6 months, and nearly ¾ of them have a stable profession. There are still just as many (37%) working abroad, in 84 countries. Discover all the results of our survey!
30.08.2021
You are a student looking for information about internships or career fairs? you are an employer willing to recruit our students in jobs or an internship? Find here the list of your Sciences Po Careers
Read more news