Forum des métiers du conseil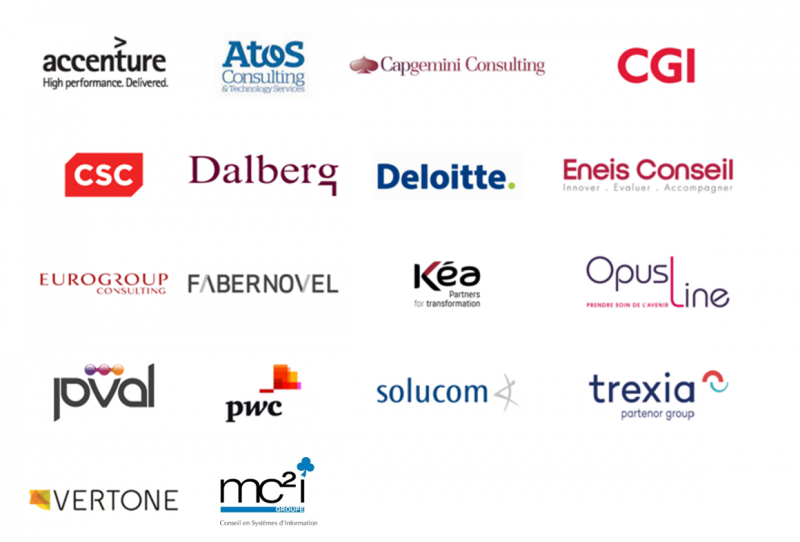 18 cabinets participeront au Forum des métiers du Conseil Jeudi 17 mars de 14h à 18h. En amont du Forum certains prépareront les étudiants et diplômés à cette rencontre et leur présenteront à partir du 10 mars leurs missions, activités, expertises et opportunités...
EN AMONT DU FORUM...
RENCONTREZ LES CABINETS
Découvrez les cabinets qui vous recruteront au Forum des métiers du Conseil
15.03 | FABERNOVEL
Conseil en innovation
En savoir plus
15.03 | ENEIS CONSEIL
Conseil en politiques publiques
En savoir plus
16.03 | CGI BUSINESS CONSULTING
Conseil en management, intégration de systèmes, outsourcing
En savoir plus
16.03 | CAPGEMINI CONSULTING
Conseil en stratégie et transformation digitale
En savoir plus
14.04 | ACCENTURE
Plus d'infos prochainement
forum des métiers du conseil
jeudi 17 mars
14:00-18:00
hall du 13, rue de l'Université
et salle corporate
> Cliquez sur les logos des cabinets pour accéder à leur fiche entreprise et aux offres à pourvoir
| | | | |
| --- | --- | --- | --- |
| | | | |
| | | | |
| | | | |
| | | | |
| | | | |
SPEEDNETWORKING ALUMNI


É

change avec les anciens de Sciences Po qui travaillent dans le Conseil
17:00-20:30
A l'issue du Forum Conseil et pour aller plus loin rencontre les anciens de Sciences Po qui travaillent dans le conseil en format d' entretiens individuels. Ils te parleront de leur expérience du métier, te délivreront des conseils et te permettront d'étendre ton réseau.
Toutes les infos sur les Alumni participants et prises de rendez-vous très prochainement
Last modified 2016-03-09
09.06.2020
Master in Public Policy, policy stream Cultural Policy and Management, promotion 2018. Marie Gervier graduated from the Master in Public Policy at the School of Public Affairs, Cultural Policy and Management policy stream. She is currently working as as a Communication and Event Manager for the United Nations Office in Geneva. Testimony.
15.06.2020
Perline Manuel est diplômée 2015 du master Marketing. Aujourd'hui elle est en charge de la revalorisation des conteneurs maritimes dits "de dernier voyage". Focus sur sa mission et son parcours au sein de l'entreprise familiale leader du transport maritime, de la gestion de zone commerciale aux projets au format intrapreneurial.
Read more news