Forum des métiers du conseil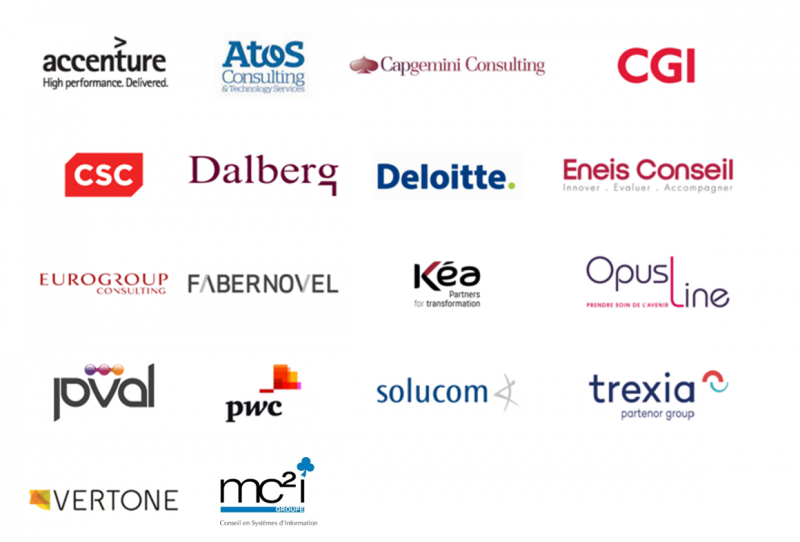 18 cabinets participeront au Forum des métiers du Conseil Jeudi 17 mars de 14h à 18h. En amont du Forum certains prépareront les étudiants et diplômés à cette rencontre et leur présenteront à partir du 10 mars leurs missions, activités, expertises et opportunités...
EN AMONT DU FORUM...
RENCONTREZ LES CABINETS
Découvrez les cabinets qui vous recruteront au Forum des métiers du Conseil
15.03 | FABERNOVEL
Conseil en innovation
En savoir plus
15.03 | ENEIS CONSEIL
Conseil en politiques publiques
En savoir plus
16.03 | CGI BUSINESS CONSULTING
Conseil en management, intégration de systèmes, outsourcing
En savoir plus
16.03 | CAPGEMINI CONSULTING
Conseil en stratégie et transformation digitale
En savoir plus
14.04 | ACCENTURE
Plus d'infos prochainement
forum des métiers du conseil
jeudi 17 mars
14:00-18:00
hall du 13, rue de l'Université
et salle corporate
> Cliquez sur les logos des cabinets pour accéder à leur fiche entreprise et aux offres à pourvoir
| | | | |
| --- | --- | --- | --- |
| | | | |
| | | | |
| | | | |
| | | | |
| | | | |
SPEEDNETWORKING ALUMNI


É

change avec les anciens de Sciences Po qui travaillent dans le Conseil
17:00-20:30
A l'issue du Forum Conseil et pour aller plus loin rencontre les anciens de Sciences Po qui travaillent dans le conseil en format d' entretiens individuels. Ils te parleront de leur expérience du métier, te délivreront des conseils et te permettront d'étendre ton réseau.
Toutes les infos sur les Alumni participants et prises de rendez-vous très prochainement
Last modified 2016-03-09
21.08.2019
The 2019 Graduate Employability Survey asked the Class of 2017 what they were up to now. Their responses indicated that Sciences Po graduates are entering the job market even more quickly than in previous years, with 87% landing a job less than 6 months after graduating (compared to 83.6% for the Class of 2016).
25.09.2019
On Friday 27 september 2019 from 10am to 5pm, the Sciences Po Careers Fair will gather at Porte de Versailles more than 100 participants (amongst which companies, public administrations, international organisations...) willing to recruit our students and graduates in a wide range of industries and activities.
Read more news