Forum des métiers du conseil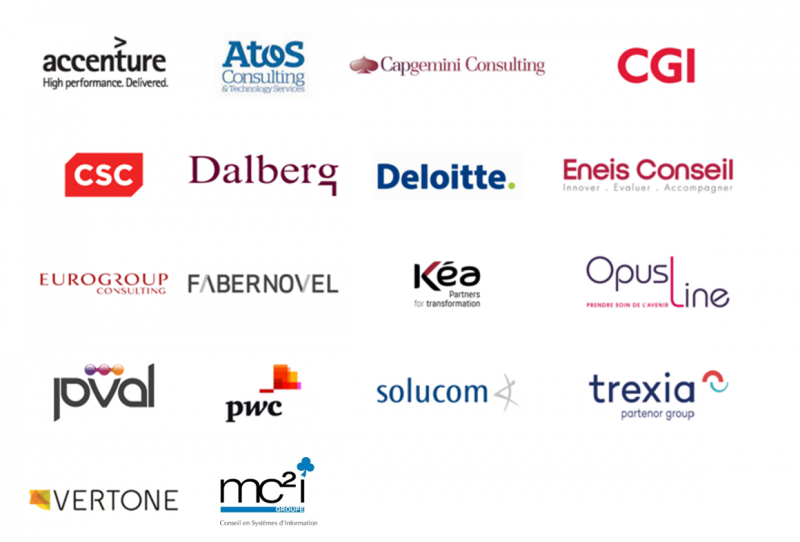 18 cabinets participeront au Forum des métiers du Conseil Jeudi 17 mars de 14h à 18h. En amont du Forum certains prépareront les étudiants et diplômés à cette rencontre et leur présenteront à partir du 10 mars leurs missions, activités, expertises et opportunités...
EN AMONT DU FORUM...
RENCONTREZ LES CABINETS
Découvrez les cabinets qui vous recruteront au Forum des métiers du Conseil
15.03 | FABERNOVEL
Conseil en innovation
En savoir plus
15.03 | ENEIS CONSEIL
Conseil en politiques publiques
En savoir plus
16.03 | CGI BUSINESS CONSULTING
Conseil en management, intégration de systèmes, outsourcing
En savoir plus
16.03 | CAPGEMINI CONSULTING
Conseil en stratégie et transformation digitale
En savoir plus
14.04 | ACCENTURE
Plus d'infos prochainement
forum des métiers du conseil
jeudi 17 mars
14:00-18:00
hall du 13, rue de l'Université
et salle corporate
> Cliquez sur les logos des cabinets pour accéder à leur fiche entreprise et aux offres à pourvoir
| | | | |
| --- | --- | --- | --- |
| | | | |
| | | | |
| | | | |
| | | | |
| | | | |
SPEEDNETWORKING ALUMNI


É

change avec les anciens de Sciences Po qui travaillent dans le Conseil
17:00-20:30
A l'issue du Forum Conseil et pour aller plus loin rencontre les anciens de Sciences Po qui travaillent dans le conseil en format d' entretiens individuels. Ils te parleront de leur expérience du métier, te délivreront des conseils et te permettront d'étendre ton réseau.
Toutes les infos sur les Alumni participants et prises de rendez-vous très prochainement
2016-03-09
20.11.2018
Alice Koskas graduated from the Master of Finance and Strategy (School of Management and Innovation) in 2009 and is now Merchandising director for fashion accessories at Hermès. During her third year abroad studying at Fudan University in China, she encountered the world of art and design. From there, driven by both Sciences Po's values and her taste for art, crafts and commerce, it was only natural that she should join Hermès, where the corporate culture is focused on people, creativity and freedom of initiative.
29.01.2019
In 2018, out of 25 internships offered worldwide for their Summer programme, 15 Sciences Po students had the great opportunity to travel the world and work for the WFP. In January 2019, a new WFP Summer internship programme is launched: will you be part of it?
Read more news