Homepage
> Travailler en mode start up : tables rondes et Forum de recrutement
Travailler en mode start up : tables rondes et Forum de recrutement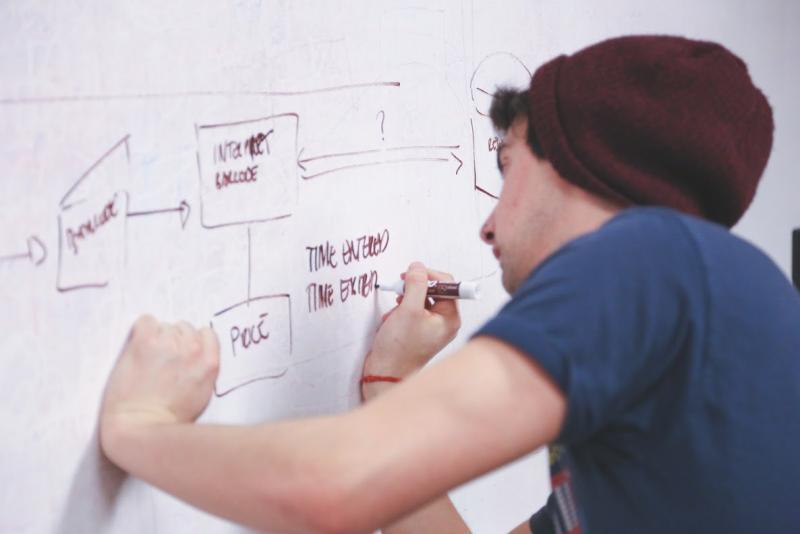 Tu cherches un stage ou une première expérience dans une structure innovante ? Tu attends de ton futur employeur qu'il te permette d'apprendre vite et dans un environnement créatif ?Tu es curieux de comprendre le modèle économique et le fonctionnement des structures de type startup ; de connaître les compétences qu'elles recherchent et celles que l'on peut y développer ?
L'émergence de nouveaux modèles économiques, notamment l'économie de partage, l'économie collaborative et l'économie basée sur la revente de données (data), associée à l'apparition d'un environnement de travail incarné par l'expression «travailler en mode start up» ne sont pas sans conséquence sur les profils recherchés sur le marché du travail, ainsi que sur les méthodes de recrutement :
Le Service carrières et Sciences Po Entrepreneurs t'invitent à à mieux comprendre les caractéristiques et conséquences de ces nouveaux modèles économiques et de l'organisation en "mode start up" sur le recrutement et l'employabilité lors d'une journée dédiée:
Travailler en mode start up :
Tables rondes et Forum de recrutement
Jeudi 31 mars 2016
12h30-18h00
-> Quels sont les profils et compétences recherchés dans les entreprises de la nouvelle économie ?
-> Qu'implique le fonctionnement en mode start up ?
-> Comment les recruteurs recrutent-ils leur collaborateurs ?
Modération
Jacques-Henri EYRAUD,
PDG du groupe Paris turf, enseignant du cours magistral du cours d'initiation à l'Entrepreneuriat à Sciences Po
Jacques-Henri Eyraud est un entrepreneur avec une grande expérience au sein d'entreprises à forte croissance dans l'industrie du divertissement et des médias.
Intervenants :
David COHEN BOULAKIA
Directeur de l'Innovation, PwC France et Afrique Francophone

Laurent LIPINER,
COO, Start'inPost
Start'inPost est l''accélérateur industriel du Groupe La Poste au service de sa démarche d'innovation. Depuis une dizaine d'année, Le Groupe La Poste accompagne les start-up innovantes dans leur développement sous des formes variées, dans une logique d'innovation ouverte.
Maxime BAEFFERT,
Directeur Général de Proximedia Europe.
Proximedia Europe est la division de Publicis Groupe dédiée à la communication digitale des TPE et des PME. Avec plus de 55 000 clients et 550 collaborateurs, Proximedia est un des leaders européens de son secteur avec une présence en France, en Belgique, aux Pays-Bas et en Espagne.
Édouard MANDON,
Business Operations Manager à Cubyn, auparavant chef des projets spéciaux à Africa Internet Group
13h45-15h00
Table ronde: "les pratiques de recrutement et la gestion d'une carrière, à l'heure du numérique"
Modération :
Félicité GASPARETTO,
Responsable déléguée à l'insertion professionnelle, Service carrières Sciences Po
Intervenants
Yolande LIBENE (Diplômée MAP 2013)
Talent and Culture Manager, FaberNovel
Caroline PAILLOUX,
Fondatrice, Ignition Program
Yannig RAFFENEL
Directeur éditorial et pédagogique, OpenClassroom'
15:00-18:00
Forum de recrutement
Des entreprises de la nouvelle économie et des start ups t'informent et te recrutent
Participants
| | | | |
| --- | --- | --- | --- |
| | | | |
| | | | |
| | avec l'aimable soutien de | | |
Last modified 2016-03-23
21.08.2019
The 2019 Graduate Employability Survey asked the Class of 2017 what they were up to now. Their responses indicated that Sciences Po graduates are entering the job market even more quickly than in previous years, with 87% landing a job less than 6 months after graduating (compared to 83.6% for the Class of 2016).
16.09.2019
On Friday 27 september 2019 from 10am to 5pm, the Sciences Po Careers Fair will gather at Porte de Versailles more than 100 participants (amongst which companies, public administrations, international organisations...) willing to recruit our students and graduates in a wide range of industries and activities.
Read more news