Homepage
> J'AVAIS ENVIE DE MIEUX CONNAITRE L'APPROCHE AMÉRICAINE DU SECTEUR CULTUREL
J'AVAIS ENVIE DE MIEUX CONNAITRE L'APPROCHE AMÉRICAINE DU SECTEUR CULTUREL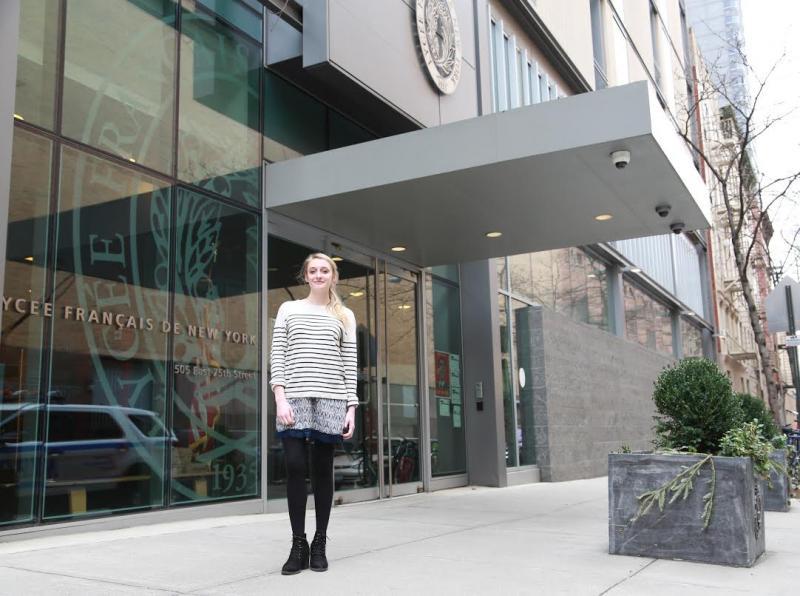 Etudiante à l'École d'Affaires Publiques, spécialité culture, Manon Grossard a choisi d'effectuer un stage de césure au Lycée français de New York entre son M1 et son M2. Témoignage d'une expérience professionnelle dans le domaine culturel...
"J'avais déjà une vraie attirance pour l'organisation d'événements culturels"
Manon Grossard (MG) - Avant d'entrer à Sciences Po, j'ai suivi une première année de master en management de projet culturel. En choisissant la spécialité culture à l'Ecole d'Affaires Publiques, j'avais déjà une vraie attirance pour l'organisation d'événements culturels mais de trop courtes expériences pratiques dans ce domaine. J'ai choisi donc choisi d'effectuer un stage au Lycée français de New York pour mon année de césure, parce que sa description correspondait parfaitement au métier que je voulais découvrir.
"j'avais envie de mieux connaitre l'approche américaine du secteur culturel"
MG - J'ai trouvé ce stage en consultant les offres sur le site du Service Carrière. J'avais commencé à chercher dès les mois de janvier/février. Je savais que je voulais faire un stage aux Etats-Unis car j'avais envie de mieux connaitre l'approche américaine du secteur culturel. J'avais donc fait le choix de concentrer mes recherches sur cette zone géographique.
Quelles y sont tes missions et ton cadre de travail ?
MG - Le Centre Culturel du Lycée Français organise des concerts, des projections, des pièces de théâtre, des conférences et des résidences d'art visuel. J'ai donc touché aux différents arts et confirmé que je voulais travailler dans une institution multidisciplinaire. Mes trois missions principales y sont la communication, le marketing et la mise en place des événements du Lycée français de New York où je travaille aux côtés de Pascale Richard, la directrice du Centre Culturel. Nous ne sommes que deux à organiser les événements mais nous travaillons en étroite collaboration avec les équipes de communication et de développement. J'ai la chance d'être entourée de gens très accueillants qui ont accepté de me former, notamment sur les logiciels de design, sur les outils de communication et sur la photographie. Ils m'ont fait confiance et m'ont intégrée à l'équipe. Le lieu de travail est aussi très agréable, le Lycée est très bien équipé. Il y un grand auditorium de 354 places où ont lieu la plupart des événements culturels, notamment des projections de films français en DCP .
J'ai comme missions toutes les missions liées au management de projet. Je fais beaucoup de communication mais aussi de l'organisation à proprement parler pour préparer la mise en place des événements. Sinon, j'ai travaillé tout au long de mon stage sur un projet, une journée sur les cultures francophones au Lycée.
A quoi ressemble une journée type ?
MG - Je ne sais pas si je peux vraiment décrire une journée type car mes journées dépendent vraiment des évènements. Il peut y avoir une conférence le matin, un concert le soir où des rendez-vous à l'extérieur. J'assiste aussi à des évènements en dehors du Lycée. De manière générale mes journées sont partagées entre la communication (la création des affiches promotionnelles, la prise de contact avec la presse, nos partenaires et les agents des artistes que l'on reçoit) et l'installation à proprement parler des évènements ( s'assurer que tout est en place, répondre aux questions des artistes, guider nos invités...)
"L'obtention du visa est une procédure qui prend beaucoup de temps"
MG - Les visas américains sont assez facilement accordés, surtout dans le cadre d'un stage payé mais il y a beaucoup d'étapes à suivre. J'ai du passer par un "sponsor" pour ensuite me rendre à l'ambassade américaine. C'est une procédure difficile aussi pour l'entreprise qui accueille le stagiaire. Ma maître de stage a du remplir de nombreux documents et justifier de l'intérêt de ce stage dans ma formation. J'ai obtenu mon visa le jour où je devais commencer mon stage, j'ai donc eu un peu de retard mais ils ont été très compréhensifs au Lycée.
"Un stage de plus de six mois permet de prendre totalement ses marques dans l'entreprise et de gagner des responsabilités"
MG - La césure permet de faire un long stage. Je pense que c'est très valorisant sur le marché du travail. J'ai pu ainsi suivre un projet de l'étape de sa conception à sa réalisation. Il y avait aussi l'occasion de découvrir New York et d'y vivre assez longtemps pour m'imprégner totalement de l'atmosphère de la ville et améliorer considérablement mon niveau d'anglais.
"Ce stage de césure m'a surtout permis de valider mon projet professionnel"
MG - Cette expérience m'apportera, j'en suis sure, beaucoup pour la suite de mon parcours car ce stage de césure m'a surtout permis de valider mon projet professionnel. J'ai travaillé seule avec la directrice et j'ai donc pu apprendre sur toutes les étapes du management de projet. Aussi, travailler dans une entreprise bilingue, avec des Français et des Américains est un véritable défi puisque les façons de réagir et d'intéragir sont différentes. Il faut donc sans cesse adapter sa manière de travailler. J'aurai surement, plus tard, à travailler avec des artistes ou des professionnels du monde entier. Le monde de la culture est aussi très différent aux Etats-Unis notamment en ce qui concerne les techniques de levée de fonds. C'est intéressant de connaitre les deux modèles pour être plus innovante dans mon approche du secteur culturel.
Et la vie à New York, c'est comment ?
MG - New York est une ville fascinante, j'en suis tombée totalement amoureuse. Il y a cet incroyable fossé entre des installations modernes et des équipements vieillissants. Il y a de très nombreux événements culturels, de magnifiques musées et des artistes du monde entier viennent y présenter leurs créations. C'est une ville dynamique, où tout le monde est toujours en mouvement. C'est très stimulant. J'ai aussi eu l'occasion de voyager un peu aux Etats-Unis et c'est aussi l'intérêt de partir faire son stage dans un autre pays.
Quels liens garderas-tu ? Quel est l'impact de cette expérience sur le développement de ton réseau professionnel ?
MG - Au travers des événements du Lycée mais aussi de tous les événements extérieurs auxquels j'ai pu assister dans le cadre de mon stage, j'ai eu l'occasion de rencontrer beaucoup de professionnels du secteur de la culture, autant des Français que des Américains. Le Lycée travaille en collaboration avec le FIAF, les services culturels de l'ambassade de France et la Francophonie et a reçu des personnalités comme Ibrahim Maalouf, Gad Elmaleh ou Jean Réno. Il est certain que toutes ces rencontres m'ont permis de développer mon réseau tant en France qu'aux Etats-Unis.
en savoir plus
Les formalités visas pour les Etats-Unis
Last modified 2016-04-06
02.09.2021
Over the course of these three days, you will have the chance to meet with numerous Sciences Po students and graduates. All will be actively seeking internships (whether as a mandatory part of their master's course or for a gap year), apprenticeships, fir
15.07.2021
The results of the 2021 Graduate Employability Survey on the class of 2019 show that Sciences Po students remain very attractive to employers, with 9 out of 10 graduates in professional activity. Despite a job market facing difficulties, 82% of our 2019 graduates found their first job in less than 6 months, and nearly ¾ of them have a stable profession. There are still just as many (37%) working abroad, in 84 countries. Discover all the results of our survey!
Read more news