Homepage
> "RÉUSSIR EST UNE POSSIBILITÉ : J'EN FAIS UN DEVOIR"
"RÉUSSIR EST UNE POSSIBILITÉ : J'EN FAIS UN DEVOIR"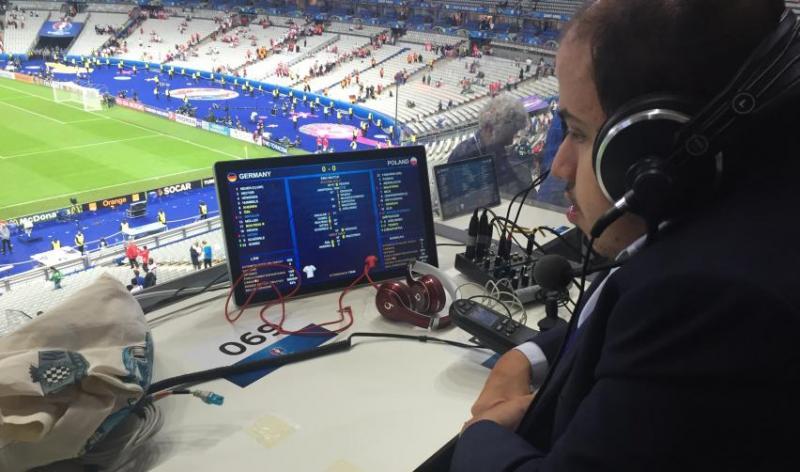 A la fois étudiant à l'École de Journalisme de Sciences Po et apprenti à la rédaction des sports de Canal +, Yanis Bacha réalise des commentaires audio-descriptifs des matches de foot de l'Euro. Un dispositif original mis en place par l'association Cafe Football* pour rendre la compétition accessible aux supporters aveugles et malvoyants. Rencontre avec Yanis, en direct depuis la tribune de presse du Stade de France.
Vous avez un parcours hors normes : handicapé moteur depuis votre enfance, vous avez étudié le droit à l'Université Panthéon-Assas (Paris II) avant d'intégrer l'École de journalisme de Sciences Po. Qu'est-ce qui vous a donné envie de devenir journaliste ?
Yanis Bacha : C'est d'abord un rêve d'enfant, qui a mûri avec le temps. Difficile de trouver un moment déclencheur. Probablement, ma fascination pour la télévision : des talk-shows de Thierry Ardisson, en passant par les débats politiques ou le journalisme d'investigation. Avec le recul, je dirais que c'est l'idée de transmettre ma passion. On dit souvent que le journaliste est un passeur entre un événement et son audience. Ce rôle me plaît bien : décoder l'information tout en innovant chaque jour pour la rendre plus accessible. Mon parcours universitaire m'a aidé, c'est vrai. Je suis très reconnaissant envers ceux qui m'ont tendu la main, qui ont cru en ce rêve et fait de l'auto-censure un concept à bannir. Évidemment, Sciences Po y a grandement contribué en m'ouvrant ses portes, et en m'ouvrant l'esprit sur le monde !
Vous travaillez depuis quatre ans maintenant à Canal +, en tant que journaliste, rédacteur et reporter spécialisé dans le football. D'où vient votre passion pour ce sport ?
Y. B. : De ma fascination pour ceux qui le pratiquent. Bizarrement, le fait de ne pas pouvoir y jouer moi-même n'est pas une source de frustration, mais de passion. Je me suis dit : "OK, tu ne seras pas footballeur professionnel, mais tu peux en parler et apporter ton regard !" Mon handicap s'est transformé en force, que j'ai investi dans la réalisation de mon rêve. La suite de mon parcours à Canal+ m'a permis de découvrir qu'à travers le prisme du football, on peut traiter une multitude de thèmes socio-politiques. C'est ce qui fait la beauté de ce sport !
Voir la fiche entreprise de Canal+ et les offres à pourvoir
Photo: Yanis Bacha dans la tribune de Presse du Stade de France
Crédits Yanis Bacha
Last modified 2016-06-29
27.01.2023
If you are looking for interns or future employees, our guide 'Recruit at Sciences Po' will provide the relevant information about our students, the careers we train them for and how to leverage this great pool of talent to meet your recruitment needs.
20.12.2022
On Friday, September 29, the Careers Fair was held for the first time on Sciences Po's 1 Saint Thomas Campus. More than 1,000 Sciences Po students and graduates attended the event where they met with over 70 different employers to discuss internships, apprenticeships and job opportunities.
Read more news