Homepage
> "WHEN YOU LOVE, YOU MUST LEAVE"
"WHEN YOU LOVE, YOU MUST LEAVE"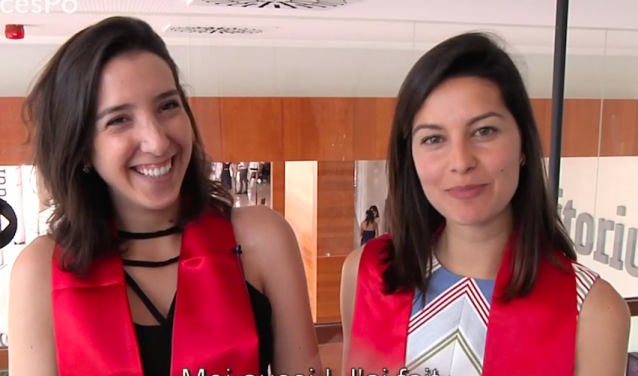 On 9 and 10 July, the 2,094 graduates from the class of 2016 were invited to the Maison de la Radio in Paris for their graduation ceremonies. Prestigious guests, emotional parents and classmates came together to celebrate a special moment that marks the beginning of a new life.
A moving moment of shared joy
One by one, the graduates went up on stage to receive their Master's degree from Frédéric Mion, president of Sciences Po and Cornelia Woll, vice president for studies and academic affairs, under the proud gaze of their parents, professors and classmates.
The audience heard from several graduates of honour and prestigious guests, including Najat Vallaud-Belkacem, minister of education, higher education and research, Filippo Grandi, UN high commissioner for refugees and Joséphine Goube, founder of the Techfugees platform for assistance to refugees.
Photo: Carolina Fantini et Mariana Segre, diplômées 2016
Crédits Sciences Po
Last modified 2016-07-12