Homepage
> AT THE JOB FAIR, THE ALUMNI WILL ADVISE YOU ON YOUR CAREER MANAGEMENT AND YOUR NETWORK EXPANSION
AT THE JOB FAIR, THE ALUMNI WILL ADVISE YOU ON YOUR CAREER MANAGEMENT AND YOUR NETWORK EXPANSION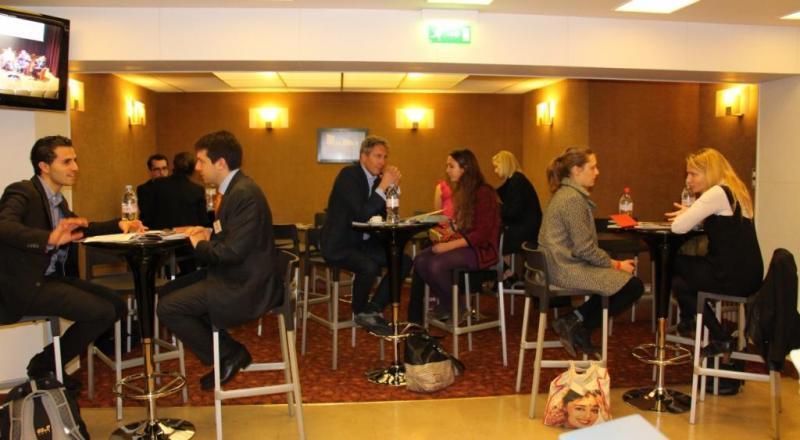 In the context of its presence at the Fair, Sciences Po Alumni gives you the opportunity to meet around fifteen HRD, coaches and professionals from the business world, all graduates from Sciences Po and from across all generations. During the Forum, they will listen and help you jumpstart your career, while giving you some advice on how to expand your network.
Alumni networking space, what goals
The day of the Fair, in the Alumni space, you can ask former Sciences Po students, your « alter egos » with professional experience, all the questions which you might not dare ask, to help you in your orientation.
How does it work ?
Each student can talk with an alumni and one or two students maximum for 10 to 15 minutes.
How do I register ?
Registration is on the spot, directly at the Alumni Space (be careful, the number of spots is limited).
Who will be the participating practitioners ?
Human Resources Directors
Pierre Emmanuel Bourgouin, (D 04) HRD
SACD - Valerie Desclerc, (SP 88) Former Chanel HRD EMEA Chanel
Dominique Fougerat, (SP 86) HRD EMEA Tarkett
Brigitte Rischard (SP 81), Director of the « Pôle Carrières » of Sciences Po Alumni
Company professionals
Jobic de Calan (SP 98), Consultant at Taddeo
Laurent Cheval (EM 15), Deputy Head of Media and Reputation, in charge of Press Relations, Group ADP
Renaud Czarnes (PES 90), Communication Director, Dalkia (Groupe EDF)
Gaëlle Glin (D 03), former Head of Communication and Books, city of Caen
Elise Hermant (M 06), Head of Media and Reputation, Group ADP
TO KNOW MORE
Last modified 2016-09-20
15.07.2021
The results of the 2021 Graduate Employability Survey on the class of 2019 show that Sciences Po students remain very attractive to employers, with 9 out of 10 graduates in professional activity. Despite a job market facing difficulties, 82% of our 2019 graduates found their first job in less than 6 months, and nearly ¾ of them have a stable profession. There are still just as many (37%) working abroad, in 84 countries. Discover all the results of our survey!
30.08.2021
You are a student looking for information about internships or career fairs? you are an employer willing to recruit our students in jobs or an internship? Find here the list of your Sciences Po Careers
Read more news