Homepage
> L'Excellence et l'Innovation font partie de notre ADN commun
L'Excellence et l'Innovation font partie de notre ADN commun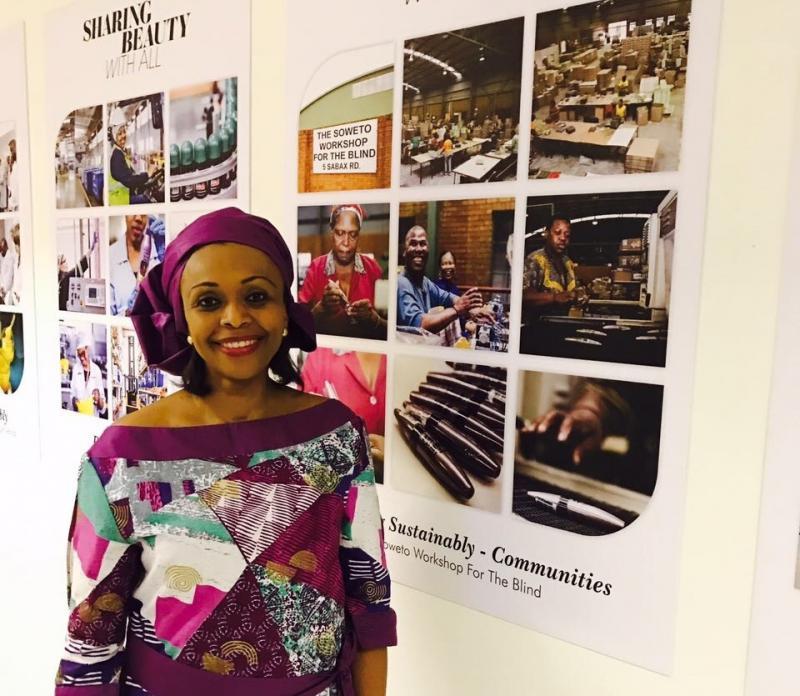 Directrice des ressources humaines pour L'Oréal, basée à Johannesburg et responsable du pôle Talent pour tout le continent africain, Virginie Dias-Tagnon développe une stratégie ambitieuse : un hub Afrique. Où il est question d'innovation, de recherche et de développement. Des critères d'excellence qu'elle souhaite partager avec les diplômés de Sciences Po.
Quel est votre parcours ?
Virginie Dias-Tagnon (V.D-T.) : Originaire des îles du Cap Vert et du Sénégal, j'ai fait mes études supérieures à Paris - une maîtrise de droit privé, un DEA de droit social à Assas et un master en ressources humaines à Sciences Po -. En 2000, j'intègre le groupe Bolloré tout d'abord en charge de la mise en œuvre de la loi sur les 35 heures, puis comme responsable des ressources humaines DOM-TOM. En 2005, une opportunité s'offre à moi : les Galeries Lafayette me proposent le poste de directrice des ressources humaines supply chain. C'est l'occasion de piloter un projet de conduite du changement dans un contexte de modernisation et de réorganisation de la chaîne d'approvisionnement des grands magasins. Quatre années plus tard, je bénéficie du réseau de Sciences Po. Une ancienne promotionnaire de l'institution m'offre l'opportunité de rejoindre le Groupe L'Oréal. En 8 ans, j'ai eu la chance d'occuper 5 postes dans 4 pays différents que sont la France, l'Inde, la Norvège, et maintenant l'Afrique du Sud ! En février 2017, mon aventure africaine démarre à Johannesburg. J'y suis promue DRH en charge du Talent pour l'Afrique. L'Oréal m'a ouvert les portes de la mobilité internationale et a rendu possible mon désir de travailler en Afrique.
Pourquoi ce désir de vous tourner vers l'Afrique ?
(V.D-T.) : Je suis 100% Africaine ! Et comme tous les Africains, j'ai de l'ambition pour le développement de mon continent. J'ai eu la chance de bénéficier d'une éducation privilégiée en Afrique, encouragée par mes parents à poursuivre de bonnes études en France. L'Afrique est riche de valeurs dont j'ai été imprégnées depuis l'enfance : la générosité, le partage, la solidarité, la transmission et l'entraide intergénérationnelle, l'aide envers les plus démunis, l'écoute. L'Afrique porte cette humanité. Sans elle, sans cet héritage-là, je n'aurais pas été la DRH que je suis devenue. À mon tour de rendre à l'Afrique ce qu'elle m'a donné.
L'Oréal développe un Hub Afrique. Pourquoi ?
(V.D-T.) : L'Oréal a l'ambition de conquérir un milliard de nouveaux consommateurs d'ici à 2020. L'Afrique est un contributeur clé pour atteindre cet objectif. Par ailleurs, pour L'Oréal il est important de répondre aux attentes de tous nos clients et leur assurer l'offre la plus complète. C'est le principe d'universalisation qui consiste à apporter aux consommateurs du monde une offre globale tout en s'adaptant aux spécificités locales. Le Hub Afrique a la responsabilité de comprendre les habitudes des consommateurs africains qu'ils soient Kenyans, Ghanéens, Nigérians, Ivoiriens, Sud-Africains...et de mettre à leur disposition des produits qui répondent à leurs besoins. Le marché africain est très porteur, en pleine croissance, attractif pour les acteurs économiques, ce qui nécessite de mobiliser des talents avec un esprit d'entreprenariat et de l'audace.
Pourquoi L'Oréal souhaite recruter les jeunes diplômés et les étudiants en master de Sciences Po ?
(V.D-T.) : Nous avons avec Sciences Po un partenariat de longue date. Sciences Po, tout comme L'Oréal a mis le cap sur l'Afrique. En témoignent ses programmes, comme Europe-Afrique créé en 2011, ou Lead Campus qui s'adresse aux leaders du secteur privé, programme au sein duquel je m'implique en qualité de mentor. Mais l'engagement est plus profond ! L'Oréal partage avec Sciences Po des valeurs identiques : la culture de l'excellence, la promotion réelle de la diversité, à savoir un vrai mélange des cultures, des origines, des parcours et la détermination à donner sa chance à chacun. Sciences Po est pour nous un excellent vivier de talents !
Propos recueillis par David Kanner
En savoir plus
Last modified 2017-04-14
02.09.2021
Over the course of these three days, you will have the chance to meet with numerous Sciences Po students and graduates. All will be actively seeking internships (whether as a mandatory part of their master's course or for a gap year), apprenticeships, fir
15.07.2021
The results of the 2021 Graduate Employability Survey on the class of 2019 show that Sciences Po students remain very attractive to employers, with 9 out of 10 graduates in professional activity. Despite a job market facing difficulties, 82% of our 2019 graduates found their first job in less than 6 months, and nearly ¾ of them have a stable profession. There are still just as many (37%) working abroad, in 84 countries. Discover all the results of our survey!
Read more news