Homepage
> ARTILLERIE: DISCOVER OUR FUTURE CAMPUS!
ARTILLERIE: DISCOVER OUR FUTURE CAMPUS!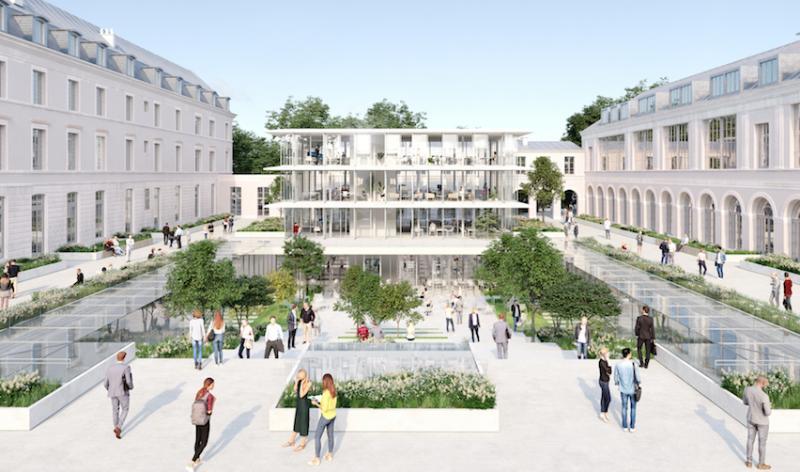 A new chapter in Sciences Po's history is beginning. The redevelopment project chosen for the Artillerie site acquired in late 2016 has been unveiled: it is the work of the team led by Sogelym Dixence with architect Jean-Michel Wilmotte. Beyond the architectural challenge of transforming a seventeenth-century novitiate into a sustainable, innovative university campus, this plan represents a complete renewal of Sciences Po after 150 years of existence.
Sciences Po acquired the Artillerie site in December 2016 and launched a competitive negotiation process to redevelop it in early 2017. The consortium that has won the contract is a real dream team made up of leading names in architecture, campus specialists and sustainable building experts. Alongside the property developer Sogelym Dixence, the consortium brings together architecture firms Wilmotte & Associés and Moreau Kusunoki, and international higher education specialist Sasaki (read more in our press release (pdf, 56 Kb).
It is no small challenge to transform a seventeenth-century novitiate into a campus capable of adapting to tomorrow's higher education needs and still remain true to the university's identity, which has been 150 years in the making. The result is a measured, elegant architectural design that sets off this exceptional heritage to full advantage while creating spaces that look to the future.
A campus to attract talent from around the world
With this new 14,000 m2 site, Sciences Po will consolidate its historic grounding in the heart of Paris and enhance its profile. Redesigned and streamlined, Campus 2022 will be better organised, more coherent and able to cater optimally to more than 10,000 students and 200 faculty members in the middle of the capital. This world-class urban campus worthy of one of Europe's leading research universities is destined to attract top faculty and students from around the world.
Find out more
Photo: Dans la cour Gribeauval, le Pavillon et le Jardin des savoirs
Crédits Sogelym Dixence / Wilmotte & Associés Architectes / Moreau Kusunoki Architectes / RSI Studio
Last modified 2018-01-17
21.08.2019
The 2019 Graduate Employability Survey asked the Class of 2017 what they were up to now. Their responses indicated that Sciences Po graduates are entering the job market even more quickly than in previous years, with 87% landing a job less than 6 months after graduating (compared to 83.6% for the Class of 2016).
25.09.2019
On Friday 27 september 2019 from 10am to 5pm, the Sciences Po Careers Fair will gather at Porte de Versailles more than 100 participants (amongst which companies, public administrations, international organisations...) willing to recruit our students and graduates in a wide range of industries and activities.
Read more news