Homepage
> Ève, dedicated to the oceans, student at the university Sciences Po
Ève, dedicated to the oceans, student at the university Sciences Po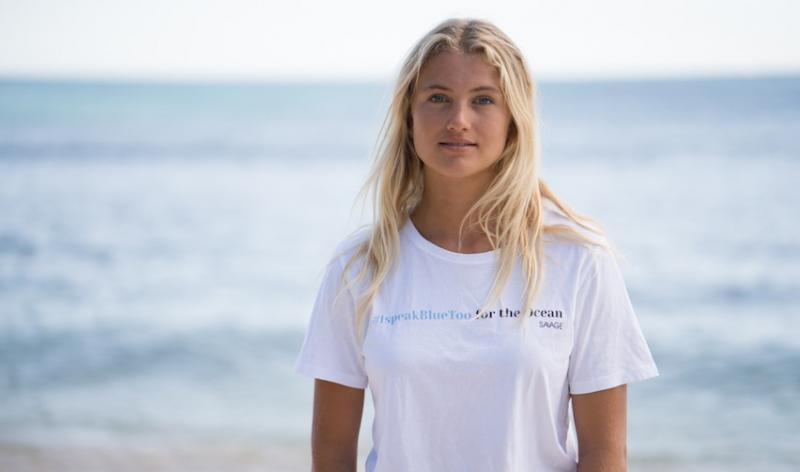 À l'occasion de la Semaine des Océans à Sciences Po, nous avons rencontré Ève Isambourg, étudiante en 3ème année du Collège universitaire et activiste pour la protection des océans. Après deux ans sur les bancs du campus de Paris, Ève a consacré sa troisième année à l'étranger à mobiliser les esprits sur les questions océaniques autour du monde. Dernière étape de sa mission et non des moindres : une conférence devant l'ONU à New York.
Des bancs de Sciences Po à l'ONU
"Si quelqu'un m'avait dit, "Ève, cet été tu parleras à l'ONU pour défendre l'Océan", je ne l'aurais jamais cru, raconte Ève Isambourg, étudiante au Collège universitaire. Mais, il se trouve que les chemins les plus inattendus s'ouvrent à ceux qui se battent pour faire avancer les choses, et alors les rencontres se multiplient, les opportunités se présentent, les projets naissent et le cercle vertueux est engagé." Il y a quelques mois, Ève Isambourg était encore une étudiante en 2ème année qui passait ses examens en gouvernance environnementale et enjeux océaniques. Elle décide alors en mai dernier de transformer sa 3ème année à l'étranger - un passage obligé dans la formation à Sciences Po - en mission pour la planète. C'est en soutien à la journée internationale de l'Océan le 8 juin 2018, qu'elle lance le mouvement #IspeakBlueToo, qui va mobiliser des milliers de personnes sur les réseaux sociaux.
Le mouvement #IspeakBlueToo s'est depuis mué en une communauté d'acteurs engagés pour la protection de la planète bleue et de ses océans. "Quand on nous prédit qu'en 2050, il y aura plus de plastique que de poissons dans les océans, oui, cela m'inquiète. Mais, par dessus tout, cela me donne envie de m'engager et d'agir!", explique Ève. D'origine française, Ève a grandi à l'Île Maurice, et c'est chez elle qu'elle décide d'effectuer son premier stage de troisième année, auprès de l'antenne locale Let's Do It Foundation, puis comme responsable communication et relations publiques du WorldCleanUpDay 2018, qui s'est tenu le 15 septembre dernier. Cet événement a pris une ampleur internationale : plus de 17 millions de personnes, gants et sacs à la main, se sont unies pour nettoyer la planète. À Maurice, plus de 8000 personnes s'étaient rassemblées sur 70 lieux de nettoyage, une première pour cette petite île de l'Océan indien !
C'est au même moment qu'Ève reçoit un coup de fil lui annonçant qu'elle est sélectionnée pour devenir "Jeune Ambassadrice Océan & Climat" par l'ONG Peace Boat.
Last modified 2018-11-05
04.09.2023
If you are looking for interns or future employees, our guide 'Recruit at Sciences Po' will provide the relevant information about our students, the careers we train them for and how to leverage this great pool of talent to meet your recruitment needs.
06.09.2023
Launched by two graduates (class of 2020) from Law School : Agnès de Fortanier (Master in Economic Law) and Thomas Harbor (dual degree Sciences Po HEC), What's up EU is a newsletter putting together a concise, well-documented, and informative weekly wrap-up of the news that matters at a continental scale — from a European perspective. Sciences Po Careers interviewed Augustin Bourleaud, in charge of its edition, who is currently a double master's degree student between Sciences Po and the London School of Economics.
Read more news