Homepage
> "We look for men and women who are open to others and to the world"
"We look for men and women who are open to others and to the world"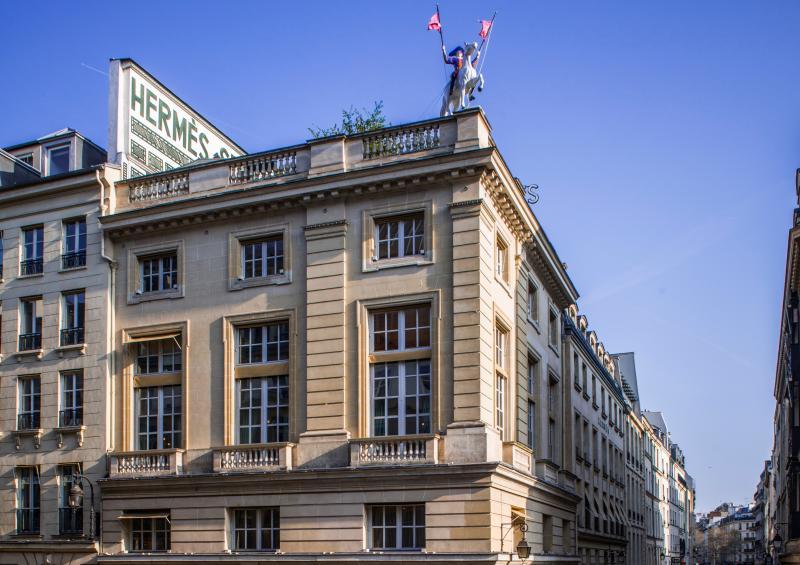 The famous Parisian family-owned company Hermès, creator of fine objects, shares many values with Sciences Po and the two have just formed a partnership. Sophie Duverne, the company's HR Director, explains why it's worth supporting Sciences Po and recruiting our students
Sciences Po Careers: Can you tell us what sets Hermès apart?
Sophie Duverne (S.D) - Hermès is an independent, family-owned Parisian company with a strong focus on the international market (86% of turnover). The company's luxury goods—fine objects for women, men and the home—are produced in 50 factories and sold in 304 stores in 46 countries. As an artisan manufacturer, Hermès is deeply committed to the freedom to create and innovate and upholds the highest standards of quality to produce beautiful, functional objects. Hermès—contemporary artisan since 1837—was a humanist who related to the world as an artisan with artisan's values. Today our company maintains his approach while planted firmly in the present and driven by a long-term vision. Our corporate identity is grounded in respect for women and men, communities and the planet.
Why support Sciences Po?
Sophie Duverne (S.D) - Sciences Po's educational approach—understand the world in order to transform it—resonates with the open-minded culture that is part and parcel of Hermès' identity. We believe that in a complex world, memory, exchanges and the breaking down of borders are essential to the growth of people, projects and organisations. Striving for broad general knowledge, intellectual curiosity and a better understanding of the world's complexity are key to this.
In this respect, Sciences Po's approach echoes that of Hermès. Our company's social and environmental responsibility derives from its artisan-based model. We rise to the challenge of a VUCA world (1) with a focus on creation, craftsmanship and innovation, to serve customers who wish to grace their daily lives with high quality goods.
What does the partnership consist of?
Sophie Duverne (S.D) - As a responsible employer, Hermès is committed to maintaining a staff with diverse backgrounds that reflects the world's diversity. As such, Sciences Po's efforts to include students with disabilities caught our attention. Supporting the Accessible Sciences Po programme, will allow us to offer customised notifications and advice about internship and employment opportunities, and run mini-fairs to present Hermès and establish contact with students.
In addition, we are developing a partnership with the Scool of Management and Innovation to raise awareness of the types of jobs we offer that are not naturally associated with the Hermès name: finance, supply chain, communication, etc. This will involve advertising internship and apprenticeship openings and inviting Master's students to discover our company through visits, presentations and opportunities for discussion. We are enthusiastic about the idea of making Hermès known as a quality employer as well as a diverse, multi-dimensional company.
What features do you look for in potential employees?
Sophie Duverne (S.D) - Hermès looks for people who share its values and culture. The diverse nature of our company requires solid, varied expertise. We look for men and women who are open to others and to the world around them, with a curious mind, a sense of community, high standards and a focus on results. People like this have the ability to create, take action and get things done. For our part, we are committed to ensuring that they learn continuously and grow within the company.
find out more
Crédit photo :
Siège de la Maison Hermès © Benoit Teillet
Last modified 2018-11-19
04.09.2023
If you are looking for interns or future employees, our guide 'Recruit at Sciences Po' will provide the relevant information about our students, the careers we train them for and how to leverage this great pool of talent to meet your recruitment needs.
06.09.2023
Launched by two graduates (class of 2020) from Law School : Agnès de Fortanier (Master in Economic Law) and Thomas Harbor (dual degree Sciences Po HEC), What's up EU is a newsletter putting together a concise, well-documented, and informative weekly wrap-up of the news that matters at a continental scale — from a European perspective. Sciences Po Careers interviewed Augustin Bourleaud, in charge of its edition, who is currently a double master's degree student between Sciences Po and the London School of Economics.
Read more news