Homepage
> Why going on exchange ? Two students answer us.
Why going on exchange ? Two students answer us.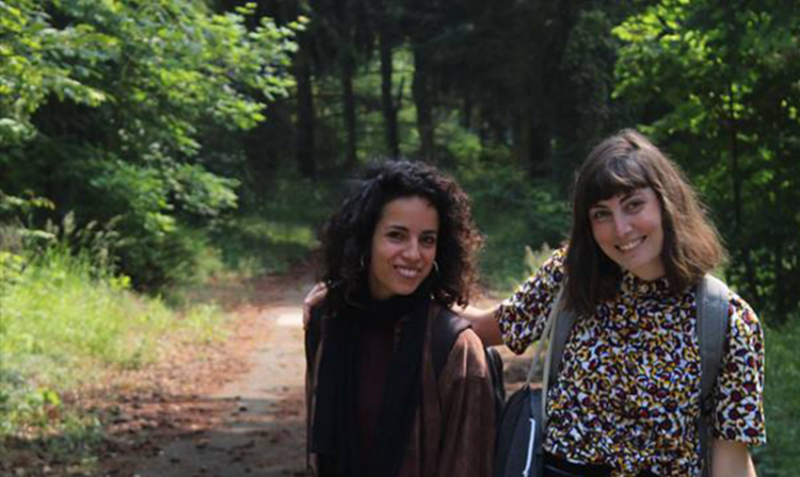 Luisa Coppolino and Amélie Calafat, Urban Planning students, have just got back from a semester on exchange at the Bartlett School of Planning, University College London (UCL). They agreed to talk to us about their experience.
FIRST OF ALL, CAN YOU TELL US A LITTLE ABOUT YOUR BACKGROUND BEFORE YOU CAME TO THE URBAN SCHOOL ?
Luisa Coppolino : After graduating from the Syracuse School of Architecture (Scuola Didattica di Siracusa) in Italy, I worked for 18 months in urban planning at Martin Duplantier, an architecture firm. I worked on various projects, including an urban composition guide plan around the Cité Radieuse de Marseille and preliminary studies for the development of the "Port Colbert" district in Reims. Then I wanted to do my Master's in Urban Planning.
Amélie Calafat : I've had a multidisciplinary education in Sociology (classe préparatoire, Lycée Guist'hau in Nantes), Political Science (Université de Droit et Sciences Politiques de Rennes 1), Geopolitics (Marmara Universitesi in Istanbul) and Urban Sociology (Institut des Études Européennes, Paris VIII). Through these studies, I developed a broad understanding of the multi-scale dynamics that govern cities and how they work. I also became familiar with urban planning dynamics through a six-month experience in an engineering consultancy specialised in project management support for urban renewal projects.
WHY DID YOU CHOOSE THE URBAN PLANNING PROGRAMME? WHAT WAS THE FIRST YEAR LIKE ?
L.C.: While I was working at the architecture firm, I realised that I needed to learn more about urban planning "à la française". Sciences Po's Master of Urban Planning was the perfect programme for someone wanting to study the French planning system and the power relations between the various stakeholders. The first year was intense and rewarding. Because each student has a multidisciplinary background, everyone could learn from each other and open up to other points of view.
A.C.: Over the course of my studies, the world of urban planning began to really appeal to me as it echoed my other interests. That's why I decided to do the Urban Planning Programme after I graduated. It has opened up new horizons for me. Urban planning is not only about the multidimensional dynamics at work in urban spaces, but also about design—how design can improve, confirm, or correct those dynamics. The courses have helped me expand my operational skillset and, more importantly, my understanding of stakeholder interaction and how urban spaces are structured. I've been very happy with the work, which is based to a large extent on simulation exercises and group work.
WHY DID YOU WANT TO DO AN EXCHANGE RATHER THAN AN INTERNSHIP FOR YOUR THIRD SEMESTER ?
L.C.: I've always liked to go off and discover other countries. As a student, I spent several periods studying and working abroad. I got to study for a year in Lisbon, then to intern for four months in Copenhagen. After that, I worked for a year and a half in Paris and decided to stay for the Urban Planning Programme. As well as studying the issues involved in making a city, I also learned to study cities comparatively, which I really enjoyed. It's this interest in the comparative dimension of urban planning practices and my desire to get to know different cultures that helped me come up with my plan for the third semester of my Master's: an exchange at one of Sciences Po's partner universities.
A.C.: With my social science background, I had the feeling I was still missing one of the dimensions of long-term urban planning. The French system uses the term "urbanism" to refer to the development of an urban strategy and to urban design. But in the Anglo-Saxon system, these two aspects are clearly separated, with urban planning (the strategic dimension) on the one hand and urban design on the other. So I went to study at the Bartlett School of Planning with the intention of bringing urban design into my urban planning education, as a means to equip myself with the basics of design. Design principles are fundamentally linked to the analysis of urban spaces and play a part in changing them, so they're extremely important. Finally, this exchange was a great opportunity to live in a foreign city—London at that—and discover new spaces.
WHAT ARE YOUR IMPRESSIONS OF THE BARTLETT SCHOOL AT UCL ?
L.C.: I progressed hugely there from an academic point of view. The very fertile environment specific to UCL really helped me develop my knowledge and skills. I studied the social sciences in relation to urban planning, which allowed me to explore sociology subjects more deeply and develop a more objective view of new planning policies and practices. I found the courses very interesting, with good opportunities to think critically and question the planning systems of different countries, in particular, those of the United Kingdom.
A.C.: The Bartlett School of Planning prides itself on its wide-ranging social science expertise and considerable international recognition, which it strengthens by accepting international students. Its approaches are varied and the range of programmes it offers reveal the plurality of urban practice. The workload was heavy, but I learned an enormous amount through the courses taught at UCL. In particular, we were confronted with the comparative study of planning systems and discovered classic authors in the Anglo-Saxon tradition.
WHAT DO YOU THINK OF THIS EXCHANGE SEMESTER ?
L.C.: This experience is a key part of my training as an urban planner. I can tell that I've strengthened my skills ; now I have to put them to the test and channel them on the job. I am sure that these months on exchange will make an essential contribution to my career going forward.
A.C.: It was a great opportunity to get to know London by living there. I was able to work in parallel in a restaurant in East London, which helped me discover even more aspects of the city. The exchange was rich, intense and full of discoveries and encounters.
LEARN MORE :
Last modified 2019-02-27
14.03.2022
If you are looking for interns or future employees, our guide 'Recruit at Sciences Po' will provide the relevant information about our students, the careers we train them for and how to leverage this great pool of talent to meet your recruitment needs.
15.07.2021
The results of the 2021 Graduate Employability Survey on the class of 2019 show that Sciences Po students remain very attractive to employers, with 9 out of 10 graduates in professional activity. Despite a job market facing difficulties, 82% of our 2019 graduates found their first job in less than 6 months, and nearly ¾ of them have a stable profession. There are still just as many (37%) working abroad, in 84 countries. Discover all the results of our survey!
Read more news