Homepage
> L'alternance : une transition douce avec le monde du travail
L'alternance : une transition douce avec le monde du travail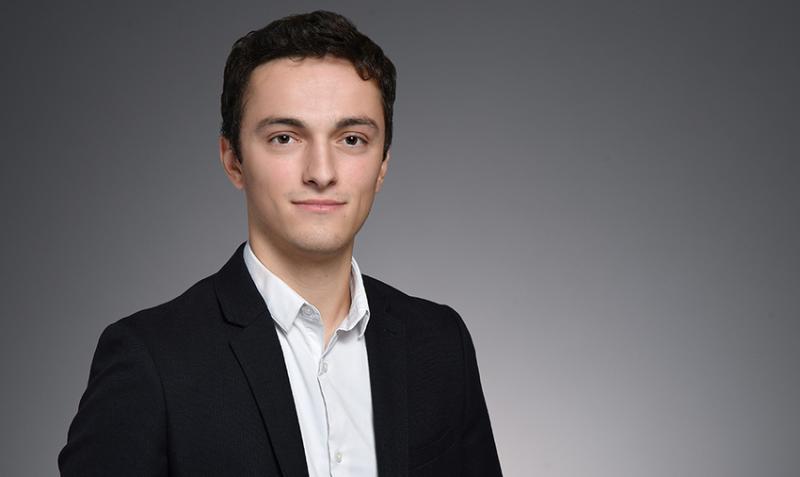 Louis Gaucher effectue sa deuxième année de master Stratégies Territoriales et Urbaines en apprentissage. Depuis juin 2018, il alterne entre ses cours à Sciences Po et la préparation (urbaine) des Jeux Olympiques et Paralympiques au sein de la Société de livraison des équipements olympiques et paralympiques (SOLIDEO). Entretien.
Pourquoi avoir choisi l'alternance ?
L'alternance est une formule douce pour organiser la transition entre l'école et le monde du travail : elle me permet de mettre en relation ma formation théorique et des connaissances pratiques. Après 4 ans d'études, j'éprouvais le besoin de sortir de la bulle académique et de devenir opérationnel. L'alternance donne la possibilité de suivre des projets professionnels sur l'année entière, ce qui est très stimulant. Enfin, il ne faut pas occulter le fait que l'alternance apporte également une certaine autonomie financière.
Quelles sont vos missions en entreprise ? Êtes-vous autonome sur certaines ?
Je travaille au sein du pôle Ambitions et Héritage de la SOLIDEO, dont l'objectif est de préfigurer, entre autres, l'héritage des ouvrages et chantiers olympiques et paralympiques. Il s'agit de démontrer l'utilité des projets, notamment par rapport aux enjeux du développement durable. Concrètement, cela se traduit d'une part par un travail de synthèse de documents pour élaborer la vision stratégique. D'autre part, je dois aussi préparer, participer, voire animer un certain nombre de réunions de coordination entre les différents acteurs publics et privés impliqués.
Enfin, il s'agit de préparer les aménagements : j'ai donc dû participer à la rédaction de marchés publics puis l'analyse des offres. La structure étant encore récente (la SOLIDEO a été créée au début de l'année 2018), les équipes ne sont pas encore complètement formées. Il a donc fallu que je sois rapidement autonome pour répondre à la charge de travail. Ce degré d'autonomie tend d'ailleurs à augmenter au fur et à mesure de ma mission.
Pourquoi avez-vous choisi cette entreprise ?
C'est un projet de longue date mûri depuis la candidature de Paris pour les Jeux Olympiques et Paralympiques de 2024. Il s'agit, pour moi, de permettre la bonne tenue d'un événement exceptionnel et rassembleur, qui va bien au-delà du simple événement sportif, et qui permet aussi de s'intéresser à des problématiques d'aménagement urbain. Au vu des précédentes villes d'accueil des Jeux, un certain nombre de questions se posent sur la capacité d'une métropole à absorber l'organisation de ce méga-événement, voire sur son intérêt au regard des principes du développement durable. J'ai puisé ma motivation dans ce défi : faire de cet événement une réussite sociale, environnementale et économique.
La dynamique olympique et paralympique permet de présenter, d'expérimenter des réponses à des besoins sociétaux et d'aménagement au sein même des villes du Grand Paris, et notamment de Seine-Saint-Denis, qu'il s'agit de transcrire à travers la réalisation des ouvrages.
Comment avez-vous vécu ces premiers mois d'alternance ?
Le premier bilan est très positif : j'ai pu observer des pratiques et actions qui répondent aux notions et concepts appris à l'École urbaine. Les cours du semestre actuel me permettent de mieux saisir mon environnement de travail, et inversement, le travail m'aide aussi à mieux saisir les enjeux des cours. Un dialogue constant et stimulant s'est installé entre mon parcours académique et mon parcours professionnel. L'intégration dans l'équipe et mon environnement de travail s'est bien déroulé.
Le fait de commencer l'alternance à temps plein, avant la reprise des cours, a aussi facilité mon intégration et ma formation. Enfin, la présence d'un autre stagiaire et d'un autre alternant dans la structure à mon arrivée m'ont aidé à trouver rapidement des repères. Le retour à l'école en septembre a été plus compliqué. J'ai eu besoin de temps pour trouver un équilibre entre le rythme soutenu de l'entreprise et le rythme académique qui se décline sur un temps plus long. Mais finalement, leur complémentarité me donne une véritable satisfaction, grâce aux liens qui s'établissent entre la formation académique et la formation professionnelle.
Nos 8 masters accessibles en apprentissage :
master finance et stratégie
master organisations et management des ressources humaines
master marketing et études
master communication, médias et industries créatives
master politiques publiques
master affaires européennes
master en journalisme
master Stratégies territoriales et urbaines
En savoir plus
Crédit photo : Louis Gaucher © Xavier Granet/ SOLIDEO
Last modified 2019-03-12
14.03.2022
If you are looking for interns or future employees, our guide 'Recruit at Sciences Po' will provide the relevant information about our students, the careers we train them for and how to leverage this great pool of talent to meet your recruitment needs.
15.07.2021
The results of the 2021 Graduate Employability Survey on the class of 2019 show that Sciences Po students remain very attractive to employers, with 9 out of 10 graduates in professional activity. Despite a job market facing difficulties, 82% of our 2019 graduates found their first job in less than 6 months, and nearly ¾ of them have a stable profession. There are still just as many (37%) working abroad, in 84 countries. Discover all the results of our survey!
Read more news