Homepage
> Sciences Po 3rd in "Politics and international studies" in QS ranking 2019
Sciences Po 3rd in "Politics and international studies" in QS ranking 2019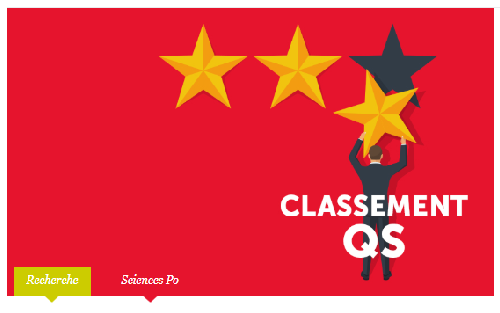 Sciences Po improves once again its global position in "Politics and International Studies", moving up, after three successive years in 4th place, to 3rd position globally in the 2019 QS World University Rankings by subject, released on 27 February, 2019. Just behind Harvard University and the University of Oxford, Sciences Po is the first university of continental Europe and this discipline.
For the sixth year in a row, the QS rankings by subject, comparing over 1,200 universities, continue to illustrate that Sciences Po is at the heart of leading social science universities. This trend can also be observed in sociology; after being ranked 44th and then 37th in the past two years, Sciences Po has now leaped ahead to the 28th place.
Further progress has also been made in the "Social Policy and Administration" subject, as Sciences Po jumped from 48th to 22nd place in the world rankings.
In law, Sciences Po maintains its place within the 51st and 100th positions. Sciences Po also upholds its rank in economics and history, between the 101st and 150th positions.
More information
Subscribe to Cogito, the research newsletter
Subscribe to our newsletter

Last modified 2019-03-07
09.06.2020
Master in Public Policy, policy stream Cultural Policy and Management, promotion 2018. Marie Gervier graduated from the Master in Public Policy at the School of Public Affairs, Cultural Policy and Management policy stream. She is currently working as as a Communication and Event Manager for the United Nations Office in Geneva. Testimony.
15.06.2020
Perline Manuel est diplômée 2015 du master Marketing. Aujourd'hui elle est en charge de la revalorisation des conteneurs maritimes dits "de dernier voyage". Focus sur sa mission et son parcours au sein de l'entreprise familiale leader du transport maritime, de la gestion de zone commerciale aux projets au format intrapreneurial.
Read more news