Homepage
> Association Pour l'Emploi des Cadres (APEC) - French only
Association Pour l'Emploi des Cadres (APEC) - French only
Acteur incontournable du marché de l'emploi des cadres en France, l'Apec vous propose d'accéder à des informations sur le marché, à des conseils et des services sur mesure pour réussir votre recherche d'emploi, optimiser vos outils de candidature et entrer en relation avec des entreprises, de conduire ou d'anticiper votre évolution. Des consultants vous conseillent et vous accompagnent dans la mise en œuvre de votre projet. Focus sur les services que Sciences Po Carrières vous recommandent tout particulièrement.
L'Apec : de nombreux services à votre disposition
Conseils sur mesure
400 consultants vous reçoivent pour vous délivrer des conseils sur mesure, trouver des débouchés en fonction de votre diplôme et vous aider à décrocher votre stage, une alternance ou votre premier emploi.
Observatoire de l'emploi
Besoin de vous orienter ? Pour vous y retrouver dans la jungle de l'emploi, l'APEC vous propose d'accéder à de nombreuses ressources et études sur les métiers, le recrutement, les rémunérations, l'insertion professionnelle...
Ateliers : Objectifs, 1er emploi
Les ateliers « Objectif Premier Emploi » ont pour objectif de vous aider à gagner en efficacité dans vos démarches de recherche d'emploi, de stage ou d'alternance. Via une expérience collective, interactive et engageante animée par un.e consultant.e Apec, vous serez amené.e à identifier vos atouts, définir clairement votre projet professionnel, prioriser les premières actions à entreprendre et gagner en autonomie. Vous découvrirez par ailleurs tous les outils, ressources et services proposés par l'Apec, adaptés à votre situation.
Entrainez-vous à l'entretien de recrutement en visio
Simulateur d'entretien
Vous avez un entretien de prévu pour un stage ou un 1er emploi ? Entrainez-vous à répondre à tout type de question grâce au simulateur d'entretien.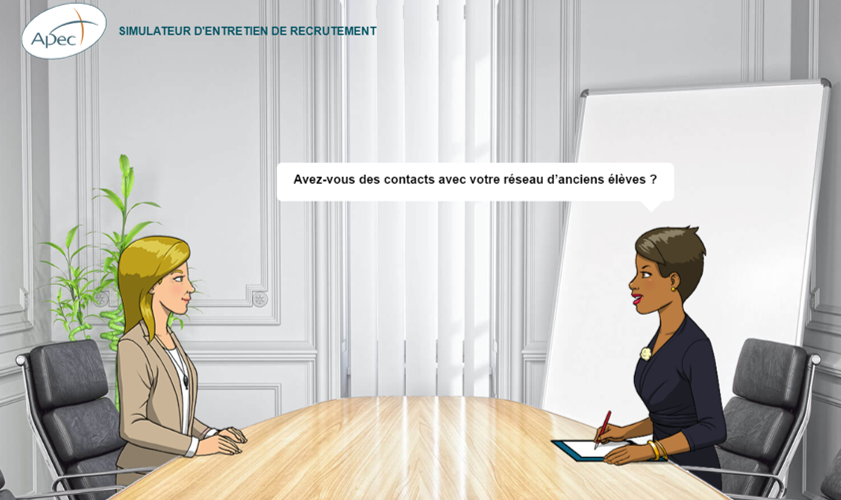 Démarrez une session de simulation d'entretien
Pour aller plus loin
Découvrez l'outil interactif Datacadres
Accédez à toutes les études Apec
Suivre l'APEC sur les réseaux sociaux:
Last modified 2021-09-14
04.09.2023
If you are looking for interns or future employees, our guide 'Recruit at Sciences Po' will provide the relevant information about our students, the careers we train them for and how to leverage this great pool of talent to meet your recruitment needs.
06.09.2023
Launched by two graduates (class of 2020) from Law School : Agnès de Fortanier (Master in Economic Law) and Thomas Harbor (dual degree Sciences Po HEC), What's up EU is a newsletter putting together a concise, well-documented, and informative weekly wrap-up of the news that matters at a continental scale — from a European perspective. Sciences Po Careers interviewed Augustin Bourleaud, in charge of its edition, who is currently a double master's degree student between Sciences Po and the London School of Economics.
Read more news