Homepage
> 2019 graduation : who are our graduates?
2019 graduation : who are our graduates?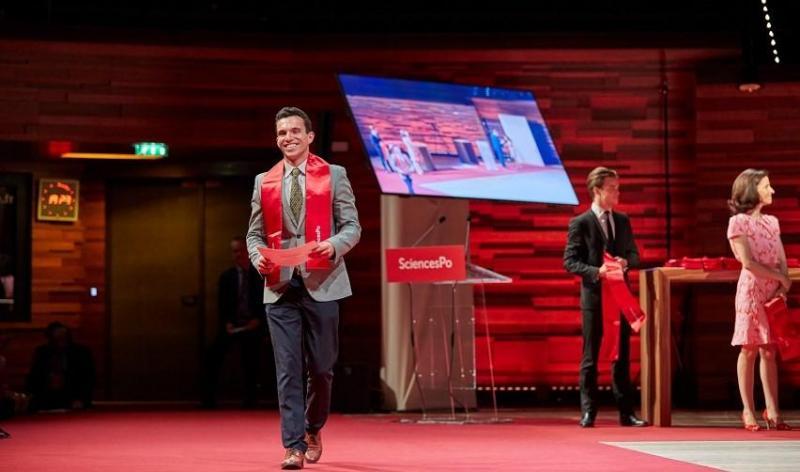 Bright and engaged citizens. Promising futures. Inspiring guests and motivational speeches. Parents brimming with pride. On Friday, 28th of June and Saturday, 29th of June 2019, the Sciences Po graduation ceremonies will bring together over 2,500 graduates and their guests at the grand auditorium of the Philarmonie in Paris. So who are the graduates of the Class of 2019?
2,542 Graduating Students
The total number of students who will walk this year is 2,542.
They are graduating from our seven Graduate Schools and 56 specialisations within different Master's programmes
Half of the students entered as undergraduates on one of our seven campuses; the other half entered as graduate students
305 students are part of a Dual Degree programme (French and International)
Over 1,200 students are international students and represent 95 different nationalities
59% of the 2019 graduates are women
The First Ever at the Philharmonie
For the first time in its history, the Sciences Po graduation ceremonies will take place in the prestigious Philharmonie music hall designed by renowned architect Jean Nouvel. With 2,400 seats, the "Grande salle Pierre Boulez" will host no less than 4 ceremonies over two days in order for each and every graduate to receive their diploma. With speeches from President Frédéric Mion, Director of Studies and Academic Affairs Bénédicte Durand, graduates and special surprise guests, the 2019 graduation ceremonies promise to be filled with emotion and inspiration!
Read the full article and watch the livestream of 2019 graduation ceremonies
Last modified 2019-07-01
15.07.2021
The results of the 2021 Graduate Employability Survey on the class of 2019 show that Sciences Po students remain very attractive to employers, with 9 out of 10 graduates in professional activity. Despite a job market facing difficulties, 82% of our 2019 graduates found their first job in less than 6 months, and nearly ¾ of them have a stable profession. There are still just as many (37%) working abroad, in 84 countries. Discover all the results of our survey!
30.08.2021
You are a student looking for information about internships or career fairs? you are an employer willing to recruit our students in jobs or an internship? Find here the list of your Sciences Po Careers
Read more news