Homepage
> Fabrice, journalist, author and long-term navigator, graduated from the School of Research
Fabrice, journalist, author and long-term navigator, graduated from the School of Research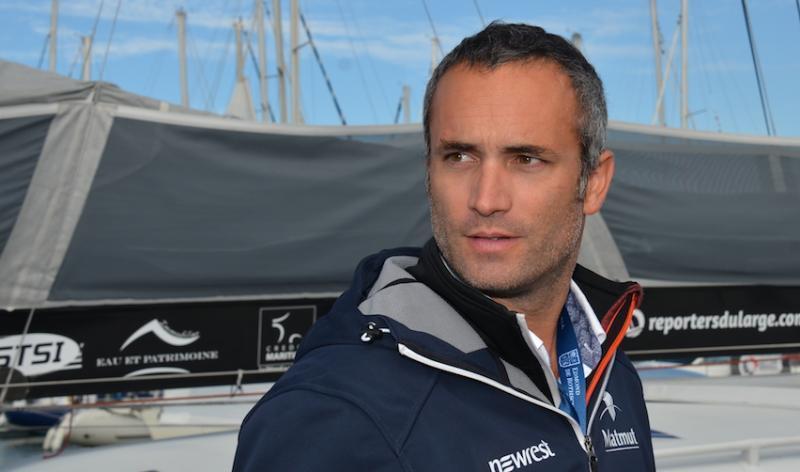 Diplômé de Sciences Po en 2002, Fabrice Amedeo a déjà plusieurs vies. Journaliste, auteur, et désormais navigateur au long cours, ce quarantenaire s'apprête à prendre le départ du Vendée Globe 2020 à la barre d'un monocoque doté de capteurs ultra-sophistiqués qui lui permettent d'allier passion pour la voile et protection de l'environnement. Portrait en vidéo.
Fabrice Amedeo a intégré Sciences Po en master après un diplôme de philosophie. Après son diplôme en 2002, il rejoint la rédaction du Figaro où il couvre l'actualité des entreprises, des marchés financiers, de la macro-économie internationale, puis des transports. Il devient en 2009 enquêteur au service « Société » du journal, puis rédacteur en chef adjoint en 2012, et enfin responsable de la tranche matinale de l'édition en ligne.
Journaliste, auteur et navigateur de premier plan
L'éclectisme de Fabrice Amedeo se dévoile à travers ses ouvrages : durant cette période, il publie sur la course au large, une enquête sur Air France, mais aussi des entretiens avec Jacqueline de Romilly, sans oublier un essai sur l'identité européenne.
Passionné par la voile, il participe à la Route du Rhum, sa première transat en solitaire, en 2010. En 2012 il arrive 3e de la Solidaire du Chocolat, puis 4e de la Transat Québec-Saint-Malo. En 2013, il est 6e de la Transat Jacques Vabre en 2014, 9e de la Route du Rhum. Il poursuit sur sa spectaculaire trajectoire de navigateur professionnel avec une 8e place de la Transat Jacques Vabre en double en 2015, puis 11e du Vendée Globe en 2017. Il sera parmi les compétiteurs de l'édition 2020 du Vendée Globe.
Last modified 2020-02-17
04.09.2023
If you are looking for interns or future employees, our guide 'Recruit at Sciences Po' will provide the relevant information about our students, the careers we train them for and how to leverage this great pool of talent to meet your recruitment needs.
06.09.2023
Launched by two graduates (class of 2020) from Law School : Agnès de Fortanier (Master in Economic Law) and Thomas Harbor (dual degree Sciences Po HEC), What's up EU is a newsletter putting together a concise, well-documented, and informative weekly wrap-up of the news that matters at a continental scale — from a European perspective. Sciences Po Careers interviewed Augustin Bourleaud, in charge of its edition, who is currently a double master's degree student between Sciences Po and the London School of Economics.
Read more news