Fionnuala Egan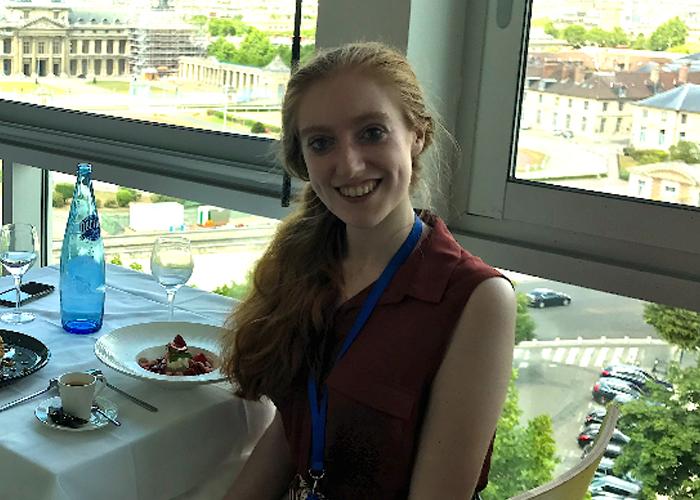 Fionnuala Egan is a student in the Master in Human Rights and Humanitarian Action with concentrations in with concentrations in Diplomacy and European Studies. She recently completed an internship with the Permanent Representation of Ireland to the OECD and UNESCO.
How did you secure this role?
I originally chose this Master because I am really interested in international relations and want to contribute to creating a better world for all. I have been interested in a career in diplomacy since doing an internship in the US Embassy in Dublin in 2016 and I know that the protection and promotion of human rights is one of Ireland's key foreign policy goals. This position was advertised on the Representation's website. I sent in a cover letter and CV and then I was called for an interview. The interview tested my knowledge of the OECD, UNESCO and Ireland's role in both. It was also competencies-based, including questions regarding my communication and time-management skills. Some questions were also in French, to test my fluency.
What is your role and main responsibilities?
I worked as a Temporary Attaché, primarily focusing on work in UNESCO. My main tasks were attending a wide range of meetings at both UNESCO and the OECD, report writing, research, event management (including cultural events and Ambassador's receptions), working with diplomatic staff on policy issues, contributing to our social media presence and undertaking administrative tasks.
What is the most fascinating or surprising aspect at your role?
The fact that Ireland has a small diplomatic teammeant that I was really able to get hands-on experience in my work. I attended a wide range of meetings and was usually unaccompanied. This responsibility made the internship very fulfilling.
How does your PSIA experience help you with the role?
My PSIA experience helped me in this role as I was used to taking many and varied classes and working on lots of assignments with tight deadlines. This taught me key time management and adaptability skills which were important in such a diverse role. I am also grateful that PSIA allowed me to develop my communication and organisational skills through an emphasis on presentations and shorter written assignments which were of great use as I often wrote reports in my internship.
What advice would you give to others?
I would really advise others to apply for an internship within UNESCO or the OECD. I learned so much and this experience has really confirmed that I have a keen interest in working within diplomacy or in a multilateral institution. It was a pleasure to work in a multicultural environment with such talented and interesting people. This internship has been one of my favourite parts of studying at PSIA and a memory I will always cherish.
Last modified 2020-03-12
04.09.2023
If you are looking for interns or future employees, our guide 'Recruit at Sciences Po' will provide the relevant information about our students, the careers we train them for and how to leverage this great pool of talent to meet your recruitment needs.
06.09.2023
Launched by two graduates (class of 2020) from Law School : Agnès de Fortanier (Master in Economic Law) and Thomas Harbor (dual degree Sciences Po HEC), What's up EU is a newsletter putting together a concise, well-documented, and informative weekly wrap-up of the news that matters at a continental scale — from a European perspective. Sciences Po Careers interviewed Augustin Bourleaud, in charge of its edition, who is currently a double master's degree student between Sciences Po and the London School of Economics.
Read more news