Homepage
> De la mer aux fermes urbaines, donner une nouvelle vie aux conteneurs maritimes
De la mer aux fermes urbaines, donner une nouvelle vie aux conteneurs maritimes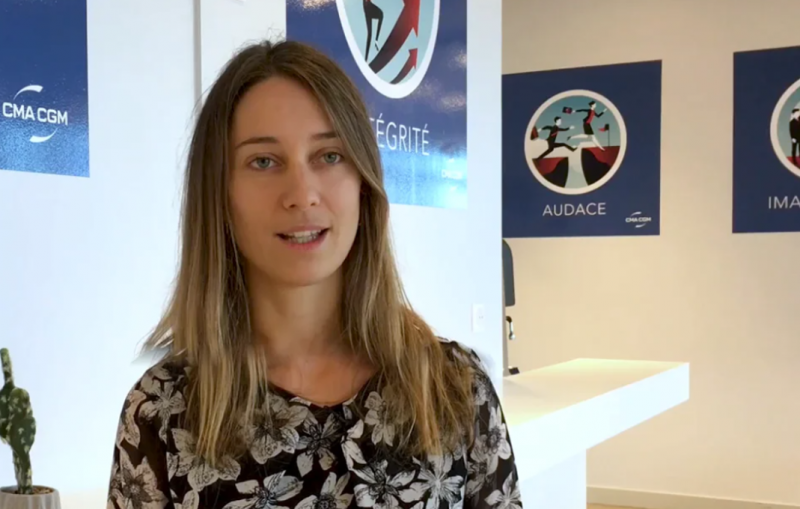 Perline Manuel est diplômée 2015 du master Marketing. Aujourd'hui elle est en charge de la revalorisation des conteneurs maritimes dits "de dernier voyage". Focus sur sa mission et son parcours au sein de l'entreprise familiale leader du transport maritime, de la gestion de zone commerciale aux projets au format intrapreneurial.
Quelles sont aujourd'hui tes missions au sein de CMA CGM ?
Aujourd'hui, je travaille à la Direction terrestre de CMA CGM. Je suis en charge de la revalorisation des conteneurs maritimes, c'est-à-dire que l'on prend nos conteneurs que l'on appelle "de dernier voyage", donc ceux qui ont fini leur vie de transport au sein de nos lignes maritimes, et on les revalorise, soit en les réparant et en les revendant pour un usage de transport national ou international, soit on les transforme et on les aménage en différents produits modulaires.Ce que j'aime beaucoup dans notre mission aujourd'hui, c'est que l'on est une toute petite équipe. On travaille un petit peu en format intraprenarial. On a des sujets très diversifiés et on travaille notamment avec une start-up parisienne qui s'appelle « Agricool », qui fait des fermes de fraises et de fruits et légumes en conteneur recyclé. On travaille avec eux, on transforme les conteneurs, on les aménage et on les emmène dans les villes pour que vous puissiez avoir de bons fruits et légumes dans Paris.
Quel a été ton parcours au sein de CMA CGM ?
Cela fait quatre ans que je suis chez CMA CGM. Cela a été mon premier emploi après mon master Marketing. J'avais effectué auparavant quelques stages en France et à l'étranger. Je suis rentrée en tant que commerciale de zone, c'est-à-dire à la Direction commerciale de la ligne Asie-Méditerranée, où j'étais en charge des imports vers le Centre Europe et l'Adriatique, sur une zone d'une dizaine de pays. Je suis resté trois ans à cette direction, l'idée était de définir la politique tarifaire et la politique commerciale avec un réseau d'agences à animer. L'objectif principal c'était d'optimiser le remplissage des navires, et d'augmenter le chiffre d'affaires, évidemment.
Comment s'est déroulée ta mobilité au sein de CMA CGM?
Pendant mes trois premières années, j'ai été régulièrement impliquée sur différents groupes de projets transverses, sur des sujets vraiment différents, ce qui m'a permis de découvrir différents métiers et d'avoir un réseau au sein de l'entreprise. C'est comme cela aussi que j'ai pu, il y a un an, changer radicalement de mission. La mobilité interne est très promue au sein de CMA CGM, et donc j'ai pu prendre ce poste de création d'une unité dédiée à la revalorisation du conteneur.
aller plus loin
Crédit photo : Perline Manuel ©Sciences Po
Last modified 2020-06-15
27.01.2023
If you are looking for interns or future employees, our guide 'Recruit at Sciences Po' will provide the relevant information about our students, the careers we train them for and how to leverage this great pool of talent to meet your recruitment needs.
20.12.2022
On Friday, September 29, the Careers Fair was held for the first time on Sciences Po's 1 Saint Thomas Campus. More than 1,000 Sciences Po students and graduates attended the event where they met with over 70 different employers to discuss internships, apprenticeships and job opportunities.
Read more news