Homepage
> Arthur Binois, responsable de programmation culturelle au Musée d'Orsay
Arthur Binois, responsable de programmation culturelle au Musée d'Orsay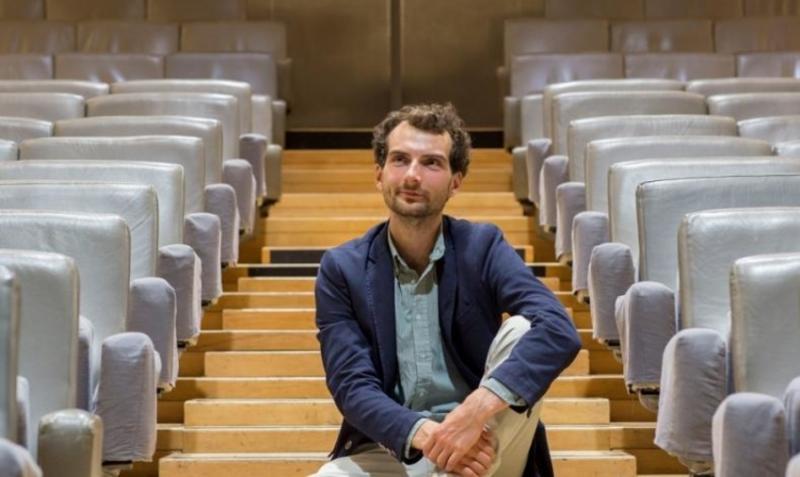 Master Politiques publiques, spécialité Culture, promotion 2015, Découvrez le parcours d'Arthur Binois depuis l'obtention de son Master à l'École d'Affaires publiques jusqu'à son poste de responsable de la programmation pour les publics 18-25 ans au Musée d'Orsay.
Pouvez-vous décrire votre parcours universitaire et professionnel ?
Je suis entré à Sciences-Po Paris en première année en 2010 et sur concours après une terminale littéraire. J'ai effectué mon parcours au sein de l'école de manière très classique : deux ans sur le campus de Paris, puis une année à l'étranger à Valparaiso (Chili) et de retour, deux années de Master Affaires publiques, filière Culture jusqu'à l'obtention du diplôme à l'été 2015. Une fois diplômé, j'ai eu la chance de trouver un emploi directement après mes études, voire même pendant car mon recrutement au musée d'Orsay a découlé de mon stage de master 2.
Bref, avec un peu d'humour, je pourrais dire que j'ai choisi la formule de base pour ma scolarité à Sciences-po : entrée sur concours, sans double diplôme ni année de césure et avec embauche en sortie de stage.
Quelles ont été les principales étapes de construction de votre projet professionnel ?
Je suis entré à Sciences Po sans projet professionnel précis. J'avais énormément de centres d'intérêts, et Sciences Po me permettait de continuer d'explorer des domaines et des disciplines très variés. En quelque sorte, Sciences Po m'offrait la possibilité de ne pas choisir tout en me donnant la garantie d'une formation reconnue et de qualité.
Comme beaucoup de mes camarades, mon année à l'étranger a été déterminante dans la maturation de mon projet professionnel. Le fait d'avoir un an pour réfléchir à mon choix de master m'a permis d'aborder cette réflexion avec sérénité et d'opter sans regrets pour la filière Culture du Master Affaires publiques.
De manière sans doute involontaire, ce master m'a ensuite convaincu de ne pas présenter les concours administratifs. Cependant, cet enseignement a confirmé mon désir de débuter ma carrière dans le monde culturel, les cours « professionnalisants » ayant de loin ma préférence sur les approches « théoriques ». Enfin, mon stage de master a été déterminant dans mon orientation professionnelle car il m'a permis la rencontre d'un milieu et de personnes avec lesquelles le courant est tout de suite passé.
Comment s'est déroulé le processus de recrutement au Musée d'Orsay ?
Mon entrée au musée d'Orsay est le fruit d'un recrutement en plusieurs étapes. Je dois mon premier contact à un de mes professeurs de M1 qui y travaillait et qui nous a fait découvrir, à mes camarades et moi-même, la diversité des métiers représentés. Il est vrai qu'à l'époque, je ne soupçonnais pas qu'un « Sciences Po » puisse avoir sa place dans un musée. L'année suivante, j'ai posé un premier pied au musée d'Orsay grace à mon stage de Master 2, au service culturel et de l'auditorium. Ce stage qui m'a énormément plu m'a permis de découvrir en profondeur cette célèbre institution et de voir se conjuguer avec plaisir patrimoine et spectacle vivant.
A cette époque, le stage de M2 était au premier semestre, ce qui ne favorisait pas l'embauche des étudiants, ceux-ci devant retourner rue Saint Guillaume pour le second semestre. Heureusement pour moi, le musée m'ayant proposé une vacation à temps partiel, Sciences Po a accepté d'aménager mon emploi du temps afin de pouvoir mener simultanément mes études et mon insertion professionnelle. Une fois diplômé, j'ai postulé à un poste vacant au sein du service dans lequel j'effectuais mon stage et, grâce à ma connaissance de l'institution, j'ai eu la joie de voir ma candidature retenue malgré mon jeune âge.
A mon sens, ce parcours d'embauche illustre bien l'importance de tisser et de cultiver des liens entre monde universitaire et professionnel même avant la fin de son cursus.
Quelles sont les principales caractéristiques de votre métier aujourd'hui ?
Depuis plus d'un an, je suis « Programmateur concepteur en charge du public 18-25 ans au musée d'Orsay ». Derrière cet intitulé obscur, se cache un métier fabuleux, celui de programmateur culturel. J'ai pour mission de soutenir la mesure de gratuité pour les moins de 26 ans instaurée depuis 2007 dans les musées nationaux en développant une offre culturelle attractive (spectacle vivant, musique, médiation, conférences). C'est un travail très polyvalent qui sollicite aussi bien des compétences administratives que celles requises pour être sur le terrain aux côtés du public. Globalement je dirais que ma formation à Sciences Po ne m'avait pas particulièrement préparé à ce métier dans le sens où il ne requiert aucune expertise particulière. En revanche, l'esprit de synthèse, la culture générale, le sens des rapports humains, de la communication et l'esprit d'initiative sont des qualités cultivées dans cette école et qui me servent au quotidien.
Si je devais résumer mon travail en quelques mots, je dirais qu'il repose en trois temps : la prospection artistique et la documentation préparatoire indispensable à toute programmation culturelle, la coordination des équipes en interne et enfin la présence physique sur le terrain. Ce travail m'enchante car il m'offre de multiples occasions de continuer d'apprendre et de voir beaucoup de belles choses tout en restant dans le concret et le contact direct avec le public.
Quels conseils donneriez-vous à un(e) étudiant(e) ou jeune diplômé(e) cherchant une première expérience dans le secteur culturel en France ?
Si je me fie à ma propre expérience ainsi que sur celle de mes camarades de promotion, je dirais qu'il ne faut pas hésiter, surtout dans le monde culturel, à pousser la porte des institutions même si en tant que Sciences Po on se sent parfois illégitime par rapport à des cursus plus « culturels ». En effet, j'ai l'impression que l'on assiste peu à peu à un renouvellement des profils notamment en faveur des « Sciences Po », qui allient des compétences pratiques à leur bagage culturel. Par-delà des connaissances, c'est avant tout un état d'esprit, une méthode que les étudiants de Sciences Po ont à offrir aux institutions.
Enfin, je rajouterais une invitation sans réserve à garder contact aussi bien avec les professeurs qu'avec ses camarades de master après le diplôme, surtout dans un domaine comme celui-ci où les vacances de postes peuvent parfois rester relativement « confidentielles ».
Last modified 2020-06-09
15.07.2021
The results of the 2021 Graduate Employability Survey on the class of 2019 show that Sciences Po students remain very attractive to employers, with 9 out of 10 graduates in professional activity. Despite a job market facing difficulties, 82% of our 2019 graduates found their first job in less than 6 months, and nearly ¾ of them have a stable profession. There are still just as many (37%) working abroad, in 84 countries. Discover all the results of our survey!
30.08.2021
You are a student looking for information about internships or career fairs? you are an employer willing to recruit our students in jobs or an internship? Find here the list of your Sciences Po Careers
Read more news