Homepage
> Portrait de Benoît Mortgat, Analyste Sûreté chez Unibail-Rodamco
Portrait de Benoît Mortgat, Analyste Sûreté chez Unibail-Rodamco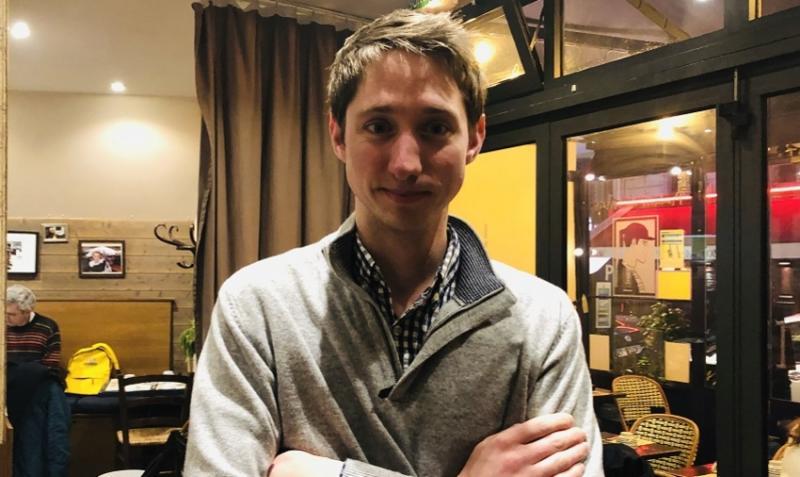 Master politiques publiques, spécialité sécurité et défense, promotion 2019.Benoît Mortgat, diplômé 2019 du Master Politiques Publiques, revient sur son parcours
POUVEZ-VOUS DÉCRIRE VOTRE PARCOURS UNIVERSITAIRE ET PROFESSIONNEL ?
Après un baccalauréat et une prépa scientifique en trois ans, j'ai intégré l'École Centrale Paris en 2013. Après un semestre et demi sur le campus de Châtenay-Malabry, j'ai réalisé un semestre d'échange en école de commerce à l'ESCP à Berlin. Ensuite, une année de césure m'a amené à faire un stage en finance à la Société Générale (Paris puis Hong Kong) en tant qu'assistant trader, puis un autre stage de 4 mois dans une StartUp dans le domaine du tourisme. Ma dernière année à l'École Centrale Paris a été l'occasion de me spécialiser en informatique. J'ai ensuite intégré Sciences Po en septembre 2017, faisant alors partie de la première promotion de la spécialité Sécurité et Défense du master Politiques Publiques. Ma deuxième année de master en apprentissage m'a permis de rejoindre la direction sûreté d'une entreprise du CAC40, Unibail-Rodamco-Westfield, dans laquelle je suis aujourd'hui en CDI !
QUELLES ONT ÉTÉ LES PRINCIPALES ÉTAPES DE CONSTRUCTION DE VOTRE PROJET PROFESSIONNEL ?
A mon arrivée en école d'ingénieur, je n'avais, comme beaucoup d'étudiants, que peu d'idée de ce que je voulais faire comme métier, ni même dans quel domaine je voulais me spécialiser. J'ai alors eu la chance, pendant mon parcours centralien, de pouvoir « essayer » des domaines très variés : un semestre d'échange en école de commerce, un stage en finance, un stage en startup pour finalement me spécialiser en informatique en dernière année d'école d'ingénieur ! Progressivement au cours de mon cursus centralien, mon intérêt pour les questions de sécurité et de défense a grandi et mûri. En juin 2017, j'ai participé au cycle « grandes écoles » de l'IHEDN (Institut des Hautes Études de Défense Nationale) qui a confirmé mon appétence pour ce domaine. J'ai ensuite rejoint Sciences Po en spécialité Sécurité et Défense où j'ai beaucoup appris sur ce domaine de façon large.
Aujourd'hui, j'ai l'ambition d'une belle carrière dans ce domaine, conjuguant mes compétences techniques d'ingénieur centralien et mon parcours à Sciences Po !
COMMENT S'EST DÉROULÉ LE PROCESSUS DE RECRUTEMENT CHEZ UNIBAIL-RODAMCO-WESTFIELD ?
J'avais à l'esprit en intégrant Sciences Po de réaliser ma deuxième année de master en apprentissage (alternance de 3 jours en entreprise et 2 jours à Sciences Po). Je me suis donc rendu à un Forum étudiants-entreprises en novembre 2017 dans l'idée de commencer à me renseigner sur les entreprises et organisations publiques qui recrutaient en alternance. J'étais alors plus attiré par les grandes industries de défense mais la rencontre d'un ami sur le stand d'Unibail-Rodamco (le rachat de Westfield n'ayant eu lieu qu'en juin 2018) m'a permis de mieux connaître cette entreprise et d'apprendre qu'un poste d'alternant en sûreté était en cours de création ! Les RH m'ont alors donné les coordonnées du Directeur sûreté France, avec qui j'ai passé un entretien. Puis quelques échanges supplémentaires avec les ressources humaines m'ont permis de décrocher ce poste d'alternant sûreté.
Le processus de recrutement a donc été bien singulier mais montre qu'il ne faut pas se mettre des barrières lors d'une recherche d'emploi et élargir les champs de recherche au maximum car notre place n'est pas toujours là où l'on pense !
QUELLES SONT LES PRINCIPALES CARACTÉRISTIQUES DE VOTRE POSTE AUJOURD'HUI ?
Après mon apprentissage, j'ai été recruté en CDI chez Unibail-Rodamco-Westfield où j'occupe actuellement le poste d'Analyste Sûreté Europe. J'ai la chance de pouvoir participer activement au développement d'une direction sûreté dans une entreprise du CAC40. En effet, la prise de conscience de la nécessité de mettre l'accent sur les enjeux de sûreté dans les centres commerciaux est assez récente et beaucoup de processus restent à définir et à mettre en place. Mon rôle est d'accompagner les équipes des centres commerciaux européens (une cinquantaine de centres) afin de mieux gérer leurs problématiques de sûreté. Les sujets dont je m'occupe au quotidien sont très variés : préparation et suivi d'un audit sur la sûreté des centres, gestion des données de sûreté pour permettre le pilotage et la prise de décision, systèmes d'alerte en cas de crise, communication, partage de retour d'expérience d'incidents, rédaction de documents de politique groupe, et plus encore !
Unibail-Rodamco-Westfield est une grande entreprise en capitalisation boursière mais est relativement petite en terme de nombre d'employés (seulement 3700 collaborateurs dans le monde !). Cela permet d'être très agile et rapide dans les prises de décisions, de pouvoir prendre des initiatives et d'être rapidement en contact avec le top management, ce qui est vraiment appréciable au quotidien !
QUELS CONSEILS DONNERIEZ-VOUS À UN ÉTUDIANT DE MASTER 2 OU JEUNE DIPLÔMÉ CHERCHANT UNE PREMIÈRE EXPÉRIENCE PROFESSIONNELLE ?
Mon premier conseil serait de discuter avec des jeunes (ou moins jeunes) professionnels de domaines et de métiers variés ! Qu'on sache parfaitement quel métier on aimerait exercer ou qu'on soit complètement perdu, il ne faut surtout pas hésiter à rencontrer des personnes de notre réseau personnel ou éducatif (le réseau des anciens de Sciences Po est très pratique pour ça !) et leur poser des questions précises sur leur quotidien. Ensuite, il me semble essentiel de postuler à plusieurs offres d'emploi et d'identifier pour chacune d'entre elles toutes les caractéristiques qui y sont liées ! En effet, un emploi n'est pas juste un métier mais c'est aussi une organisation, des valeurs, un lieu, des collègues, des horaires, une rémunération, etc... Il faut apprendre à toujours peser tout cela dans la balance !
Les étudiants de Sciences Po ont une grande valeur sur le marché du travail car ils ont de fortes capacités d'analyse et peuvent rapidement comprendre les multiples enjeux d'une situation donnée. C'est très précieux pour une entreprise dans un monde qui change vite et qui nécessite de toujours s'adapter !
Ne vous mettez pas de barrière !
Last modified 2020-06-09
02.09.2021
Over the course of these three days, you will have the chance to meet with numerous Sciences Po students and graduates. All will be actively seeking internships (whether as a mandatory part of their master's course or for a gap year), apprenticeships, fir
15.07.2021
The results of the 2021 Graduate Employability Survey on the class of 2019 show that Sciences Po students remain very attractive to employers, with 9 out of 10 graduates in professional activity. Despite a job market facing difficulties, 82% of our 2019 graduates found their first job in less than 6 months, and nearly ¾ of them have a stable profession. There are still just as many (37%) working abroad, in 84 countries. Discover all the results of our survey!
Read more news