Homepage
> Thomas Monarchi-Comte, Responsable des affaires publiques
Thomas Monarchi-Comte, Responsable des affaires publiques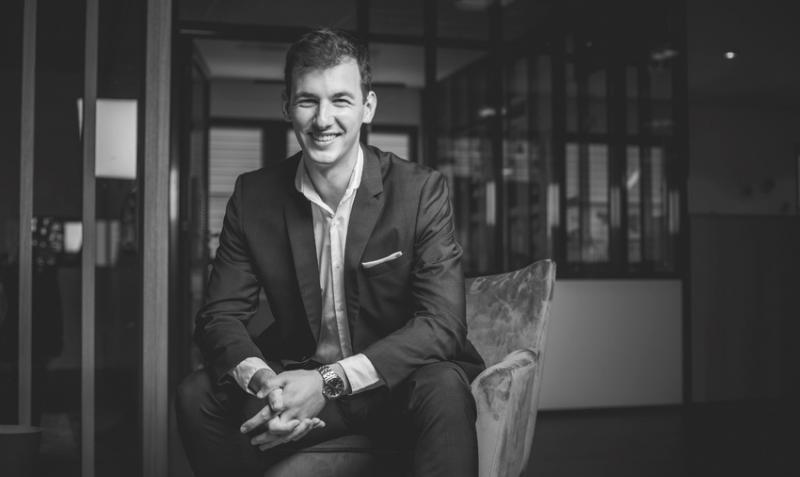 Du Master politiques publiques à l'écosystème pionnier Ulterïa. Découvrez le parcours de Thomas Monarchi-Comte, depuis l'obtention de son Master Politiques publiques, spécialité Administration publique, en 2018 jusqu'à son poste de Délégué général de la Fondation actionnaire et Responsable des Affaires publiques chez Ulterïa. Thomas est également conseiller municipal d'une commune de l'Yonne depuis mars 2020.
POUVEZ-VOUS DÉCRIRE VOTRE PARCOURS UNIVERSITAIRE ET PROFESSIONNEL ?
J'ai intégré Sciences Po après mon Bac ES. D'abord pour 2 ans au sein du campus de Dijon, afin de donner dès le début de mon cursus une dimension internationale et européenne. J'ai ensuite souhaité profiter de ma 3A pour faire un stage professionnel aux Etats-Unis. J'ai travaillé dans un secteur que je ne connaissais pas du tout, l'investissement immobilier à Miami, mais qui fut riche en enseignements. De retour en France, j'ai intégré le Master Politiques publiques à Paris. Cela a ensuite été pour moi l'occasion de réaliser mon stage de fin d'études dans une agence de communication parisienne, au sein de leur équipe d'affaires publiques. Cette même agence, Rumeur Publique, m'a proposé un emploi de consultant en Affaires publiques à l'issue de mon stage. Après un peu plus de deux ans passés chez Rumeur Publique, je souhaitais donner une nouvelle orientation à ma carrière, aspirant à plus de sens dans mon emploi et éventuellement à quitter Paris. Je crois que c'est d'ailleurs très à la mode après le confinement que nous avons vécu !
J'ai eu une belle opportunité début 2020 dans une grosse PME en Bourgogne, qui se développe notamment … dans le village où j'ai grandi ! La jolie histoire est devenue une nouvelle étape dans ma (jeune) carrière.
QUELLES ONT ÉTÉ LES PRINCIPALES ÉTAPES DE CONSTRUCTION DE VOTRE PROJET PROFESSIONNEL ?
Ma 3e année en stage professionnel a confirmé mon intérêt pour le secteur privé mais je conservais un fort tropisme pour le secteur public. Le lobbying était donc un moyen de réaliser cette jonction entre les sphères entrepreneuriales et publiques. Tout l'intérêt de mon métier réside dans ce fait d'être une interface entre les problématiques respectives des décideurs privés et publics.
Aujourd'hui, je me sens beaucoup impliqué dans la revitalisation des territoires ruraux, presque oubliés de la mondialisation. L'Yonne en est un bon exemple je trouve. Ulterïa s'est bâti autour de valeurs très fortes, dont un ancrage sincère dans les territoires où sont implantées ses menuiseries.
COMMENT S'EST DÉROULÉ LE PROCESSUS DE RECRUTEMENT CHEZ ULTERÏA ?
C'est avant tout une histoire de chèvres !
Mon recrutement est d'abord passé par une rencontre avec les deux fondateurs d'Ulterïa (150 salariés) en novembre 2019 lors de l'inauguration d'une chèvrerie bio qu'ils avaient en partie financée. Au milieu des chèvres, nous avions échangé sur leur entreprise et leur développement, je trouvais qu'ils ne valorisaient pas assez leurs réussites et leurs valeurs. Ils construisent notamment dans l'Yonne la première usine recyclable (principe Cradle-to-Cradle) en Europe, et personne ne le sait… Nous avons continué d'échanger et en décembre, j'ai passé 4 entretiens chez Ulterïa, avec les 2 fondateurs et 2 autres salariés. Au-delà d'entretiens formels, ce sont des discussions. Ensuite ils prennent une décision en intelligence collective.
QUELLES SONT LES PRINCIPALES CARACTÉRISTIQUES DE VOTRE JOB AUJOURD'HUI ?
La polyvalence. Je m'occupe de leur fondation actionnaire (Ulterïa est une des premières entreprises françaises à avoir cédé une partie de son capital à un organisme à but non lucratif) mais aussi de leurs affaires publiques, du suivi des appels d'offres et d'autres projets, notamment sur leur communication et positionnement de marques.
Les problématiques, très différentes les unes des autres, nécessitent une très bonne capacité d'adaptation personnelle.
En valorisant publiquement les engagements d'Ulterïa (philanthropie, entreprises bientôt B-Corp, éco-conception de leurs produits…), c'est une véritable participation au développement de l'entreprise. C'est aussi une plongée dans le concret, « les pieds dans la glaise », aux côtés d'une PME pionnière quand beaucoup se mettent seulement maintenant à parler de « RSE, missions, engagements etc. »
QUELS CONSEILS DONNERIEZ-VOUS À UN.E ÉTUDIANT.E OU JEUNE DIPLÔMÉ.E CHERCHANT UNE PREMIÈRE EXPÉRIENCE PROFESSIONNELLE ?
La 3A peut être une première occasion pour l'étudiant d'effectuer un stage professionnel long, en plus à l'étranger. Les stages ont cet avantage de valider ou d'infirmer sa réflexion sur « est-ce bien cela que je veux faire plus tard ? », outre le fait d'augmenter sa confiance en soi et son adaptabilité pour appréhender de nouvelles situations.
Avec cette première immersion dans le monde professionnel, les stages peuvent ensuite être mis en avant pour décrocher un premier emploi. Il faut que l'étudiant se demande ce que recherche l'entreprise, et adapte son CV afin de faire ressortir les actions passées ou compétences en lien avec l'emploi proposé et les travaux de l'entreprise.
QUELLES ONT ÉTÉ LES CONTRIBUTIONS DE VOTRE FORMATION À L'ÉCOLE D'AFFAIRES PUBLIQUES ENVERS LA FONCTION QUE VOUS OCCUPEZ AUJOURD'HUI ?
L'EAP m'a permis de très bien appréhender le fonctionnement du secteur public, du processus décisionnel au sein de l'Etat et de ses administrations. Des connaissances extrêmement utiles lorsque l'on travaille à faire le lien entre le secteur privé et les décideurs publics ! Dans mon emploi actuel, ces connaissances me permettent de conseiller les co-fondateurs et codirigeants d'Ulterïa sur leurs relations avec les pouvoirs publics, sur les meilleures manières d'interagir et de construire une relation de travail avec eux.
La richesse de la formation politiques publiques a résidé, selon moi, dans le fait qu'en plus de cours sur le secteur public, nous avons pu profiter d'enseignements sur l'entrepreneuriat et la vie en entreprise ou sur les nouvelles technologies. Je me souviens par exemple particulièrement d'un professeur, énarque et membre du Conseil d'Etat, à l'époque travaillant à la Commission de Régulation de l'Energie, qui dispensait un cours mettant en relation innovation digitale, souvent issue du secteur privé, et puissance publique. Cette richesse des cours permet à un étudiant de l'EAP d'appréhender aussi bien les problématiques du secteur public que privé.
Last modified 2020-06-12
15.07.2021
The results of the 2021 Graduate Employability Survey on the class of 2019 show that Sciences Po students remain very attractive to employers, with 9 out of 10 graduates in professional activity. Despite a job market facing difficulties, 82% of our 2019 graduates found their first job in less than 6 months, and nearly ¾ of them have a stable profession. There are still just as many (37%) working abroad, in 84 countries. Discover all the results of our survey!
30.08.2021
You are a student looking for information about internships or career fairs? you are an employer willing to recruit our students in jobs or an internship? Find here the list of your Sciences Po Careers
Read more news