Homepage
> Promo 2020 : une année historique
Promo 2020 : une année historique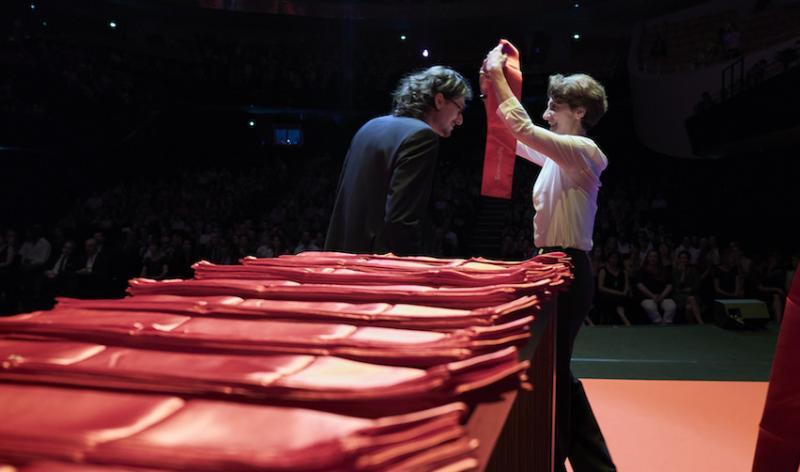 Après trois ou cinq années d'efforts, ils ont accompli toutes les étapes les menant au précieux diplôme de Sciences Po, plus une : avoir vécu et réussi un semestre en pleine pandémie. Quelle impact aura ce moment historique sur leur vie future ? En attendant de le savoir, voici le portrait d'une promo à nulle autre pareille : félicitations aux diplômés 2020 !
La promo 2020 en chiffres
2574 : c'est le nombre exact d'étudiantes et d'étudiants de la "Promo 2020". La moitié d'entre eux a rejoint Sciences Po en 1ère année sur l'un des sept campus du Collège universitaire, il y a 5 ans, l'autre moitié en master.
Ils ont tous suivi leur master dans l'une de nos 7 écoles de 2nd cycle :
790 à l'École d'affaires internationales
770 à l'École d'affaires publiques
426 à l'École du management et de l'innovation
256 à l'École de droit
158 à l'École urbaine
120 à l'École doctorale
51 à l'École de journalisme
Près de 300 d'entre eux ont suivi un de nos doubles diplômes français et internationaux.
La promo compte un millier d'étudiants étrangers de 96 nationalités différentes. Voici le top 5 des pays les plus représentés : Allemagne, Italie, USA, Chine, Royaume-Uni, et Inde.
Les étudiantes représentent en moyenne 59 % des effectifs.
Félicitations à toutes et tous !
Les félicitations de Frédéric Mion
NB : Reportée pour cause de COVID-19, la cérémonie de remise des diplômes de la Promo 2020 aura lieu en début d'année 2021 ou à l'été 2021.
Photo: Remise de l'écharpe lors de la cérémonie du diplôme 2019
Crédits @Christophe Da Silva et Hans Lucas / Inspirience
Last modified 2020-07-10
04.09.2023
If you are looking for interns or future employees, our guide 'Recruit at Sciences Po' will provide the relevant information about our students, the careers we train them for and how to leverage this great pool of talent to meet your recruitment needs.
06.09.2023
Launched by two graduates (class of 2020) from Law School : Agnès de Fortanier (Master in Economic Law) and Thomas Harbor (dual degree Sciences Po HEC), What's up EU is a newsletter putting together a concise, well-documented, and informative weekly wrap-up of the news that matters at a continental scale — from a European perspective. Sciences Po Careers interviewed Augustin Bourleaud, in charge of its edition, who is currently a double master's degree student between Sciences Po and the London School of Economics.
Read more news