Homepage
> Camille, head of project vélo (Plaine commune), graduated from the Urban School
Camille, head of project vélo (Plaine commune), graduated from the Urban School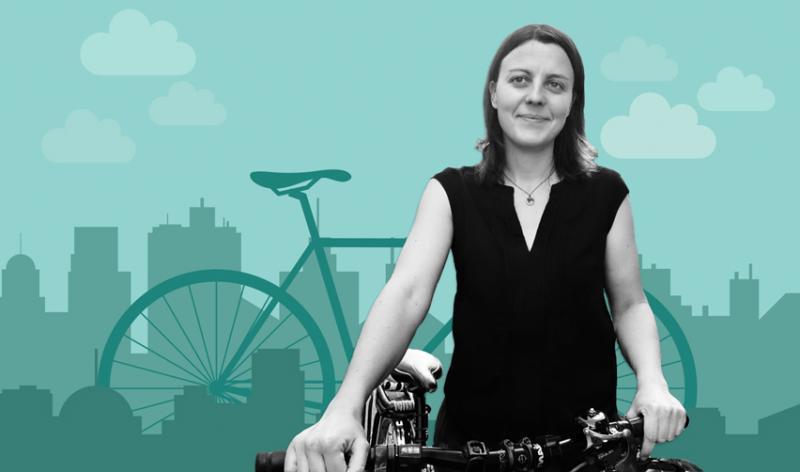 Diplômée de l'École urbaine, Camille Gaumont emploie aujourd'hui son énergie à élargir la place du vélo dans l'espace urbain gigantesque et dense de Plaine Commune, qui regroupe 9 villes au nord de Paris. Un moyen de concilier son expertise sur la ville, sa passion pour la bicyclette, et sa volonté d'agir concrètement pour la planète. Entretien.
Vous êtes "cheffe de projet vélo" à Plaine Commune, un établissement public qui regroupe 9 communes au nord de Paris. En quoi consiste ce travail ?
Camille Gaumont : Je suis la référente vélo sur tout ce territoire, grand comme la moitié de Paris, et qui regroupe 430 000 habitants. Je m'occupe à la fois de la conception et de la mise en œuvre de la stratégie cyclable : concrètement, j'agis en maîtrise d'ouvrage pour faire réaliser les itinéraires cyclables. J'ai aussi un rôle d'accompagnement et de conseil auprès des villes du territoires, des aménageurs mais aussi parfois des entreprises qui veulent développer la pratique du vélo. Je travaille également avec les
associations - qui montent en puissance. Je dois coordonner une myriade d'acteurs impliqués dans la gouvernance du vélo : c'est un travail très transversal ! Le vélo sans réfléchir au partage de l'espace public, ça ne sert à rien : il faut aussi faire le lien avec le plan d'urbanisme, le plan énergie- climat, la politique biodiversité...Plaine Commune était parmi les pionnières en créant un Plan vélo en 2011 et un poste de Cheffe de projet vélo : la dynamique se développe aujourd'hui de plus en plus.
Vous vous êtes très tôt intéressée aux villes et à leur organisation, dès votre arrivée à Sciences Po…
C. G. : Oui, à tel point que j'ai fait deux masters sur la ville à Sciences Po ! J'étais intéressée par la sociologie urbaine dès le bachelor. En passant ma troisième année d'études à Berlin, j'ai eu l'occasion de creuser un peu plus le sujet de l'aménagement du territoire. Je voulais poursuivre mes études en conservant à la fois les sciences humaines et l'ancrage local, concret. D'où mon choix du master Stratégies territoriales et urbaines, qui touche plusieurs disciplines, et que j'ai complété ensuite par un an au sein du Cycle d'urbanisme, plus technique.
Une fois diplômée, j'ai commencé à travailler dans le monde de l'aménagement du territoire en collectivités locales. À l'époque, la mode était aux éco-quartiers. J'ai fait un passage dans le privé comme consultante pour le Grand Paris, et je me suis de plus en plus intéressée aux modes de déplacements, car cela correspond à ce que j'aime : de l'interdisciplinaire, de la mise en réseau, la possibilité de faire évoluer les choses en profondeur, notamment sur le plan des émissions de carbone. Cet engagement au service de l'intérêt général et du climat est primordial pour moi : le domaine vélo permet d'agir de manière concrète et profonde dans la transition écologique.
Au-delà de votre travail, le vélo représente-t-il un engagement personnel ?
C. G. : Oui bien sûr, je suis une adepte et une militante du vélo pour tous les déplacements, quotidiens et touristiques ! Ce que je trouve intéressant dans le vélo, c'est que c'est un levier de développement sobre : une technologie simple, qu'on connaît depuis longtemps, accessible à tous, et qui s'adapte facilement aux évolutions. Tout en ayant énormément de vertus ; pour se déplacer, faciliter l'échange social, rester en bonne santé, etc. Sur un territoire dynamique et jeune comme Plaine Commune, cela permet de travailler comme un pivot, avec des interlocuteurs très divers. Quand les postes dédiés au vélo ont commencé à fleurir, je me suis lancée. Dans mon travail actuel, j'adore pouvoir me déplacer à vélo sur tout le territoire !
Quels sont les défis les plus critiques à relever pour développer le vélo en zone urbaine ? La crise liée au Covid-19 va-t-elle changer la donne ?
C. G. : Il est encore tôt pour le dire. Mais avec la crise sanitaire, les grèves, et les élections municipales, on peut dire que les conditions sont réunies pour que les politiques favorables au vélo s'accélèrent ! Sur un territoire très urbain et très "circulé", il y a des défis majeurs à relever pour réussir à mettre tout le monde au vélo : d'abord, la sécurité des aménagements. Ensuite, le fait de posséder un vélo en état de marche, et de savoir en faire... Et enfin pouvoir stationner son vélo sans risque. Mais je vois à toutes les échelles une volonté de s'appuyer sur le contexte actuel pour s'emparer de ces défis : c'est prometteur.
Que conservez-vous de votre parcours à Sciences Po ?
C. G. : Je crois que la pluridisciplinarité, et l'exigence intellectuelle pour appréhender des sujets complexes, me servent beaucoup dans mon travail au quotidien ! Tout comme la capacité à développer une vision d'ensemble, à analyser les choses dans leur globalité. J'ai aimé aussi, à partir du master, combiner la dimension gouvernance avec un focus local et concret. Au sein du Cycle d'urbanisme, j'ai appris à travailler avec des gens plus "techniques" que moi : c'est très important pour la suite. En fait je n'ai qu'un seul regret : être arrivée trop tôt pour pouvoir suivre le double cursus sciences & sciences sociales en bachelor. J'aurais adoré ça !
Last modified 2020-07-20
20.06.2022
Looking to fill your internship, apprenticeship and job positions? Attend our annual Career Fair to meet our talented pool of students at our new Parisian campus (1 place, Saint-Thomas d'Aquin) and on online jobdating platform Seekube!
14.03.2022
If you are looking for interns or future employees, our guide 'Recruit at Sciences Po' will provide the relevant information about our students, the careers we train them for and how to leverage this great pool of talent to meet your recruitment needs.
Read more news