Homepage
> Studying gender has been an empowering experience
Studying gender has been an empowering experience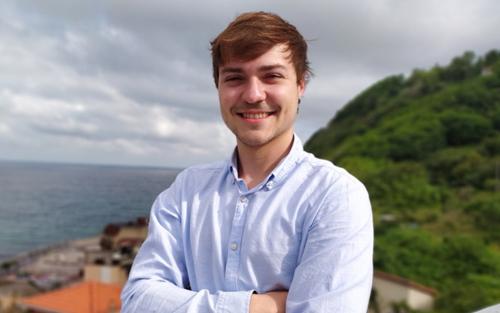 Adrián Lasa Mediavilla is graduating from the Sciences Po School of Public Affairs. He is a recipient of the Advanced Certification in Gender Studies, an interdisciplinary award in the social sciences that attests to a student's acquisition of demonstrable academic expertise within the field of gender studies. He tells us about his academic and professional career.
WHAT FIRST SPARKED YOUR INTEREST IN GENDER STUDIES? CAN YOU TELL US ABOUT YOUR ACADEMIC CAREER IN THIS FIELD?
My interest in gender studies has shown me that, indeed, personal is political: at a young age, I came to realize that other queer people like me experienced similar things in their lives. This helped me build a sense of community and sparked my interest in learning the reasons behind our common struggles.
Throughout my academic career, I have had the chance to study gender, which has been a very empowering experience. Indeed, during my Erasmus Exchange programme with Sciences Po, I took my first course on gender and queer studies, which gave me a solid theoretical framework. Later, my Master's degree has allowed me to apply this knowledge into the field of public affairs. This academic experience has not only helped me to denaturalize many preconceived ideas I had myself, but also to detect the biases in the society that result in systemic inequalities.
WHY DID YOU CHOOSE TO PURSUE A MASTER'S DEGREE IN EUROPEAN AFFAIRS?
I am very interested in how gender, particularly LGBTIQ+ topics, have gradually emerged in the European Union. Discrimination and asylum law, as well as EU diplomacy, are good examples that show how sexual orientation and gender identity can be integrated into policymaking. Moreover, not only EU institutions have shown a strong commitment to the LGBTIQ+ community: civil society organisations, such as the European region of the International Lesbian, Gay, Bisexual, Trans and Intersex Association (ILGA-Europe), are also essential in protecting the rights of sexual and gender minorities in the continent.
My Master's degree in European Affairs has allowed me to further study the so-called "Europeanization of LGBT+ rights". What I have enjoyed the most about it is developing a critical perspective on this phenomenon: throughout my studies, I have learned about the importance of avoiding colonial discourses that portray Europe as 'Western exceptionalism', as well as factoring in intersecting identities, such as race and ethnicity, in order to further advance on gender and sexual equality.
DURING YOUR LAST SEMESTER, YOU INTERNED IN THE LGBTQ DIVERSITY TEAM AT THE OECD. WHAT DID YOU GET OUT OF THIS INTERNSHIP?
During my internship at the Organisation for Economic Co-operation and Development (OECD), I helped in the evaluation of the impact of sexual and gender diversity workshops organized by an NGO in French high schools. We measured how these in-school interventions contributed to reducing negative attitudes towards LGBT+ people among students. I also reviewed and analysed policies that OECD countries are implementing to address violence and discrimination based on sexual orientation, gender identity and expression, and sexual characteristics in education.
One thing I got out of this internship is that teaching students about sexual and gender diversity is crucial to advance on more equal societies. Negative attitudes against LGBTIQ+ people start at a young age, and they do not only result in school violence towards gender or sexual nonconforming students: they are internalized by the LGBTIQ+ youth who struggle to accept themselves. Therefore, integrating LGBTIQ+ topics in school curricula is a fundamental right that goes beyond political ideologies. We owe it to future generations.
WHAT ARE YOUR PLANS FOR THE FUTURE?
I feel very committed to gender equality and my academic and professional experience has shown me that there is still a long way to go. I would like to continue with my work as an LGBTIQ+ activist and policy analyst, while focusing on specific issues that I consider to be important, such as migration and education. In the long-term, I would like to work in gender equality policymaking back in my home country, Spain. In the last few decades, thanks to the strong feminist movements, gender perspectives are gradually being mainstreamed in Spanish policies and I would like to contribute to it.
MORE
Last modified 2020-09-15
04.09.2023
If you are looking for interns or future employees, our guide 'Recruit at Sciences Po' will provide the relevant information about our students, the careers we train them for and how to leverage this great pool of talent to meet your recruitment needs.
06.09.2023
Launched by two graduates (class of 2020) from Law School : Agnès de Fortanier (Master in Economic Law) and Thomas Harbor (dual degree Sciences Po HEC), What's up EU is a newsletter putting together a concise, well-documented, and informative weekly wrap-up of the news that matters at a continental scale — from a European perspective. Sciences Po Careers interviewed Augustin Bourleaud, in charge of its edition, who is currently a double master's degree student between Sciences Po and the London School of Economics.
Read more news