Homepage
> L'année de césure est une vraie richesse
L'année de césure est une vraie richesse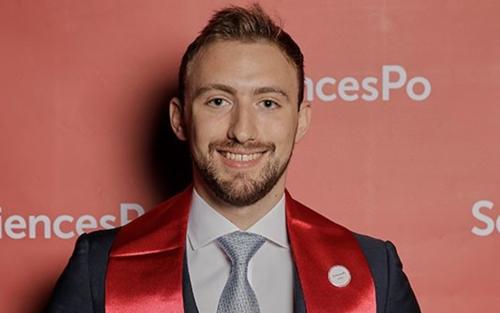 Rencontre avec Ludovic Pastor, diplômé 2018 de l'École de droit
Quel a été votre parcours à Sciences Po ?
Je suis entré à Sciences Po au Collège universitaire sur le campus Moyen-Orient et Méditerranée de Menton. Après mon année d'échange à l'étranger, que j'ai passée à Beyrouth et au cours de laquelle j'ai effectué deux stages en Banque/Finance puis en Finance d'entreprise, j'ai choisi d'intégrer l'École de Droit de Sciences Po et plus précisément le Master Droit économique. Ce choix était assez évident pour moi dans la mesure où il me permettait d'allier le droit, une matière qui m'avait particulièrement passionné lors de ma deuxième année, et le monde des affaires dont j'avais pu avoir un avant goût concret lors de mes stages.
Riche de ma première année de formation en Droit économique, mais très indécis quant à l'issue à donner à mes études puis à ma carrière, j'ai décidé d'opter pour une année de césure en cabinet d'avocats. J'ai effectué, dans un premier temps, un stage de six mois au sein de l'équipe Corporate/M&A du cabinet CMS Francis Lefebvre, avant d'opter pour un stage plus atypique, au sein de l'ancien Iberian Desk du cabinet Gide Loyrette Nouel, qui m'a amené à traiter de dossiers de conseil et contentieux commercial avec une dimension plus internationale car il s'agissait de conseiller et d'assister essentiellement des entités hispaniques ou latino américaines.
Cette année de césure a eu le mérite, d'une part, de confirmer mon attrait pour la profession d'avocat et, d'autre part, de confirmer mon goût pour le droit privé des affaires (sans pour autant me fixer sur une pratique particulière) dont j'ai décidé de poursuivre l'étude au sein de la spécialité Entreprises, Marchés, Régulations (EMR), qui m'apparaissait alors comme le meilleur choix s'offrant à moi.
C'est au cours de cette deuxième année de Master, avec le recul nécessaire que m'ont apporté à la fois ma première année d'études juridiques ainsi que mon année de césure, que j'ai pu développer un réel intérêt professionnel pour une matière, le droit européen de la concurrence, dont j'ai choisi de faire ma spécialité.
Quelles sont vos activités aujourd'hui ?
A la fin de ma deuxième année de Master à Sciences Po, j'ai décidé de passer le CRFPA au cours de l'été qui a suivi, avant d'intégrer le LL.M. en Droit européen du Collège d'Europe de Bruges, afin de parfaire ma formation en droit européen de la concurrence. Aujourd'hui, après Sciences Po et le Collège d'Europe, je me prépare à terminer mon parcours académique en passant l'ultime épreuve du CAPA, la déontologie de l'avocat.
En parallèle, au vu de la période particulière que nous vivons et qui a conduit un certain nombre de structures à geler leurs recrutements, je m'apprête à effectuer un dernier stage au sein de l'unité Aides d'Etat et Dumping du Service juridique de la Commission européenne qui me permettra, je l'espère, de compléter mon cursus et de présenter un profil d'autant plus complet en vue de mon futur recrutement.
Quels sont vos projets ?
Je souhaite, à terme, intégrer un cabinet d'avocat à Paris ou à Bruxelles qui me permette de pratiquer le droit européen des aides d'État, matière peu connue mais particulièrement intéressante et surtout très actuelle !
Quels conseils donneriez-vous aux étudiants qui souhaiteraient suivre votre parcours ?
Le conseil le plus précieux que je pourrais donner serait sans doute celui de se construire son propre parcours. L'École de Droit vous en donne pleinement les moyens et vous prépare, quelle que soit la voie finalement choisie, de la meilleure des manières. Je m'adresse particulièrement aux étudiants qui seraient un peu "perdus" au début voire au cours de leur formation, à la fois de par la complexité des sujets traités et la pression grandissante à l'approche de la fin du parcours universitaire et du début de carrière professionnelle. L'École de Droit vous permet d'avoir accès à un concentré de matières diverses et variées et de construire au fur et à mesure, et tout particulièrement au travers de l'année de césure et de la deuxième année de Master, votre propre parcours, orienté sur vos préférences et affinités avec les pratiques juridiques.
L'année de césure est une vraie richesse, à plusieurs égards. Elle pourra peut-être conforter votre intérêt pour la profession d'avocat et pour une matière en particulier, et vous permettra alors de poursuivre sereinement votre voie. A contrario, elle pourra infirmer votre intérêt pour une matière et vous permettre de vous réorienter vers d'autres pratiques qui vous conviendront mieux sans perdre davantage de temps. Quoiqu'il en soit, elle constituera un premier contact de grande qualité avec le monde professionnel du droit, dont la pratique peut parfois être très différente de l'étude académique, et vous permettra d'enrichir votre profil en vue de votre carrière professionnelle. Tous les acteurs du monde juridique, cabinets ou entreprises, apprécient fortement, au moment de l'embauche, une première expérience professionnelle dans la matière. Mon conseil est de vous construire une année de césure propre, peut être avec des expériences diverses ou atypiques, qui vous serviront dans tous les cas à vous distinguer d'autres candidats au moment du recrutement.
Enfin, pour ceux qui se poseraient la question, il est tout à fait possible de préparer le CRFPA à la suite de Sciences Po, qui nous y prépare bien en nous familiarisant à la méthodologie du cas pratique. Pour ma part, je recommande tout de même une prépa d'été de deux mois qui permet de préparer au mieux l'examen.
Ludovic Pastor, diplômé 2018 du master Droit économique spécialité Entreprises, Marchés, Régulations (EMR)
Last modified 2020-09-16
02.09.2021
Over the course of these three days, you will have the chance to meet with numerous Sciences Po students and graduates. All will be actively seeking internships (whether as a mandatory part of their master's course or for a gap year), apprenticeships, fir
15.07.2021
The results of the 2021 Graduate Employability Survey on the class of 2019 show that Sciences Po students remain very attractive to employers, with 9 out of 10 graduates in professional activity. Despite a job market facing difficulties, 82% of our 2019 graduates found their first job in less than 6 months, and nearly ¾ of them have a stable profession. There are still just as many (37%) working abroad, in 84 countries. Discover all the results of our survey!
Read more news