Homepage
> Arthur Renaud, fondateur de Stackadoc
Arthur Renaud, fondateur de Stackadoc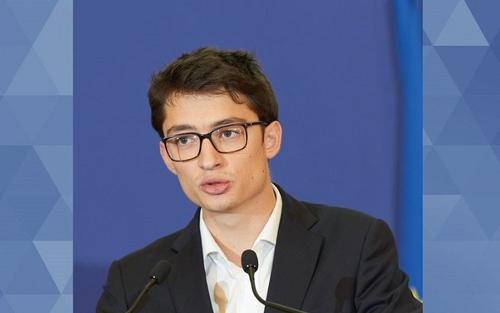 Interview d'Arthur Renaud, fondateur de Stackadoc et diplômé du Master Affaires publiques*, filière générale, promotion 2015.
Pouvez-vous décrire votre parcours universitaire et professionnel ?
J'ai toujours pensé que la polyvalence et la capacité à créer des liens pluridisciplinaires étaient au cœur de toute réussite personnelle comme professionnelle. J'ai voulu que mon parcours académique, comme celui en entreprise, soit à l'image de cette philosophie. C'est pourquoi, après avoir suivi les enseignements de l'ENSAE ParisTech, notamment les premiers cours de Data Science, j'ai voulu aller plus loin et m'ouvrir à de nouvelles perspectives. Sciences Po a incarné cette transition. En rejoignant le Master Affaires publiques*, je pensais trouver de nouvelles compétences et une meilleure compréhension de l'articulation entre l'univers du privé et le monde du public. J'y ai découvert une passion vibrante pour la chose publique et le goût pour la complexité des enjeux. La binarité à laquelle on ramène trop souvent les problématiques sociales et politiques est elle-même problématique, comme j'ai pu l'apprendre lors des cours de lobbying de Sciences Po, dispensés par François Decoster et Axel de Martene.
Quelles ont été les principales étapes de la construction de votre projet professionnel ?
Dès la fin de ma formation à Sciences Po en 2015, j'ai décidé de lancer ma première entreprise et de me frotter à l'entrepreneuriat. J'ai donc été, dès le départ, au service des start-ups : nous avons lancé une grande campagne de collecte de données dans l'optique de déterminer les chances de réussite d'une startup et ainsi aider ces acteurs à les maximiser. Je remercie chaque jour mes équipiers de RaisUP pour cette magnifique expérience car j'ai alors appris faire le tri et à distinguer l'utile du superflu.
J'ai ensuite co-fondé, en août 2015, la start-up ETAONIS, avec un objectif : conseiller les grands groupes pour valoriser la donnée interne et externe, et ainsi accroître leur productivité.
Après quatre belles années de développement plutôt orientées "Conseil", j'ai décidé de mettre les algorithmes que j'avais développé sous la forme d'un produit, qui pourrait être utile à un plus grand nombre. Stackadoc est née de cette pulsion. Nous ne nous contentons ni de la collecte de la donnée, ni de l'analyse : nous exploitons les deux approches, certains que nos utilisateurs, tous professionnels des Affaires Publiques, sont sensibles à cette complémentarité dans leur veille parlementaire et réglementaire.
Comment se déroule le processus de recrutement chez Stackadoc ?
Comme je suis le fondateur de Stackadoc, j'ai dû m'arranger avec moi-même. Je vous laisse imaginer la difficulté... En réalité, c'est plutôt la genèse du projet Stackadoc qui est intéressante. Notre start-up est le fruit d'un constat simple : la politique est devenue « infobèse ». L'émergence des nouvelles technologies, et notamment des réseaux sociaux a démultiplié les possibilités de faire et d'être en politique. La présence sur Twitter de l'immense majorité de nos représentants politiques et les stratégies agressives de Donald Trump, bousculant jusqu'aux systèmes les plus traditionnels comme les relations diplomatiques, en sont une preuve inéluctable. La transition numérique de la politique est en marche et la plupart des professionnels des Affaires Publiques sont peu voire pas préparés à cette dernière. Stackadoc existe précisément pour faciliter ce processus en permettant à ces acteurs d'avoir un monitoring de l'actualité parlementaire en temps réel et une analyse de la parole politique dans toute sa complexité.
Quelles sont les principales caractéristiques de votre poste aujourd'hui ?
A l'instar de ma formation et de mon parcours, mon poste de Fondateur Directeur-Général est protéiforme. En plus de gérer une équipe de trois data scientists, au coeur du perfectionnement constant de nos fonctionnalités, je coordonne la partie développement produit, celle qui nous permet de proposer de nouveaux contenus à nos utilisateurs en fonction de l'évolution de leurs besoins. Par ailleurs, je travaille chaque jour à rendre l'Intelligence Artificielle plus accessible et plus compréhensible pour nos clients. La polarisation autour de l'IA est pernicieuse, elle nous fait oublier que l'IA est avant tout un outil, non une fin en soi, et qu'à ce titre, elle demeure sous notre contrôle. Plus encore, l'IA est déjà partout autour de nous. Des suggestions automatiques à chaque page Web ouverte aux conseils que l'Intelligence Artificielle nous offrent, cette dernière est déjà au centre de nos vies. Compte tenu des mutations à venir des Affaires Publiques, nous faisons le pari que l'exploitation de la puissance de cette technologie doit se faire dès maintenant. Nos utilisateurs l'ont pleinement compris et nous rappellent fréquemment à quel point le gain de temps que notre application leur octroie est salutaire. Je suis fier de participer à cette belle dynamique.
Quelles ont été les contributions de votre formation à l'Ecole d'affaires Publiques envers la fonction que vous occupez aujourd'hui ?
J'en ai tiré une capacité d'adaptation et une compréhension fine des rouages parlementaires dont je peux faire bénéficier mon équipe technique et qui se sont avérées précieuses dans l'identification des besoins de nos utilisateurs. Dans un milieu aussi mouvant que celui des start-ups, c'est un point de repère inestimable. Mais c'est véritablement mes cours de lobbying de l'EAP qui m'ont permis d'entrer dans la complexité des enjeux et de pouvoir, sans difficulté, échanger avec nos utilisateurs. Ces derniers, par leur expertise et la spécificité de leur domaine, partagent un univers linguistique particulier, que l'EAP permet de maîtriser à la perfection, tant grâce à son ouverture à l'international que par l'amplitude des connaissances prodiguées. Enfin, Sciences Po est une école pionnière pour l'introduction du digital dans l'enseignement supérieur. Lors de mon entrée en M1, Sciences Po était déjà en voie de numérisation. J'ai voulu aller plus loin et faire du passage au digital mon métier. Avec Stackadoc, j'ai, moi aussi, tracé ma voie.
*L'Ecole d'affaires publiques qui abrite les Masters Politiques Publiques et Affaires Européennes a été créée en septembre 2015. Le Master Affaires publiques filière générale mentionné correspond aujourd'hui au Master Politiques publiques, spécialité Administration Publique.
Last modified 2020-09-16
15.07.2021
The results of the 2021 Graduate Employability Survey on the class of 2019 show that Sciences Po students remain very attractive to employers, with 9 out of 10 graduates in professional activity. Despite a job market facing difficulties, 82% of our 2019 graduates found their first job in less than 6 months, and nearly ¾ of them have a stable profession. There are still just as many (37%) working abroad, in 84 countries. Discover all the results of our survey!
30.08.2021
You are a student looking for information about internships or career fairs? you are an employer willing to recruit our students in jobs or an internship? Find here the list of your Sciences Po Careers
Read more news