Homepage
> Sophie Caillaud, consultante chez YCE Partners
Sophie Caillaud, consultante chez YCE Partners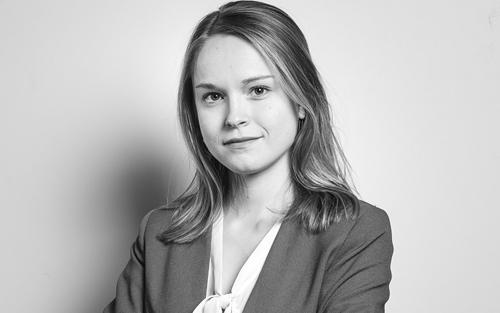 Portrait d'une diplômée du Master Politiques Publiques, spécialité Administration publique
Pouvez-vous décrire votre parcours universitaire et professionnel ?
Après deux ans sur le campus franco-allemand de Sciences Po à Nancy, en double licence avec la faculté de Droit de l'université de Lorraine, et une 3ème année à Vienne (Autriche), j'ai rejoint le campus de Paris au sein du master Politique publiques. J'ai effectué une année de césure entre mon M1 et mon M2, ce qui m'a permis de découvrir le secteur public grâce à des stages en préfecture, ministère, collectivité territoriale, et de me familiariser avec les politiques sociales lors de mon dernier stage à la direction de l'action sociale de la Ville de Paris. J'ai rejoint YCE partners peu de temps après ma diplomation.
Quelles ont été les principales étapes de la construction de votre projet professionnel ?
Ayant commencé mes études en double cursus avec la faculté de Droit de Nancy, j'ai d'abord été attirée par les carrières juridiques. Au fil des années, j'ai réalisé que ma matière de prédilection était plus précisément le droit public, ce qui m'a incitée à rejoindre le master Politiques publiques de Sciences Po. Les enseignements que j'y ai reçus et les stages que j'ai effectués ont renforcé mon appétence pour le secteur public, et plus particulièrement pour les politiques sociales.
En effet, lors de mon année de césure, j'ai eu l'occasion de passer six mois à l'Inspection générale des finances à Bercy en tant qu'assistante de mission. Cette expérience a été vraiment enrichissante, mais m'a fait comprendre que je souhaitais exercer un métier dans lequel je trouverais davantage de sens au quotidien. J'ai donc effectué un stage à la Direction de l'action sociale de la Ville de Paris, qui a confirmé cette volonté de travailler dans les politiques sociales. Après avoir tenté le concours de l'ENA, j'ai cherché un emploi qui me permettrait de maintenir un haut niveau de stimulation intellectuelle tout en me sentant utile à mon échelle. C'est là que j'ai intégré le cabinet YCE partners.
Comment s'est déroulé le processus de recrutement chez YCE Partners ?
Après avoir postulé via Welcome to the Jungle, j'ai été conviée à un premier entretien d'une durée approximative d'une heure et demie avec deux consultants (un senior et une junior). Ils m'ont expliqué le fonctionnement du cabinet, m'ont décrit leurs missions respectives, et m'ont posé des questions sur mon parcours, ma motivation, ma vision du conseil et du métier de consultant. La discussion était très fluide et bienveillante, tout en restant exigeante : j'ai apprécié ce système de recrutement par les pairs. J'ai ensuite rencontré séparément les deux associés fondateurs du cabinet, qui m'ont exposé les enjeux stratégiques de leur entreprise et du secteur. J'ai finalement reçu une offre d'embauche… que j'ai acceptée sans hésiter !
Quelles sont les principales caractéristiques de votre poste aujourd'hui ?
En tant que consultante chez YCE, je suis amenée à intervenir auprès de clients publics ou privés du secteur de la protection sociale pour des missions de management et de stratégie. Je jongle entre des thématiques et des missions très variées : analyse de politiques publiques dans le secteur de la santé et de l'offre de soins, pilotage de projet pour Pôle emploi, développement d'un site web pour un groupement d'institutions de retraite complémentaires… Cette diversité demande beaucoup d'adaptabilité et s'avère réellement stimulante. C'est d'ailleurs ce qui constitue la différence d'YCE : notre présence sur toute la chaîne de valeur de la protection sociale, dans le public et dans le privé. Nous intervenons aussi bien au niveau du cadre réglementaire que de la protection de base (publique), de la protection complémentaire (privée) et de la prévention du risque.
Je participe également au fonctionnement interne du cabinet, dont le management est très inclusif. J'ai par exemple été amenée à rédiger des tribunes sur les enjeux actuels de la protection sociale, à réfléchir à l'aménagement de nos nouveaux locaux ou à participer à l'organisation d'un appel à projets destiné à soutenir des initiatives dans le domaine de l'insertion.
Quelles ont été les contributions de votre formation à l'École d'affaires Publiques envers la fonction que vous occupez aujourd'hui ?
L'EAP m'a permis d'acquérir une solide connaissance du secteur public, de ses acteurs et de ses enjeux, ainsi qu'une bonne compréhension des politiques sociales. Au-delà de ces connaissances sectorielles, les modalités pédagogiques m'ont appris à travailler en équipe, à mener des présentations orales, ainsi qu'à rédiger de manière synthétique. Enfin, c'est grâce à l'EAP et au réseau d'entreprises partenaires de Sciences Po que j'ai découvert le cabinet dans lequel je travaille aujourd'hui, alors même que je ne me destinais initialement pas au secteur du conseil. Je suis la preuve aujourd'hui que l'on peut être très heureux, épanoui, et se sentir utile…même dans le privé !
Last modified 2020-10-16
15.07.2021
The results of the 2021 Graduate Employability Survey on the class of 2019 show that Sciences Po students remain very attractive to employers, with 9 out of 10 graduates in professional activity. Despite a job market facing difficulties, 82% of our 2019 graduates found their first job in less than 6 months, and nearly ¾ of them have a stable profession. There are still just as many (37%) working abroad, in 84 countries. Discover all the results of our survey!
30.08.2021
You are a student looking for information about internships or career fairs? you are an employer willing to recruit our students in jobs or an internship? Find here the list of your Sciences Po Careers
Read more news