Homepage
> L'innovation dans tous ses États
L'innovation dans tous ses États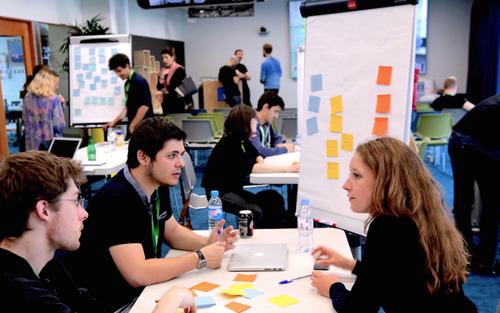 Comment réinventer les prisons de demain ? Comment décarboner les Jeux olympiques de 2024 ? Comment rendre le patrimoine du Domaine de Chantilly accessible aux générations futures ? Voici quelques-unes des questions soulevées par l'Incubateur des politiques publiques, un programme destiné aux étudiants de master de l'École d'affaires publiques de Sciences Po, mis à l'honneur dans le cadre du Mois de l'Innovation Publique de novembre 2020.
Répartis en petits groupes, encadrés par un coach issu du monde professionnel, les étudiants y répondent en développant des prototypes concrets et technologiques en lien avec les besoins des citoyens et les partenaires porteurs de défis, dans un esprit de démocratie ouverte et d'intelligence collective. Présentation de cette aventure en vidéo.
L'Incubateur des politiques publiques fait partie du Laboratoire d'innovations publiques, un lieu ouvert et collaboratif où les étudiants peuvent manifester leur créativité et développer une expertise concrète dans la résolution de problèmes de politique publique.
Dans le cadre du Mois de l'Innovation Publique, Sciences Po organise le 19 novembre une rencontre en ligne autour de la formation à l'innovation publique et du rôle de l'enseignement supérieur. Cet événement sera aussi l'occasion de présenter l'Incubateur de Politiques Publiques. Renseignements et inscriptions.
L'équipe éditoriale de Sciences Po
Pour aller plus loin :
Last modified 2020-11-24
15.07.2021
The results of the 2021 Graduate Employability Survey on the class of 2019 show that Sciences Po students remain very attractive to employers, with 9 out of 10 graduates in professional activity. Despite a job market facing difficulties, 82% of our 2019 graduates found their first job in less than 6 months, and nearly ¾ of them have a stable profession. There are still just as many (37%) working abroad, in 84 countries. Discover all the results of our survey!
30.08.2021
You are a student looking for information about internships or career fairs? you are an employer willing to recruit our students in jobs or an internship? Find here the list of your Sciences Po Careers
Read more news