Homepage
> L'innovation dans tous ses États
L'innovation dans tous ses États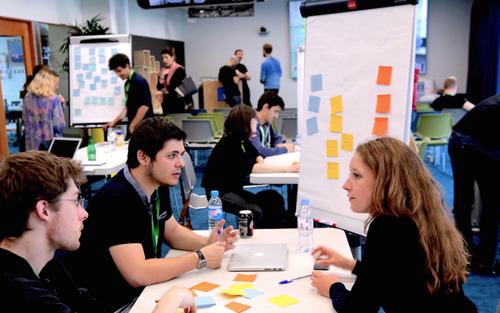 Comment réinventer les prisons de demain ? Comment décarboner les Jeux olympiques de 2024 ? Comment rendre le patrimoine du Domaine de Chantilly accessible aux générations futures ? Voici quelques-unes des questions soulevées par l'Incubateur des politiques publiques, un programme destiné aux étudiants de master de l'École d'affaires publiques de Sciences Po, mis à l'honneur dans le cadre du Mois de l'Innovation Publique de novembre 2020.
Répartis en petits groupes, encadrés par un coach issu du monde professionnel, les étudiants y répondent en développant des prototypes concrets et technologiques en lien avec les besoins des citoyens et les partenaires porteurs de défis, dans un esprit de démocratie ouverte et d'intelligence collective. Présentation de cette aventure en vidéo.
L'Incubateur des politiques publiques fait partie du Laboratoire d'innovations publiques, un lieu ouvert et collaboratif où les étudiants peuvent manifester leur créativité et développer une expertise concrète dans la résolution de problèmes de politique publique.
Dans le cadre du Mois de l'Innovation Publique, Sciences Po organise le 19 novembre une rencontre en ligne autour de la formation à l'innovation publique et du rôle de l'enseignement supérieur. Cet événement sera aussi l'occasion de présenter l'Incubateur de Politiques Publiques. Renseignements et inscriptions.
L'équipe éditoriale de Sciences Po
Pour aller plus loin :
Last modified 2020-11-24
04.09.2023
If you are looking for interns or future employees, our guide 'Recruit at Sciences Po' will provide the relevant information about our students, the careers we train them for and how to leverage this great pool of talent to meet your recruitment needs.
06.09.2023
Launched by two graduates (class of 2020) from Law School : Agnès de Fortanier (Master in Economic Law) and Thomas Harbor (dual degree Sciences Po HEC), What's up EU is a newsletter putting together a concise, well-documented, and informative weekly wrap-up of the news that matters at a continental scale — from a European perspective. Sciences Po Careers interviewed Augustin Bourleaud, in charge of its edition, who is currently a double master's degree student between Sciences Po and the London School of Economics.
Read more news