Gesine Weber, class of 2019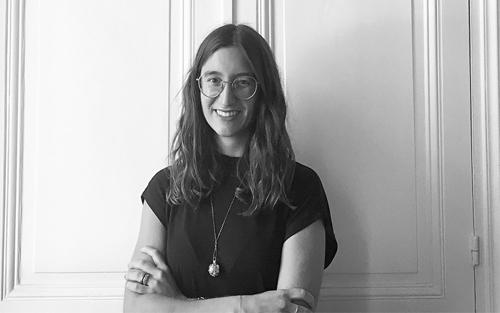 From the dual degree Sciences Po Master European Affairs, Europe in the World / Freie Universität to the German Marshall Fund of the United States
CAN YOU DESCRIBE YOUR ACADEMIC AND PROFESSIONAL BACKGROUND?
I have always been passionate about international politics and Europe. After three months in China following my high school graduation, a year of law studies and completing a French-German bachelor's degree in political science at the University of Freiburg and the IEP Aix-en-Provence, I wanted to focus my studies on European affairs and international relations without having to choose between these two disciplines. The Master in European Affairs at the School of Public Affairs was therefore almost a natural next step for me: thanks to the policy stream "Europe in the World" in partnership with PSIA and the dual degree between SciencesPo and Freie Universität Berlin, I could specialise in the field of European external relations and security while strengthening my French-German profile.
From the very beginning of my studies, it was very important to me to complement my academic pathway with professional experiences. This is why I interned at the political affairs department of the German embassy in Paris during my Bachelor, and completed several other internships during my Master, for instance at the Permanent Mission of Germany to the UN in Geneva, the German Federal Press and Information Office in Berlin and at the Friedrich-Ebert-Foundation in Kosovo. When I was writing my master's thesis at Freie Universität Berlin during the last semester of my studies, I also worked as a policy advisor in security and defence policy with a deputy at the German federal parliament. Although I could have continued to work in this function, I decided to take the unique opportunity of participating in a scholarship programme promoting expertise on China among outstanding young graduates, which is funded by the German government. After ten months of Chinese language classes and an interdisciplinary career-building programme, I worked as a consultant for Chinese geopolitics and domestic politics for the Friedrich-Ebert-Foundation in Berlin and Shanghai and then joined the German Marshall Fund of the United states, a transatlantic think tank, in Paris as a Program Assistant. At the same time, I just started my PhD thesis on European security and defence cooperation at King's College London.
WHAT WERE THE MAIN STAGES IN THE CONSTRUCTION OF YOUR PROFESSIONAL PROJECT?
I grew up in a very rural region in Germany, but I have already considered myself a convinced European in high school and always dreamed of an international career - and my first long stay abroad in China, during which I contributed to several German-Chinese projects, confirmed this aspiration. A decisive stage was for sure enrolling for French-German academic programmes from the beginning of my Bachelor because this allowed me to internationalise my personal profile. Moreover, my previous internships were highly enriching experiences for me as they conformed my interest for a career in the public sector and made me become aware of the diversity of opportunities in this sector. At the beginning of my studies, I was completely convinced that I wanted to become a diplomat right after obtaining my degree, and this remains a highly attractive option for me on the long-term. However, I also realised that I highly appreciate the level of intellectual stimulation of working in a think tank thanks to the combination of a hand-on mentality for project management and in-depth research for publications and studies. Therefore, I decided that I want to start my career in the think tank universe.
HOW WAS THE RECRUITMENT PROCESS AT THE GERMAN MARSHALL FUND OF THE UNITED STATES?
After finding the job offer on the career's website of SciencesPo, I sent my CV and a cover letter to the GMF Office in Paris. During my first interview, the program coordinator and the office manager explained the thematic focus of the office and the working methods to me, which boosted my motivation for this job even more. The second interview with the director and the deputy director confirmed this impression - and that is why I accepted the job offer without hesitation.
WHAT ARE THE MAIN CHARACTERISTICS OF YOUR POSITION TODAY?
As a Program Assistant, I am involved in both project management and research activities; consequently, the variety of tasks requires efficient multi-tasking and identifying priorities. Having joined the office in September during the COVID-19 pandemics, my daily work relies heavily on the use of digital tools because the projects that we are managing have, as in many other sector, been digitalised. Concretely, this means that I am organising virtual meetings and seminars with the other members of the team, which includes classical planning processes, inviting participants, preparing the agenda and the logistical setup. In addition to this work, which mostly requires organisational skills, I am also in charge of analysing current political events or conducting in-depth research, for instance for compiling background research for other members of the office or preparing publications. Another important aspect is the cooperation with our other international offices, as GMF is a truly transatlantic think tank committed to strengthening transatlantic cooperation and aiming at promoting respective knowledge in France and Europe, but also in Washington. An important characteristic of my daily work is that it is completely bilingual - that is something I personally enjoy enormously.
WHAT HAVE BEEN THE CONTRIBUTIONS OF YOUR ACADEMIC BACKGROUND AT THE SCHOOL OF PUBLIC AFFAIRS TO THE POSITION YOU HOLD TODAY?
I benefit in many different ways from my academic background at the School of Public Affairs. First of all, the knowledge I acquired during my studies is very important for my daily work because especially my tasks relating to policy analysis and research require a good understanding of EU security and defence policy, French foreign policy and international relations in broader terms. With regard to the classes I took at the School of Public Affairs, especially the class in Culture Générale is a clear asset for my work. This class, which was probably the most challenging of my entire academic path, has allowed me to develop a better understanding of complex global and European challenges by assessing them from a broader perspective; for me as a German, understanding the French approach of reflecting on these challenges is very helpful. Furthermore, the interdisciplinary education at the School of Public Affairs has definitely contributed to my ability to quickly grasp new topics outside my domaine of expertise, which facilitates my daily work enormously. The same applies with regard to the methodological approach of the School of Public Affairs, as the different forms of the assignments - from classical research tasks to policy-oriented policy briefs - made me familiar with different formats of writing and publishing. Lastly, I highly appreciated the possibility to follow classes in English and French at the School of Public Affairs, so that both have become natural working languages for me - and personally, I really enjoy working in this bilingual context.
Last modified 2020-12-16