Homepage
> Lutter contre la précarité menstruelle
Lutter contre la précarité menstruelle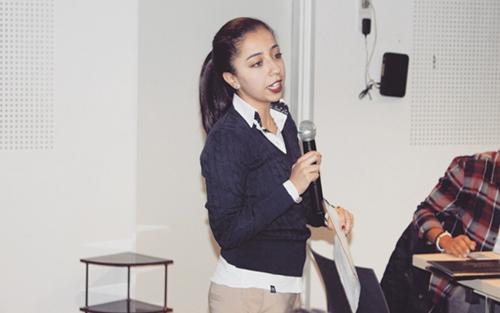 Rita Sekkat est étudiante à l'École d'affaires publiques de Sciences Po. Avec quatre étudiants de Sciences Po et d'autres venus de différents horizons, elle s'engage contre la précarité menstruelle en Europe et en Afrique dans le cadre de son association : HAPPIH, Humanitarian Action for Protection and Preservation of Intimate Hygiene.
POURQUOI VOUS ÊTES-VOUS ENGAGÉE CONTRE LA PRÉCARITÉ MENSTRUELLE ?
La précarité menstruelle est le manque d'accès, par manque de moyens matériels, à des protections hygiéniques en nombre suffisant pour avoir une hygiène décente. Le projet HAPPIH est né en 2016 : j'étais étudiante au Collège Universitaire de Sciences Po sur le campus de Menton et avec quatre amis, Charles Culioli, Walid Ben Hamadi, Moez Rais et Denizalp Goktas, nous avons décidé de participer au Challenge Solidaire organisé par la Coopération internationale de Monaco.
Après avoir vu une campagne similaire en Tunisie et en parlant avec des acteurs locaux, nous nous sommes rendu compte que dans les ruralités marocaines les jeunes femmes n'avaient pas accès à des serviettes hygiéniques et que c'était un facteur de déscolarisation et d'absentéisme à l'école. L'idée est partie de là. On a monté un projet et obtenu le deuxième prix : nous sommes donc partis sur-place en décembre 2017. On a organisé des ateliers de sensibilisation dans deux internats différents, pour 150 filles âgées de 10 à 18 ans. Nous étions avec des infirmières qui expliquaient le côté médical de l'hygiène menstruelle. Les jeunes filles avaient beaucoup d'idées reçues, donc on a essayé de déconstruire le tabou qui entourait les règles et toutes les idées fausses - certaines pensaient par exemple que si elles se lavaient durant leurs règles elles ne pourraient pas avoir d'enfant. On leur a aussi distribué des serviettes lavables et biodégradables que nous avions fait produire dans une petite entreprise marocaine avec du coton bio : chaque jeune fille a reçu un kit de 6 serviettes.
QUELLES ONT ÉTÉ LES RÉACTIONS DE CES JEUNES FILLES ?
Après le projet nous avons organisé un groupe de suivi pour avoir leurs retours, pour savoir si nos interventions les avaient vraiment intéressées, et si ça leur avaient vraiment servi. Et le retour a été très positif !
Comme nous les avions conçues nous-mêmes, les serviettes hygiéniques distribuées avaient quelques défauts de fabrication mais globalement les jeunes filles ont beaucoup utilisé notre produit. Elles nous ont dit que c'était une alternative viable parce qu'elles utilisaient en général des torchons ou aucune protection ; et du coup elles n'allaient pas à l'école à cause de la stigmatisation et des moqueries liées aux tâches de sang. Le problème c'est qu'elles ne peuvent pas loger à l'internat si elles ne vont pas en cours ; donc elles retournent chez elles, loin - souvent elles habitent dans les montagnes, dans des endroits très reculés - et parfois au lieu de s'absenter une semaine, elles s'absentent plusieurs mois. C'était une cause majeure de décrochage scolaire. Avec nos serviettes elles rataient moins les cours voire plus du tout ! Elles nous ont aussi dit qu'elles avaient une meilleure connaissance du sujet, et qu'elles en avaient parlé à leurs proches, leurs copines, leurs familles, etc.
VOUS ÊTES ACTUELLEMENT EN MASTER À L'ÉCOLE D'AFFAIRES PUBLIQUES. POURQUOI AVEZ-VOUS CHOISI DE REJOINDRE LE CERTIFICAT ÉGALITÉ FEMMES-HOMMES ET POLITIQUES PUBLIQUES ?
Ce qui m'avait frappée lors de ce projet au Maroc c'était que les jeunes femmes que l'on rencontrait étaient vraiment pleines d'ambition : elles voulaient toutes devenir médecin, professeure ou avocate, et certaines avaient un niveau de français et d'anglais incroyables. Mais en réalité la plupart finissaient mariées à 18 ans ou femmes de ménage.
Elles nous expliquaient que dans leur société, lorsqu'une femme a ses règles pour la première fois, cela veut dire qu'elle est pubère, prête à avoir des enfants. Et il y avait aussi ce souci de décrochage scolaire lié aux règles. Le tout faisait qu'elles abandonnaient leurs rêves à cause de leurs règles. Un phénomène biologique et naturel les conditionnait socialement, les empêchait de faire porter leur voix.
C'est à ce moment là que je me suis dit que j'avais envie d'agir pour la défense des droits des femmes, mais je sentais qu'il me manquait quelque chose : je n'avais pas d'arguments d'autorité. Le Certificat m'a apporté une certaine maturité. De nos jours tout le monde se dit un peu féministe sans avoir un discours vraiment construit et appuyé. Il m'est arrivé de ne pas savoir répondre à certains arguments ; et le Certificat m'a justement apporté du répondant. On a eu la chance de rencontrer des personnes avec des backgrounds très différents, parfois contradictoires, mais ça n'a fait qu'enrichir la réflexion. Le Certificat m'a permis de me construire dans cette lutte féministe, de m'y retrouver et d'établir un discours cohérent.
Je ne m'identifiais pas forcément en tant que féministe avant d'intégrer le Certificat Égalité, et puis je me suis rendue compte tout au long de la formation qu'il n'y avait pas qu'un seul type de féminisme mais plusieurs. Et que quand on lutte pour les droits des femmes et pour leur émancipation, chacun peut y donner le sens qu'il veut. Donc maintenant je n'ai aucun problème à m'identifier comme féministe parce que j'en ai trouvé ma propre définition.
Lire l'intégralité de l'article sur le site SciencesPo Presage
© Rita Sekkat/HAPPIH
Last modified 2021-03-15