Homepage
> Online Career Fair : recruit our talents!
Online Career Fair : recruit our talents!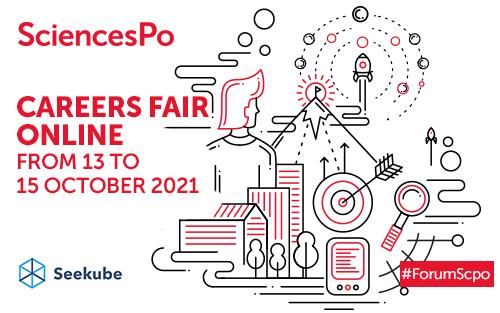 Over the course of these three days, you will have the chance to meet with numerous Sciences Po students and graduates. All will be actively seeking internships (whether as a mandatory part of their master's course or for a gap year), apprenticeships, fir
By participating in this online forum, you will:
Heighten the visibility of your employer brand, via a virtual stand presenting your company and current opportunities
Identify profiles that best correspond to your selection criteria, via the pairing tools and numerous search filters provided on the platform
Conduct individual and group interviews via videoconference on the platform or by phone with the students you select
Invite up to 8 collaborators from your company to participate in online meetings (an appointment making tool will be made available to every additional collaborator)
Gain access to a CV library including all students registered for the Forum for a duration of 14 days
register now !
(EARLY BIRD rate before 22 JUly)
Participation fees for our Online Career fair vary according to the following criteria:

-> Company type: corporation, SME, start-up, non-profit organisation, public administration, Sciences Po partner or not

-> Number of collaborator accounts required: each company can select between 2 and up to 8 collaborators to participate in the Fair. Participating collaborators will be able to manage their appointments independently.

Early bird rates: from €0* to €1,800*
Rates after 11 September: from €0* to €2,400*

*Rate before tax

Early bird rates before 22 July
HOW DOES AN ONLINE CAREERS FAIR WORK?
Info session (in English):Over the course of a 30-45 minute session, we will give you a full introduction to the Seekube platform and explain how this online Careers Fair will work: how to create your virtual stand, how to add collaborators to the stand, how to post offers, make appointments, etc. We will also be able to answer any questions.
YOUR ONLINE FAIR STEP BY STEP
Before
Thursday
22nd July
Register now by completing the registration form (mandatory to validate your participation) and send out the
signed quotation to benefit from our Early bird rates


Important:

Participation fees vary according to the Company type and to the number of collaborator accounts you choose
The full rate will be applied for any registration after Thursday, 22 July.
Before
Thursday
Sept. 23rd
1. Create your virtual stand.
2. Add your staff members (thy indicate their availabilities).
3. Publish your offers.
4. Prepare your live sessions.
From Sept.
27 to 12 Oct.
Students apply to your opportunities, ask for appointments
in your agenda and sign up for live sessions.

From 5 to12 oct.

1. Consult the profiles of the candidates who wish to meet you
2. You confirm or not these requests
3. You look for and select other profiles through the database of participating students (using filters) and suggest them appointments
from Oct
13 to 15

TIME TO MEET THE STUDENTS !

And after

You can arrange other appointments after the closing datesof the fair
You get an open access to CV library up to 14 days after the event
WHY RECRUIT OUR TALENTS?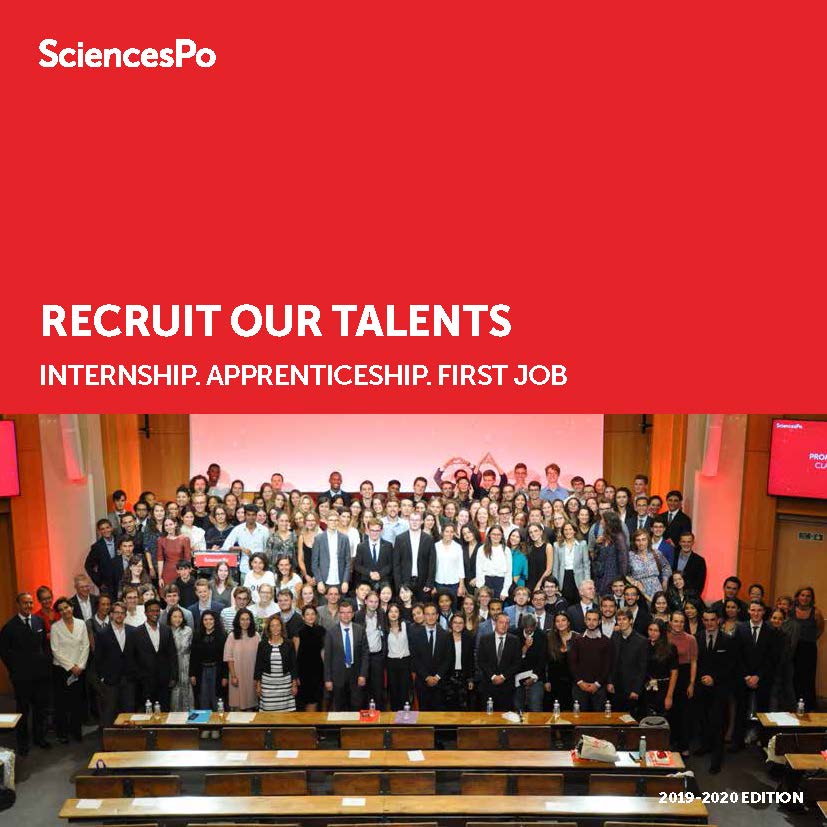 Analytical skills, intellectual curiosity and agility, strong general knowledge, excellent writing skills, ability to adapt… These are just some of the distinctive characteristics that make our students attractive to recruiters. 40% of our master's students find employment prior to finishing their degree.
66% of Sciences Po graduates enter the private sector
22% join the public sector
12% go on to work for international organisations
Read the results of our 2020 Graduate Employability Survey
(conducted with the Class of 2018)
CONTACTs
For any questions regarding registration for the Careers Fair, participation fees or the profile of Sciences Po students, please contact:
Caroline TOUSSAIN
forum.carrieres@sciencespo.fr- T: 01 45 49 72 94
Careers Events Manager (Sciences Po Careers)
For any questions regarding how to create your online stand on Seekube, post adverts or make appointments with students, please contact:
Jade NOURISSON
jade.nourisson@seekube.com - T: 06 30 04 33 66
Seekube Project Manager
Last modified 2021-09-02
04.09.2023
If you are looking for interns or future employees, our guide 'Recruit at Sciences Po' will provide the relevant information about our students, the careers we train them for and how to leverage this great pool of talent to meet your recruitment needs.
06.09.2023
Launched by two graduates (class of 2020) from Law School : Agnès de Fortanier (Master in Economic Law) and Thomas Harbor (dual degree Sciences Po HEC), What's up EU is a newsletter putting together a concise, well-documented, and informative weekly wrap-up of the news that matters at a continental scale — from a European perspective. Sciences Po Careers interviewed Augustin Bourleaud, in charge of its edition, who is currently a double master's degree student between Sciences Po and the London School of Economics.
Read more news