Homepage
> Un pied dans la théorie et un pied dans la pratique
Un pied dans la théorie et un pied dans la pratique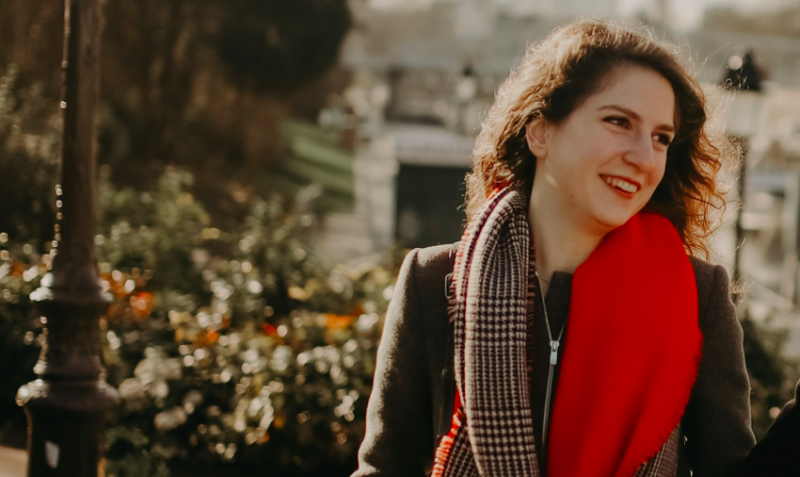 Rencontre avec Lola Elbaz, diplômée 2020 de l'École de droit
POUVEZ-VOUS NOUS RETRACER VOTRE PARCOURS UNIVERSITAIRE ?
Après mon baccalauréat littéraire, j'ai intégré le collège universitaire de Sciences Po sur le campus de Paris. Hésitante quant à mon orientation en master, j'ai choisi d'effectuer ma troisième année sous forme de stages. J'ai d'abord passé cinq mois à Tel Aviv dans une chaîne de télévision internationale, puis cinq mois à New York au sein des services culturels de l'ambassade de France. Si ces deux stages m'ont beaucoup apporté, elles n'ont pas fait naître en moi de vocation. En rentrant en France, j'ai effectué un dernier stage au sein du pôle d'instruction de la Juridiction Interrégionale Spécialisée (JIRS) en criminalité organisée et grand banditisme. Cette dernière expérience fut décisive en ce qu'elle faisait un lien entre les sujets de sociétés qui m'intéressaient, tels que la criminalité organisée, et la pratique concrète d'une matière universitaire, le droit.
Dès lors, intégrer le master Droit économique apparaissait comme le choix logique et idéal. Suite à une première année de master, l'École de droit m'a permis d'effectuer une année de césure en cabinet d'avocats. J'ai ainsi effectué deux stages longs au sein du département pénal du cabinet Veil Jourde, puis du département contentieux du cabinet Bredin Prat. Ces deux expériences m'ont convaincu de persévérer dans la voix du droit pénal, en particulier du droit pénal des affaires. J'ai ainsi fait le choix de la spécialité Contentieux économique et arbitrage (CEA) en deuxième année de master. En parallèle de cette dernière année, j'étais à mi-temps assistante de justice au pôle financier de l'instruction du Tribunal Judiciaire de Paris.
Cette année m'a donné le recul nécessaire pour conforter mes choix d'orientation. Après un été de préparation, j'ai été admise au Concours du Centre régional de formation professionnelle des avocats (CRFPA) en décembre 2020.
Pour continuer de me spécialiser, j'ai intégré en septembre dernier le master II droit pénal financier de l'université de Cergy Pontoise.
COMMENT EST NÉ VOTRE INTÉRÊT POUR LES ÉTUDES DE DROIT ?
J'ai toujours aimé me mêler des problèmes des autres !
QUEL EST L'ENSEIGNEMENT QUI VOUS A LE PLUS MARQUÉE ?
La spécialité CEA offre un grand nombre d'enseignements intéressants et utiles. Je pense me souvenir longtemps du cours "Stratégie du procès" dispensé par le Professeur Dany Cohen qui nous invitait à produire chaque semaine des écritures dans le cadre de divers contentieux. Très interactif, ce cours nous obligeait à mobiliser connaissances, recherches, esprit de groupe et argumentation à l'oral.
C'est je crois, une bonne illustration de ce que nous apporte l'École de droit de Sciences Po : un pied dans la théorie et un pied dans la pratique.
QUELS SONT VOS PROJETS ?
Je vais intégrer l'École de Formation du Barreau de Paris dès janvier 2021. Le cursus se déroule sur un an et demi. J'aimerais profiter de ce temps pour effectuer des stages et éventuellement suivre des formations approfondies en défense pénale. A terme, je souhaiterais intégrer un cabinet d'avocat en pénal des affaires et nous verrons bien où cela nous mènera ! Ce qui me plaît dans la profession d'avocat, c'est aussi de pouvoir choisir comment sa carrière évoluera.
UN CONSEIL POUR CELLES ET CEUX QUI SOUHAITERAIENT REJOINDRE L'ÉCOLE DE DROIT DE SCIENCES PO ?
Ne pas hésiter à accumuler les expériences. Il n'est jamais simple de faire des choix. Les stages sont un excellent moyen d'envisager la réalité d'une profession et de la confronter à nos attentes et convictions.
Lola Elbaz, diplômée 2020 du master Droit économique, spécialité Contentieux économique et arbitrage (CEA)
Last modified 2021-07-12
15.07.2021
The results of the 2021 Graduate Employability Survey on the class of 2019 show that Sciences Po students remain very attractive to employers, with 9 out of 10 graduates in professional activity. Despite a job market facing difficulties, 82% of our 2019 graduates found their first job in less than 6 months, and nearly ¾ of them have a stable profession. There are still just as many (37%) working abroad, in 84 countries. Discover all the results of our survey!
30.08.2021
You are a student looking for information about internships or career fairs? you are an employer willing to recruit our students in jobs or an internship? Find here the list of your Sciences Po Careers
Read more news