Homepage
> Faites-vous confiance et travaillez sérieusement votre candidature
Faites-vous confiance et travaillez sérieusement votre candidature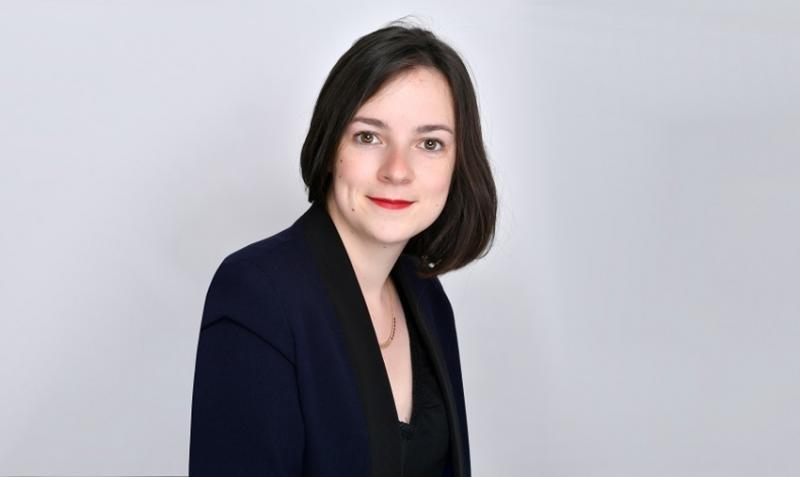 Rencontre avec Amandine Collard, diplômée 2020 de l'École de droit
POUVEZ-VOUS NOUS RETRACER VOTRE PARCOURS UNIVERSITAIRE ?
J'ai intégré l'Institut d'études politiques de Grenoble en 2014. Cette école m'a beaucoup apporté, tant sur le plan académique que personnel. J'ai passé deux belles années près des montagnes, pendant lesquelles j'ai bénéficié d'une formation pluridisciplinaire enrichissante et ai commencé à me familiariser avec, entre autres, le droit public. J'ai également obtenu une licence en économie à l'Université Grenoble Alpes. Enfin, j'ai eu l'opportunité de passer une année en échange Erasmus en Angleterre, à Canterbury.
Cette première phase de mes études supérieures a suscité mon intérêt pour le droit public, intérêt renforcé par de courts stages estivaux que j'ai effectués en cabinet d'avocats.
Intégrer le master Droit économique de Sciences Po était la suite logique de mon parcours académique : c'est le seul master qui me permettait de me doter d'une formation juridique solide en deux ans et d'acquérir un an d'expérience professionnelle pendant l'année de césure.
QU'EST-CE QU'A CHANGÉ VOTRE ADMISSION À L'ÉCOLE DE DROIT ?
Mon admission à l'École de droit a tout changé.
Sur le plan académique, les enseignements de première année de master m'ont permis de me construire une culture générale juridique indispensable avant l'année de césure et le choix de la spécialisation. La deuxième année de master, que j'ai naturellement choisi de réaliser en spécialité Droit public économique, a été pour moi la plus enrichissante, parce qu'elle a su allier enseignements généraux et apprentissages plus spécialisés. Je garde notamment d'excellents souvenirs de ma découverte du droit fiscal avec Maître Virginie Restino et du droit de l'environnement avec le Professeur Laurent Neyret.
Sur le plan professionnel, l'année de césure est une opportunité à saisir pour acquérir de l'expérience. J'ai travaillé à la fois en cabinet d'avocats (Département Droit public, énergie et environnement du Cabinet Gide Loyrette Nouel), en entreprise (Direction juridique Corporate d'EDF) et au Conseil constitutionnel. Ce panel d'expériences m'a permis de me forger ma propre opinion sur les différentes voies qui s'ouvrent à moi après Sciences Po.
Sur le plan personnel, l'École de droit m'a donné confiance en moi. Je me souviens de mes premiers jours à Paris, à la fois heureuse de m'installer dans la capitale et anxieuse à l'idée de devoir me créer de nouveaux repères. Aujourd'hui, je réalise combien mes années à Sciences Po ont été synonymes d'épanouissement et de merveilleuses rencontres. Ces années n'auraient sûrement pas été les mêmes sans la Bourse d'excellence du cabinet Gide que j'ai eu la chance d'obtenir.
QUELS SONT VOS PROJETS POUR LA SUITE ?
Admise à l'examen d'entrée au Centre Régional de Formation Professionnelle des Avocats (CRFPA), je commence dès janvier 2021 mon cursus d'élève-avocate à l'École de Formation professionnelle des Barreaux (EFB). A l'issue de ma formation, je souhaite devenir avocate en droit public des affaires. J'envisage de me spécialiser dans les secteurs régulés, tels que le droit de l'énergie, mais je reste à ce jour ouverte à d'autres possibilités.
Actuellement, j'étudie au sein du M2 Droit et Management d'HEC afin d'approfondir mes connaissances des problématiques de l'entreprise, qui sont nécessaires à l'exercice de la profession d'avocat d'affaires. J'étudie par exemple la stratégie, le management, la finance mais reçois aussi des enseignements juridiques qui complètent ma formation à Sciences Po.
UN CONSEIL POUR CELLES ET CEUX QUI SOUHAITERAIENT REJOINDRE L'ÉCOLE DE DROIT DE SCIENCES PO ?
Je suis souvent contactée par de futurs candidats à l'École de droit, qui pensent que leur CV n'est pas assez "impressionnant" pour intégrer une telle école. Comme je leur répète à chaque fois, n'ayez pas peur ! Le CV de chacun commence par une page blanche : chaque parcours se construit progressivement, au fil des opportunités.
L'École de droit est un tremplin : faites-vous confiance et travaillez sérieusement votre candidature, vous avez toutes et tous votre chance !
Amandine Collard, diplômée 2020 du master Droit économique, spécialité Droit public économique (DPE)
Last modified 2021-07-20
15.07.2021
The results of the 2021 Graduate Employability Survey on the class of 2019 show that Sciences Po students remain very attractive to employers, with 9 out of 10 graduates in professional activity. Despite a job market facing difficulties, 82% of our 2019 graduates found their first job in less than 6 months, and nearly ¾ of them have a stable profession. There are still just as many (37%) working abroad, in 84 countries. Discover all the results of our survey!
30.08.2021
You are a student looking for information about internships or career fairs? you are an employer willing to recruit our students in jobs or an internship? Find here the list of your Sciences Po Careers
Read more news