Homepage
> Rencontre avec Pierre-Benoît Drancourt, diplômé 2020
Rencontre avec Pierre-Benoît Drancourt, diplômé 2020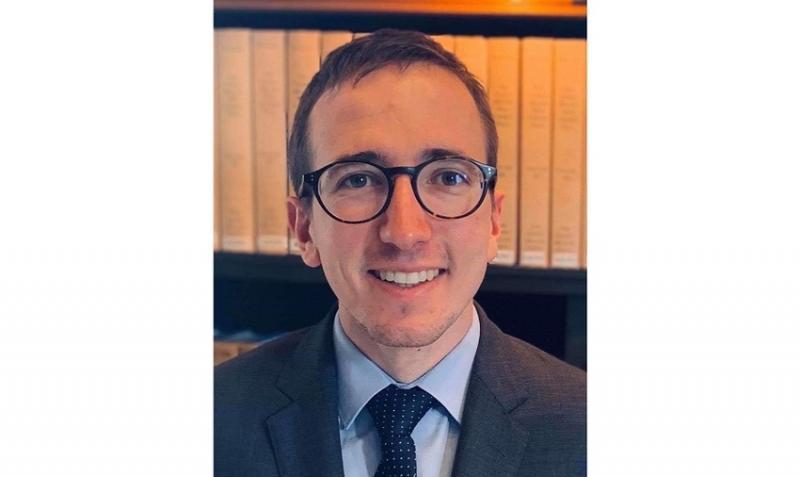 La plus-value de la formation distillée à l'École de droit de Sciences Po ? La mise en contexte des connaissances"
QUEL A ÉTÉ VOTRE PARCOURS UNIVERSITAIRE ?
Je n'ai pas directement intégré Sciences Po en première année, j'ai commencé mon cursus universitaire par une licence de droit à l'Université de Lille. Puis, j'ai enchaîné avec un Master 1 en droit public des affaires à l'Université Paris II Panthéon-Assas. Cette année de transition à Paris a catalysé mon désir d'intégrer l'École de droit de Sciences Po. En effet, les cours dispensés étaient, certes, très intéressants et exhaustifs à souhait. Néanmoins, ils étaient, à mon sens, trop théoriques, pas du tout pratiques notamment sur les aspects de régulation économique.
Je me suis donc tourné vers l'École de droit où j'ai choisi en Master 2, la spécialité Entreprises, marchés, régulations en raison de sa maquette pédagogique. Celle-ci est "sur le marché des M2" assez unique puisqu'elle englobe à la fois des matières fondamentales comme le traitement des entreprises en difficulté, le droit des sûretés ou encore le droit de la concurrence mais également des enseignements sectoriels comme le droit de l'énergie, le droit des marchés financiers et même la neutralité du web.
Dispensés par des professionnels, ces modules ne s'arrêtaient pas simplement à un enseignement des textes réglementaires, ils mettaient en lumière les grands enjeux des secteurs : transition écologique, régulation des GAFA ou plus prosaïquement la RSE. C'est à mon sens, la plus-value de la formation distillée à l'École de droit de Sciences Po : la mise en contexte des connaissances. Cet angle nous permet d'être directement opérationnel au sein d'un cabinet d'avocats ou d'une direction des affaires juridiques. Je ne regrette absolument pas mon choix.
VOUS ÉTIEZ RÉDACTEUR EN CHEF DE LA REVUE DES JURISTES DE SCIENCES PO. QUE RETENEZ-VOUS DE CETTE EXPÉRIENCE ?
La Revue des Juristes de Sciences Po fut un fil rouge tout au long de ma scolarité à Sciences Po. Je l'ai intégrée d'abord en simple chroniqueur puis on m'a proposé de prendre la tête de la revue. Ce fut une expérience formidable tant d'un point de vue intellectuel qu'opérationnel. Intellectuel d'abord, puisque construire un numéro nécessite un brainstorming permanent afin de dégager un angle intéressant et pertinent mais aussi réfléchir avec les contributeurs sur les possibilités d'amélioration de leurs contributions.
Opérationnel ensuite, parce que la revue est un travail d'équipe et qu'il faut coordonner à la fois le rendu des contributions, les relectures, les financements, la bonne intégration des sponsors ou encore faire du démarchage commercial. Bref, c'est une petite junior entreprise et évidemment, la crise épidémique que nous traversons a bouleversé en long et en large les travaux de la revue, il a fallu s'adapter et c'était extrêmement stimulant. Ce que je retiens également, ce sont les liens très forts qui existent entre anciens et nouveaux rédacteurs en chef. Ce lien de transmission est primordial puisqu'il constitue le socle de la confiance entre la revue d'une part et les parties prenantes de l'autre.
QUELS SONT VOS PROJETS ?
Je suis actuellement à l'EFB et je souhaiterais devenir avocat spécialisé dans le secteur des infrastructures et de l'énergie.
QUEL EST L'ENSEIGNEMENT QUI VOUS A LE PLUS MARQUÉ ?
Le droit des entreprises de l'énergie a été un enseignement cardinal lors de ma formation à Sciences Po puisqu'il m'a permis de comprendre les grands enjeux du monde de l'énergie dans lequel je travaille aujourd'hui. Le regard véhiculé par les professeurs et les intervenants était neutre et il permettait à chacun de se forger une opinion pour les grands enjeux énergétiques et environnementaux de demain : transition écologique, maintien du nucléaire à bas coût etc..
UN CONSEIL POUR CELLES ET CEUX QUI SOUHAITERAIENT REJOINDRE L'ÉCOLE DE DROIT DE SCIENCES PO ?
Ne vous auto-censurez pas ! Pour les juristes, ne voyez pas la formation distillée par l'École de droit comme un redit de vos trois premières années mais plutôt comme une chance de découvrir des matières sous un angle nouveau.
Pierre-Benoît Drancourt, diplômé 2020 du master Droit économique spécialité Entreprises, Marchés, Régulations (EMR)
Last modified 2021-07-20
15.07.2021
The results of the 2021 Graduate Employability Survey on the class of 2019 show that Sciences Po students remain very attractive to employers, with 9 out of 10 graduates in professional activity. Despite a job market facing difficulties, 82% of our 2019 graduates found their first job in less than 6 months, and nearly ¾ of them have a stable profession. There are still just as many (37%) working abroad, in 84 countries. Discover all the results of our survey!
30.08.2021
You are a student looking for information about internships or career fairs? you are an employer willing to recruit our students in jobs or an internship? Find here the list of your Sciences Po Careers
Read more news