Entretien avec Chloé Delay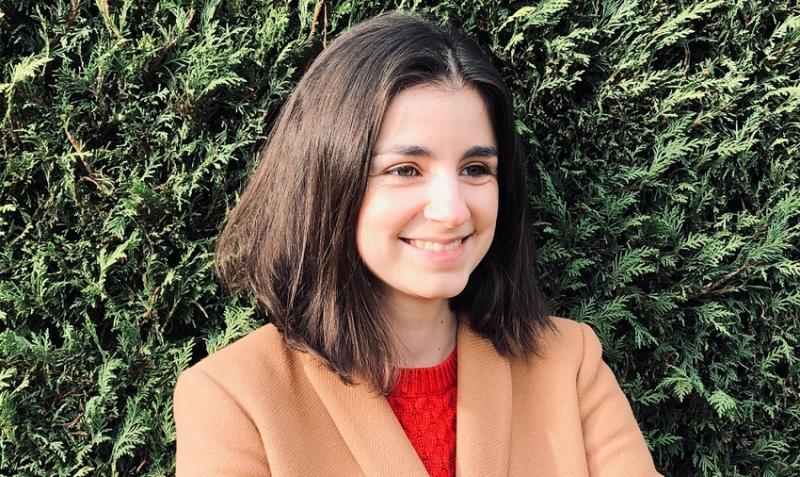 Diplômée 2020 de l'École de droit
POUVEZ-VOUS NOUS RETRACER VOTRE PARCOURS UNIVERSITAIRE ?
J'ai rejoint Sciences Po en première année du Collège Universitaire sur le campus de Reims au sein du programme euro-américain. Ce cursus anglophone a été très enrichissant. J'ai eu la chance d'y suivre des cours très divers à la fois d'économie, de sciences politiques mais aussi d'histoire et de droit. Ceux-ci étaient enseignés suivant une approche comparée entre l'Union européenne et l'Amérique du nord. Intéressée par les matières juridique et économique, j'ai suivi avec grand intérêt le cours de droit de la concurrence dispensé par la Professeure Dina Waked en 2ème année. Ensuite, j'ai choisi de partir en échange universitaire à l'Université de Toronto durant ma 3ème année d'études avant d'intégrer le master Droit Économique de l'École de droit à mon retour en France.
POUR QUELLES RAISONS AVEZ-VOUS CHOISI LA SPÉCIALITÉ "ENTREPRISES, MARCHÉS, RÉGULATIONS" PROPOSÉE AU SEIN DE L'ÉCOLE DE DROIT ?
La première année du master a pour objectif d'enseigner aux étudiants les fondamentaux du droit ainsi que le langage juridique indispensable à tout juriste. Au cours de cette année, j'ai eu la chance de suivre les cours de Messieurs Olivier d'Ormesson et Pascal Wilhelm relatifs au droit de la concurrence qui ont particulièrement suscité mon intérêt. Aussi, j'ai souhaité aborder les aspects pratiques de cette matière en effectuant une année de césure. Dans ce cadre, j'ai pu réaliser deux stages, le premier au sein du département Concurrence et Droit européen du cabinet Bredin Prat et le second au sein du département Propriété Intellectuelle du cabinet Linklaters. Cette année de césure extrêmement formatrice m'a permis d'acquérir la certitude de vouloir m'orienter vers la profession d'avocat spécialisé en droit de la concurrence.
Mon choix s'est donc naturellement porté vers la spécialité "Entreprises, Marchés, Régulations". Elle offre un panel d'enseignements divers dispensés par de nombreux praticiens permettant aux étudiants d'acquérir de nombreuses connaissances sur le droit des marchés et la régulation sectorielle. En parallèle, j'ai participé au concours de plaidoiries organisé par l'Autorité de la Concurrence avec plusieurs de mes camarades. Ce fut une expérience très riche en enseignements qui nous a permis de rédiger une notification des griefs et de nous former à l'exercice de la plaidoirie devant le Collège de l'Autorité. Je recommande d'ailleurs vivement aux nouvelles générations d'étudiants à l'École de droit intéressés par ce domaine juridique de participer à cet évènement !
QUEL EST L'ENSEIGNEMENT QUI VOUS A LE PLUS MARQUÉE ?
Cette question est difficile ! Je pense que le cours de Messieurs Antoine Winckler et Pierre-Yves Chabert consacré aux problématiques soulevées par les grandes opérations de prises de contrôle sur les marchés financiers m'a particulièrement plu en ce qu'il offre un très juste équilibre entre théorie et pratique. Ils nous ont ainsi enseigné les fondements de leurs matières juridiques respectives afin que nous puissions les mettre en pratique lors des moot courts organisés en classe.
QUELS SONT VOS PROJETS À VENIR ?
Après avoir reçu mon diplôme de Sciences Po au printemps dernier, j'ai intégré le master 2 Droit européen des affaires et de la concurrence à l'Université Paris II Panthéon-Assas. J'intégrerai en janvier 2021 l'École de Formation professionnelle des Barreaux de la cour d'appel de Paris et souhaite effectuer divers stages en cabinet d'avocats durant ces 18 mois de formation afin d'acquérir les compétences nécessaires pour devenir avocate spécialisée en Droit de la concurrence !
UN CONSEIL POUR CELLES ET CEUX QUI SOUHAITERAIENT REJOINDRE L'ÉCOLE DE DROIT DE SCIENCES PO ?
La formation à l'École de droit est très riche et permet à chaque étudiant de bénéficier d'une grande émulation intellectuelle lors des nombreux et divers enseignements (parfois en commun avec le master Carrières Judiciaires et Juridiques) ou encore dans le cadre de l'organisation de moot courts ou de projets de la Clinique. Ainsi, je pense que chaque étudiant ne doit pas hésiter à saisir les opportunités qui se présentent à lui durant son parcours à l'École de droit afin de construire son projet professionnel et façonner son parcours tel qu'il l'entend.
Chloé Delay, diplômée 2020 du master Droit économique spécialité Entreprises, Marchés, Régulations (EMR)
Last modified 2021-07-20
15.07.2021
The results of the 2021 Graduate Employability Survey on the class of 2019 show that Sciences Po students remain very attractive to employers, with 9 out of 10 graduates in professional activity. Despite a job market facing difficulties, 82% of our 2019 graduates found their first job in less than 6 months, and nearly ¾ of them have a stable profession. There are still just as many (37%) working abroad, in 84 countries. Discover all the results of our survey!
30.08.2021
You are a student looking for information about internships or career fairs? you are an employer willing to recruit our students in jobs or an internship? Find here the list of your Sciences Po Careers
Read more news