Homepage
> "Il n'y a rien d'insurmontable"
"Il n'y a rien d'insurmontable"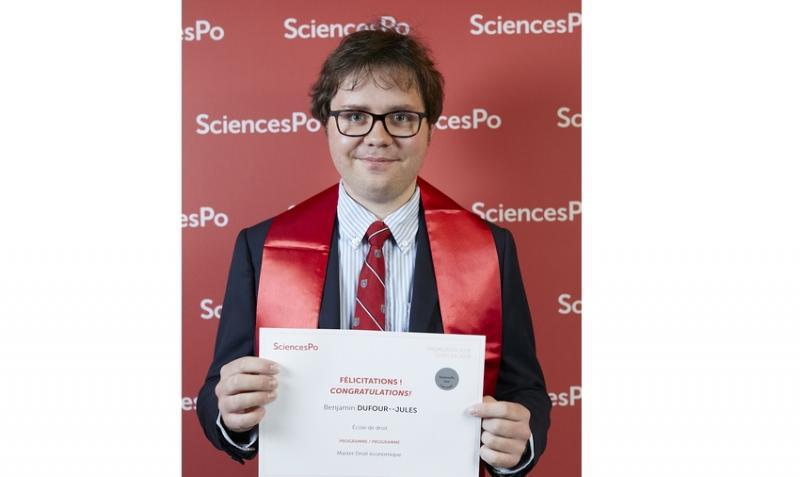 Rencontre avec Benjamin Dufour--Jules, diplômé 2019
POUVEZ-VOUS NOUS DÉCRIRE VOTRE PARCOURS ACADÉMIQUE ?
Après mon baccalauréat scientifique, j'ai effectué deux années de classes préparatoires scientifiques (Mathématiques et Physique) au Lycée Montaigne de Bordeaux. A l'issue de ces deux années très formatrices, j'ai choisi d'intégrer l'ENSAE Paristech, qui est une école d'ingénieur dont la particularité est de proposer un cursus tourné à la fois vers les mathématiques et la data science, mais aussi vers la finance, l'économie et les sciences sociales. Pendant mon cursus d'ingénieur, j'ai ainsi pu découvrir l'économie de la concurrence et de la régulation des marchés ou encore les aspects financiers des opérations de fusions-acquisitions.
Lorsque j'ai découvert que l'École de droit proposait des masters de droit accessibles à des étudiants n'ayant suivi aucun cursus juridique préalable, j'ai postulé au master Droit économique. En effet, alors même que je suivais un cursus d'ingénieur, le droit m'intéressait, notamment car j'avais constaté lors de stages et pendant mon cursus académique, que le droit jouait un rôle central dans la vie économique. Aussi, j'étais convaincu que de disposer de solides connaissances en droit serait un atout, quelque soit mes futurs choix de carrière.
Les cours du master droit économique m'ont tout de suite beaucoup plu. L'approche mêlant théorie et pratique permet de se familiariser avec le raisonnement juridique, en traitant des problèmes concrets afin d'étudier en pratique la manière dont le droit peut devenir un outil stratégique pour les acteurs économiques. C'est ainsi que j'ai réalisé que je voulais devenir juriste et plus précisément avocat spécialisé dans les activités de conseils en fusions-acquisitions.
POUR QUELLES RAISONS AVEZ-VOUS CHOISI LA SPÉCIALITÉ ENTREPRISES, MARCHÉS ET RÉGULATIONS PROPOSÉE AU SEIN DE L'ÉCOLE DE DROIT ?
À la fin de ma première année de master, j'ai choisi la spécialité Entreprises, Marchés et Régulations (EMR) tout d'abord car cette spécialité permet de suivre de nombreux cours portant sur les opérations de fusions-acquisitions, avec des cours de droit boursier, de droit des sociétés ou portant sur le financement d'acquisition. Or, me destinant à la profession d'avocat, dans le domaine des fusions-acquisitions et du droit des sociétés, le contenu de la spécialité EMR correspondait parfaitement à mon projet professionnel. Les cours, donnés essentiellement par des praticiens, sont très orientés vers la pratique et préparent à la réalité de l'exercice du droit au quotidien dans un cabinet d'avocat.
De plus, la spécialité EMR propose un choix de cours très riche, couvrant des domaines juridiques très différents, permettant de créer son propre cursus sur mesure. J'ai ainsi pu approfondir mes connaissances en droit de la concurrence, ou encore découvrir le droit du travail ou la compliance. Aussi, la spécialité EMR correspond parfaitement aux personnes curieuses, qui, tout en voulant se spécialiser, souhaitent conserver un cursus ouvert sur des domaines juridiques différents.
QUELS SONT VOS PROJETS POUR LA SUITE ?
A l'issue du master droit économique, j'ai obtenu l'examen d'entrée à l'École de Formation du Barreau (EFB), où je suis élève-avocat depuis janvier 2020. Actuellement en stage final dans l'équipe Corporate & Securities du cabinet Mayer Brown, je souhaite poursuivre dans cette voie en devenant avocat en fusions-acquisitions et droit des sociétés.
QUELLE IMAGE ATTACHEZ-VOUS À VOTRE PASSAGE À L'ÉCOLE DE DROIT ?
Beaucoup de très bons souvenirs, du travail, une excellente ambiance de master et un épanouissement tant intellectuel que personnel.
UN CONSEIL POUR CELLES ET CEUX QUI SOUHAITERAIENT REJOINDRE L'ÉCOLE DE DROIT ?
Oser franchir le pas ! Le master droit économique représente une charge de travail indéniable, surtout pendant la première année, où la découverte d'un domaine complètement nouveau comme le droit requiert un investissement personnel.
Cependant, il n'y a rien d'insurmontable, toute question trouvant une réponse grâce aux excellents professeurs de l'école de droit et à l'ambiance d'entraide qui règne au sein du master.
Il faut savoir saisir cette chance, qui permet d'obtenir une excellente formation de juriste en deux ans, y compris pour des étudiants venant de cursus très éloignés des études de droit, comme dans mon cas, une école d'ingénieur. Je ne regrette absolument pas mon choix aujourd'hui, car mes deux années de master furent passionnantes et m'ont permis de trouver ma vocation : la profession d'avocat.
Benjamin Dufour--Jules, diplômé 2019 du master Droit économique spécialité Entreprises, Marchés, Régulations (EMR)
Last modified 2021-07-29
02.09.2021
Over the course of these three days, you will have the chance to meet with numerous Sciences Po students and graduates. All will be actively seeking internships (whether as a mandatory part of their master's course or for a gap year), apprenticeships, fir
15.07.2021
The results of the 2021 Graduate Employability Survey on the class of 2019 show that Sciences Po students remain very attractive to employers, with 9 out of 10 graduates in professional activity. Despite a job market facing difficulties, 82% of our 2019 graduates found their first job in less than 6 months, and nearly ¾ of them have a stable profession. There are still just as many (37%) working abroad, in 84 countries. Discover all the results of our survey!
Read more news