Homepage
> Victor, diplômé 2018 du master Droit économique, spécialité Entreprises Marchés Régulations (EMR)
Victor, diplômé 2018 du master Droit économique, spécialité Entreprises Marchés Régulations (EMR)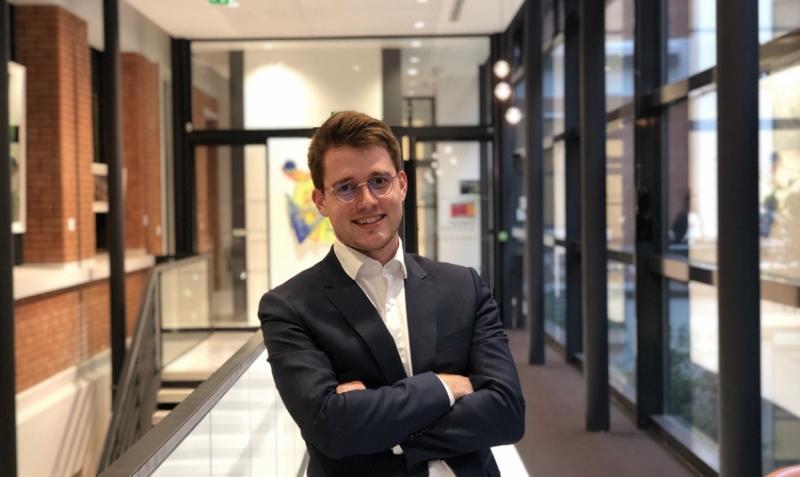 Rencontre avec Victor Renaudier, diplômé 2018 de l'École de droit - "Le doute fait partie de l'expertise"
Pouvez-vous nous décrire votre parcours ?
J'ai commencé mes études en 2013 en intégrant le Bachelor de Sciences Po, que j'ai suivi sur le Campus parisien. Ma troisième année, qui s'est déroulée à la Bucerius Law School de Hambourg, m'a donné un goût prononcé pour les études juridiques. J'ai donc naturellement poursuivi mon cursus au sein du master Droit économique de l'École de droit, dont je suis sorti diplômé en 2018.
Après Sciences Po, je me suis spécialisé en droit de la concurrence en étudiant au sein du Master 2 Droit européen des affaires de l'Université Paris II Panthéon-Assas, dirigé par Madame le Professeur Emmanuelle Claudel. J'ai finalisé mon parcours académique avec le LL.M. en Droit européen du Collège d'Europe, à Bruges, puis l'École de formation professionnelle des barreaux de la cour d'appel de Paris (EFB).
Côté expériences professionnelles, j'ai fait un stage de six mois dans l'équipe "Concurrence & Régulation" du cabinet BDGS et j'effectue actuellement mon stage final au sein du département "Concurrence & Droit européen" du cabinet Bredin Prat.
Au gré de mes expériences, j'ai développé une appétence particulière pour la chaîne d'approvisionnement agroalimentaire, de la production agricole à la distribution aux consommateurs.
Pour quelles raison avez-vous choisi la spécialité entreprises, marchés, régulations ?
La spécialité Entreprises, Marchés, Régulations (EMR) au sein du Master Droit économique me semblait être la formation la plus généraliste pour avoir des fondamentaux solides avant une spécialisation en droit de la concurrence à l'université. J'ai toujours envisagé mon cursus à l'École de droit de Sciences Po en complémentarité d'une formation en faculté de droit. De ce point de vue, la spécialité EMR ne m'a pas déçu.
Que retenez-vous de l'École de droit ?
Me faire former à l'École de droit de Sciences Po était pour moi un privilège : les étudiants y côtoient les plus grands spécialistes de leurs domaines ; ils éveillent notre intellect et affûtent notre esprit critique. L'École de droit m'a convaincu que le doute fait partie de l'expertise, que juger est un acte de volonté, que la hiérarchie des normes est une fiction juridique et que la dichotomie "théorie - pratique" est somme toute assez théorique.
Je suis admiratif de la capacité de l'École de droit de Sciences Po à construire des juristes solides tout en leur donnant du plaisir dans leur formation. C'est un cursus épanouissant et c'est sans doute cela qui fait sa richesse. Plus généralement, Sciences Po vous pousse à donner du sens à ce que vous faites.
L'École de droit a également été l'occasion pour moi de m'engager syndicalement en représentant mes camarades au sein du Conseil de la vie étudiante et de la formation de l'Institut d'études politiques. J'avais également le rôle de secrétaire général du club d'investissement 27 Investment Club. Ce type d'activités extra-universitaires fait partie intégrante de la richesse de l'École de droit.
Quels sont vos projets pour la suite ?
Après l'examen du CAPA (certificat d'aptitude à la profession d'avocat) et ma prestation de serment, je serai avocat collaborateur au sein de l'équipe "Concurrence & Investissements étrangers" du cabinet Linklaters. J'aimerais également continuer à donner des cours de travaux dirigés en droit de la concurrence à l'Université Paris II.
Un consiel pour celles et ceux qui souhaiteraient rejoidnre l'École de droit ?
Selon moi, il est fondamental de faire les choses par plaisir. Je pense qu'il ne faut pas avoir peur des échecs car ils sont la meilleure façon de connaître le bon chemin et d'avancer. Entre-aidez-vous, vous avez tout à y gagner. Enfin, et surtout, je crois qu'il est nécessaire de prendre du recul sur soi-même et de ne pas se surestimer afin de toujours rester en phase avec la réalité.
Victor Renaudier, diplômé 2018 du master Droit économique, spécialité Entreprises Marchés Régulations (EMR)
Last modified 2021-07-29
27.01.2023
If you are looking for interns or future employees, our guide 'Recruit at Sciences Po' will provide the relevant information about our students, the careers we train them for and how to leverage this great pool of talent to meet your recruitment needs.
20.12.2022
On Friday, September 29, the Careers Fair was held for the first time on Sciences Po's 1 Saint Thomas Campus. More than 1,000 Sciences Po students and graduates attended the event where they met with over 70 different employers to discuss internships, apprenticeships and job opportunities.
Read more news