Homepage
> "La dimension internationale de l'École de droit, avec de nombreux cours en anglais, a été pour moi déterminante"
"La dimension internationale de l'École de droit, avec de nombreux cours en anglais, a été pour moi déterminante"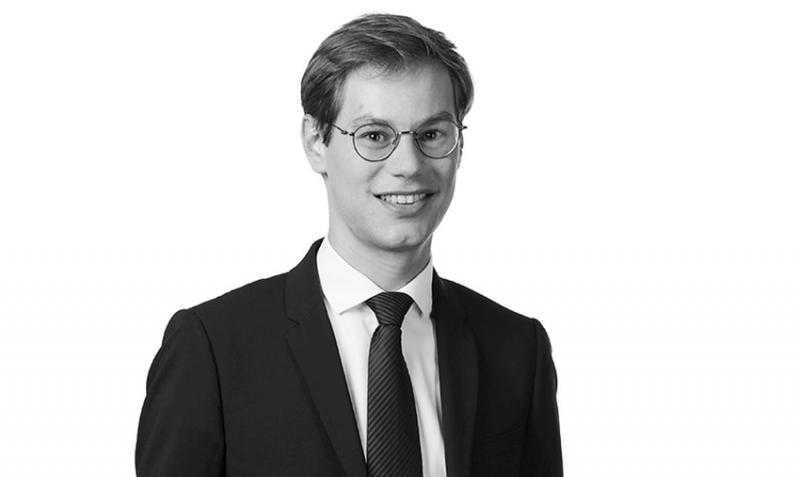 Rencontre avec Édouard Burlet, diplômé 2017
POUVEZ-VOUS NOUS DÉCRIRE VOTRE PARCOURS UNIVERSITAIRE ?
J'ai rejoint Sciences Po en 2011, sur le campus euro-américain de Reims qui accueillait alors sa deuxième promotion. J'ai suivi la formation commune et les enseignements juridiques qui y étaient proposés. J'ignore encore l'origine de mon intérêt pour le droit, mais les premiers cours que j'ai suivis m'ont beaucoup plu et j'ai donc choisi de me concentrer sur le droit lors de ma troisième année aux États-Unis, à l'Université de Californie du Sud (USC).
Rejoindre l'École de droit, et le master Droit Économique en particulier, était donc une évidence pour moi. A l'issue de la première année de master, j'ai choisi de faire une année de césure et d'effectuer deux stages dans des cabinets internationaux. J'ai achevé cette année de césure tout à fait enthousiasmé et déterminé à devenir avocat. J'ai effectué la deuxième année de master, spécialité Entreprises, Marchés, Régulations (EMR) puis passé les épreuves d'admission pour rejoindre l'École de Formation du Barreau de Paris (EFB) et obtenir mon certificat d'aptitude à la profession d'avocat (CAPA).
QUELLES SONT LES PRINCIPALES CARACTÉRISTIQUES DE VOTRE POSTE AUJOURD'HUI ?
Je suis avocat collaborateur au sein du cabinet Cleary Gottlieb Steen & Hamilton. Je fais partie de l'équipe "propriété intellectuelle, nouvelles technologies et protection de la vie privée" (que j'appellerai ici plus simplement "l'équipe technologies").
J'ai rejoint Cleary Gottlieb en tant que stagiaire en 2018, initialement pour travailler avec l'équipe "fusions-acquisitions", ce qui était dans la continuité de mon parcours académique et des stages que j'avais déjà effectués. Par hasard, j'ai été amené à travailler avec l'équipe technologies et j'ai été immédiatement captivé par les enjeux de cette matière (ou plutôt de ces matières, qui sont extrêmement diversifiées).
J'exerce une pratique de conseil et interviens fréquemment dans le cadre d'opérations de fusions-acquisitions, en me concentrant désormais sur les aspects technologiques de telles transactions. Il s'agit en effet de déterminer quelles technologies sont nécessaires pour nos clients et de mettre en place des mécanismes contractuels complexes (et longuement négociés !) pour le partage de ces technologies. Par ailleurs, je conseille souvent des entreprises en matière de protection des données personnelles et de la vie privée, sujet devenu central notamment depuis l'entrée en application du Règlement Général sur la Protection des Données (RGPD) en mai 2018.
QUELLE IMAGE ATTACHEZ-VOUS À VOTRE PASSAGE À SCIENCES PO ?
Rejoindre l'équipe technologies après une spécialisation en droit des sociétés et des marchés financiers n'était pas forcément une évidence ! Mon parcours à Sciences Po a été un véritable atout pour réussir ce changement de spécialité. Les enseignements de l'École de droit permettent d'acquérir des réflexes et de s'adapter rapidement à des situations juridiques très diverses. La combinaison de cours théoriques et de cours axés sur la pratique permet aux étudiant-e-s d'arriver en stage en ayant déjà des capacités de rédaction qui correspondent aux attentes des cabinets.
Par ailleurs, la dimension internationale de l'École de droit, avec de nombreux cours en anglais, a été pour moi déterminante car mon équipe est très internationale. Je travaille quotidiennement avec des avocat-e-s à Londres et à New York et mon travail est majoritairement en anglais.
Enfin, sur un plan plus personnel, j'ai été membre de l'Association des Juristes de Sciences Po (AJSP) dont je garde un excellent souvenir. Et je n'oublie pas le troisième étage de la bibliothèque du 30, où j'ai passé beaucoup de temps !
UN CONSEIL POUR CELLES ET CEUX QUI SOUHAITERAIENT REJOINDRE L'ÉCOLE DE DROIT ?
Développez votre curiosité ! Vous verrez que vous pourrez faire de nombreux parallèles entre vos intérêts personnels et votre pratique juridique académique puis professionnelle. Je pense que l'École de droit permet une grande ouverture d'esprit et il est important de découvrir des matières diverses et variées, juridiques ou non.
Je conseillerais également aux étudiant-e-s de se préparer à faire des stages si possible dans plusieurs domaines, tant pour découvrir le métier d'avocat (ou bien sûr une autre profession) que des matières différentes. On n'est jamais à l'abri d'un coup de cœur intellectuel inattendu !
Édouard Burlet, diplômé 2017 du master Droit économique spécialité Entreprises, Marchés, Régulations (EMR)
Last modified 2021-07-29
02.09.2021
Over the course of these three days, you will have the chance to meet with numerous Sciences Po students and graduates. All will be actively seeking internships (whether as a mandatory part of their master's course or for a gap year), apprenticeships, fir
15.07.2021
The results of the 2021 Graduate Employability Survey on the class of 2019 show that Sciences Po students remain very attractive to employers, with 9 out of 10 graduates in professional activity. Despite a job market facing difficulties, 82% of our 2019 graduates found their first job in less than 6 months, and nearly ¾ of them have a stable profession. There are still just as many (37%) working abroad, in 84 countries. Discover all the results of our survey!
Read more news