Homepage
> Claire, diplômée 2019 du master Droit économique spécialité Global Business Law and Governance (GBLG)
Claire, diplômée 2019 du master Droit économique spécialité Global Business Law and Governance (GBLG)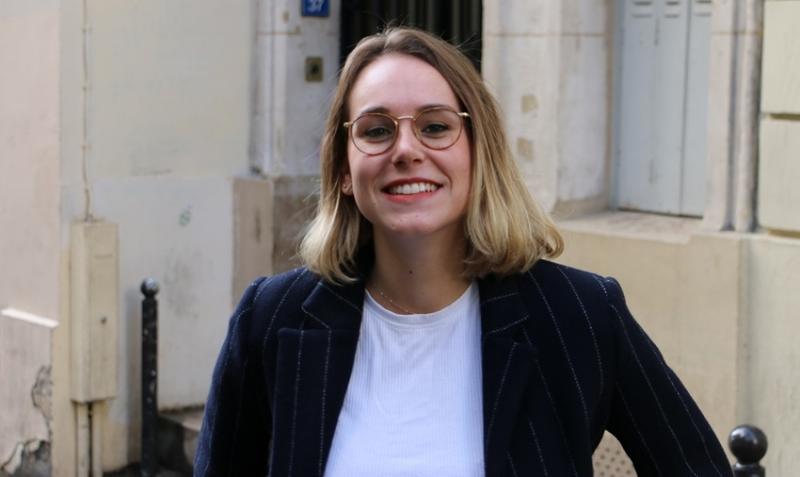 Rencontre avec Claire Fohet, diplômée 2019 de l'École de droit - "Ne vous mettez pas trop la pression !"
Pouvez-vous nous retracer votre parcours universitaire ?
J'ai rejoint le Campus parisien de Sciences Po en 2013 directement après mon baccalauréat scientifique. Après deux années généralistes axées sur l'étude des sciences sociales, je suis partie un an à l'autre bout du monde pour étudier à l'université de Sydney.
À mon retour, j'ai intégré le master Droit économique de l'École de droit de Sciences Po. Comme beaucoup d'étudiants, j'ai pris une année de césure à l'issue du M1 que j'ai consacrée à deux stages longs, en contentieux commercial dans un cabinet d'avocats français d'abord, puis dans un cabinet de conseil en politiques publiques urbaines en Afrique du Sud.
Pour ma dernière année à Sciences Po, j'ai eu la chance d'être admise dans la spécialité Global Business Law and Governance, qui s'articule entre un premier semestre à la Columbia Law School de New York, et un second partagé entre des cours à Sciences Po et à l'université Paris 1 Panthéon-Sorbonne.
J'ai ensuite été reçue à l'examen d'accès au Centre régional de formation professionnelle d'avocats (CRFPA) et poursuivi directement sur un master 2 en finance d'entreprise et de marché à l'université Paris-Dauphine.
Enfin, je viens d'intégrer ce mois-ci l'École de formation professionnelle du Barreau de Paris (EFB), qui me permettra je l'espère de prêter serment fin 2022.
Comment est né votre intérêt pour les études de droit ?
Je souhaite être avocate depuis l'âge de 12 ans environ !
Je ne sais plus exactement ce qui a déclenché cet intérêt, mais c'est vrai que j'ai toujours aimé discuter, débattre et – il faut bien l'admettre – avoir raison. L'avocature est une voie qui valorise la prise de parole, l'argumentation, la partialité, son essence même est de parvenir à convaincre autrui. C'est pour cela que je souhaite débuter ma carrière en contentieux, civil, commercial ou même pénal.
Enfin, cette profession est selon moi indispensable au sein de la société, l'avocat jouant un rôle essentiel dans la fonction régalienne de la justice ainsi que pour la protection des droits et libertés fondamentaux.
Quels sont vos projets pour la suite ?
Obtenir le Certificat d'aptitude à la profession d'avocat et enfin en finir avec les études !
Que retenez-vous de l'École de droit ?
Je garde de cette école l'offre d'une formation complète, ponctuée de nombreux évènements, qui nous prépare à nos différents stages en cabinet d'avocats. La scolarité est organisée pour que l'on ait les outils méthodologiques et les réflexes juridiques nécessaires pour réussir l'examen du barreau. Mais je retiens aussi et surtout de m'y être beaucoup amusée ! Je pense avoir bien profité de ces années étudiantes, j'y ai fait de très belles rencontres et je garderai d'excellents souvenirs de ces moments.
Quel est l'enseignement qui vous a le plus marquée ?
À Sciences Po, j'ai particulièrement été marquée par deux cours académiques : "Épistémologie du droit" de Jean-Pascal Chazal (j'en retiens que le droit est tout sauf une science exacte et qu'il faut apprendre à en manier ses principes avec prudence et discernement), et "Figures de la pensée juridique américaine" de Louis Assier-Andrieu, passionnant pour la culture générale.
À l'inverse, lorsque j'étais à Columbia, j'ai préféré les enseignements pratiques comme le cours "Negociations" ou encore "Deals Litigation", où nous devions représenter des clients lors de simulations de cross-examination et plaider devant un faux jury.
Un consiel pour celles et ceux qui souhaiteraient rejoindre l'École de droit de Sciences Po ?
Ne vous mettez pas trop la pression ! Même s'il peut sembler aride, ce master est à la portée de tous et c'est petit à petit que nous sommes amenés à appréhender la discipline juridique. Les professeurs et l'équipe pédagogique sont disponibles et à l'écoute des étudiants. Cette formation est réputée pour sa charge de travail, certes, mais tout est relatif et on peut très bien s'en sortir !
Je pense enfin qu'il est tout à fait envisageable de faire ce master sans vouloir exercer en tant qu'avocat. Ces études sont valorisées et ouvrent de nombreuses portes dans d'autres domaines, juridiques ou non.
Claire Fohet, diplômée 2019 du master Droit économique spécialité Global Business Law and Governance (GBLG)
Last modified 2021-07-29
27.01.2023
If you are looking for interns or future employees, our guide 'Recruit at Sciences Po' will provide the relevant information about our students, the careers we train them for and how to leverage this great pool of talent to meet your recruitment needs.
20.12.2022
On Friday, September 29, the Careers Fair was held for the first time on Sciences Po's 1 Saint Thomas Campus. More than 1,000 Sciences Po students and graduates attended the event where they met with over 70 different employers to discuss internships, apprenticeships and job opportunities.
Read more news