Homepage
> "J'ai été séduite par le défi de devenir une réelle technicienne juridique en deux années"
"J'ai été séduite par le défi de devenir une réelle technicienne juridique en deux années"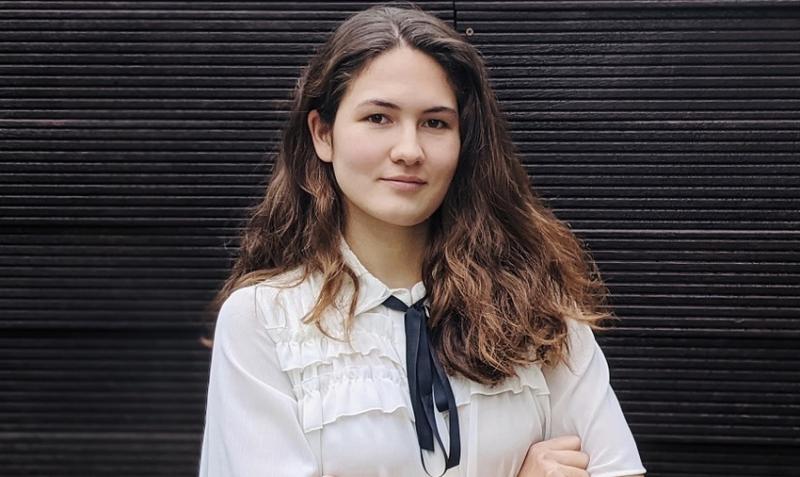 Rencontre avec Perline Pesme, diplômée 2020 de l'École de droit
POUVEZ-VOUS NOUS RETRACER VOTRE PARCOURS UNIVERSITAIRE ?
Après avoir obtenu mes baccalauréats français et américain aux États-Unis, j'ai d'abord étudié les relations internationales pendant un an à Old Dominion University en Virginie. J'ai ensuite intégré le collège universitaire de Sciences Po sur le campus euro-américain à Reims. Ces deux premières années rémoises, particulièrement enrichissantes, ont profondément marqué ma scolarité autant sur le plan académique que sur le plan humain. Pour ma troisième année, j'ai fait le choix de partir en échange universitaire à Queen's University at Kingston au Canada.
À l'issue de cet échange, j'ai décidé de rejoindre le master Droit économique de l'École de droit. Encore hésitante sur mon avenir et ayant toujours eu une appétence pour le droit, j'ai été séduite par le défi de devenir une réelle technicienne juridique en deux années et par la possibilité d'acquérir une année d'expérience professionnelle. J'ai ainsi effectué une année de césure entre mes deux années de master afin de mettre en pratique les connaissances théoriques acquises pendant la première année du master et me confronter à la réalité du terrain.
POUR QUELLES RAISONS AVEZ-VOUS CHOISI LA SPÉCIALITÉ GLOBAL GOVERNANCE STUDIES PROPOSÉE AU SEIN DE L'ÉCOLE DE DROIT ?
Mon année de césure a été déterminante dans mon choix de spécialité. À son commencement, j'étais convaincue de devenir avocate spécialisée en droit des affaires. Mes différentes expériences en cabinets d'avocats m'ont beaucoup apporté sur le plan professionnel et m'ont permis de découvrir différentes branches du droit. Mais elles m'ont fait prendre conscience que je souhaitais avant tout servir mon pays et m'engager dans des métiers de sécurité ou de défense. Je souhaitais également renouer avec mon intérêt pour les relations internationales. La spécialité Global Governance Studies m'apparaissait ainsi être le meilleur choix pour compléter l'approche juridique très franco-française de la première année. J'ai pu découvrir de nouvelles facettes du droit international public comme le droit des conflits armés ou l'application des droits de l'homme par les entreprises.
QUEL EST L'ENSEIGNEMENT QUI VOUS A LE PLUS MARQUÉE ?
Il est difficile d'en choisir un en particulier tant les enseignements ont tous participé à enrichir ma formation juridique. J'ai particulièrement aimé les cours de droit des obligations et de responsabilité civile en première année car ils m'ont permis de saisir toute la technicité du droit et ont été très utiles pendant mes stages.
Pendant ma deuxième année, j'ai particulièrement apprécié l'atelier sur le droit de la mer dispensé par Monsieur Pierre Boussaroque. Ce cours m'a permis de mettre en pratique les théories du droit international public que j'avais vues avec le cours de la Professeure Emmanuelle Tourme-Jouannet, qui est lui-même très utile pour apprendre à voir les évènements d'actualités à travers un véritable œil de juriste international.
QUEL EST VOTRE PROJET PROFESSIONNEL ?
Après l'obtention de mon diplôme au printemps 2020, j'ai décidé de consacrer cette année à la préparation des concours de sécurité et de défense de la fonction publique. Mon projet professionnel n'est donc pas encore définitif et je reste ouverte à toutes les opportunités qui se présenteraient aussi bien en France qu'à l'étranger. Je suis intimement convaincue que Sciences Po nous ouvre beaucoup de portes, peu importe nos choix académiques antérieurs. J'espère pouvoir continuer à travailler sur les questions relatives au droit international humanitaire, au droit pénal international ou encore au droit de la mer.
UN CONSEIL POUR CELLES ET CEUX QUI SOUHAITERAIENT REJOINDRE L'ÉCOLE DE DROIT DE SCIENCES PO ?
Le choix d'un master est une étape importante dans le parcours de chaque étudiant et peut être source d'incertitudes et de questionnements. Mais il faut garder à l'esprit que choisir un master ne vous fermera pas nécessairement des portes, ni ne vous fera renoncer à certains rêves. Au contraire ! L'École de droit de Sciences Po vous offrira une solide formation de juriste et vous permettra de construire votre parcours comme vous le souhaitez tant les opportunités sont variées et enrichissantes. Alors si vous êtes intéressés par le droit, recherchez une formation professionnalisante et stimulante et souhaitez relever de nouveaux défis, les portes de l'École de droit n'attendent plus que vous ! Je suis convaincue que la détermination, la rigueur et la motivation sont des qualités clés pour atteindre ses objectifs et ses rêves.
Perline Pesme, diplômée 2020 du master Droit économique spécialité Global Governance Studies (GGS)
Last modified 2021-07-29
02.09.2021
Over the course of these three days, you will have the chance to meet with numerous Sciences Po students and graduates. All will be actively seeking internships (whether as a mandatory part of their master's course or for a gap year), apprenticeships, fir
15.07.2021
The results of the 2021 Graduate Employability Survey on the class of 2019 show that Sciences Po students remain very attractive to employers, with 9 out of 10 graduates in professional activity. Despite a job market facing difficulties, 82% of our 2019 graduates found their first job in less than 6 months, and nearly ¾ of them have a stable profession. There are still just as many (37%) working abroad, in 84 countries. Discover all the results of our survey!
Read more news