Entretien avec Aziz Essid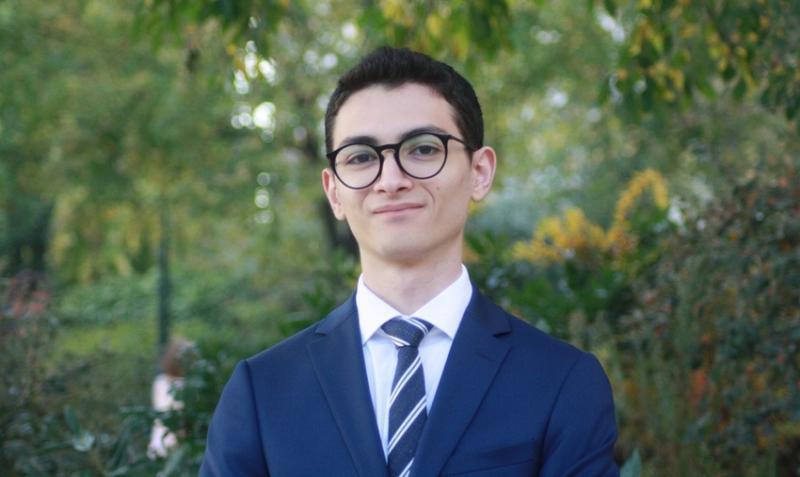 Diplômé 2020 du master Droit économique, spécialité Global Governance Studies
POUVEZ-VOUS NOUS RETRACER VOTRE PARCOURS À SCIENCES PO ?
Ayant vécu en Tunisie jusqu'à mes 18 ans, j'ai intégré le Collège universitaire de Sciences Po au sein du campus de Menton, spécialisé sur la zone Moyen-Orient Méditerranée. Ces deux années m'ont permis de découvrir des disciplines qui continuent aujourd'hui à me passionner : les relations internationales, le droit ou encore la sociologie. J'ai ensuite choisi de passer ma troisième année d'échange au Royaume-Uni à l'université de Warwick, qui présente l'avantage de nous faire évoluer au sein d'un immense campus proposant tous les services d'une petite ville. À l'issue de cet échange, je suis entré au sein du master Droit économique, spécialité Global Governance Studies. Entre la première et la deuxième année de master, j'ai pris une année de césure au cours de laquelle j'ai effectué plusieurs stages en cabinets d'avocats.
POUR QUELLES RAISONS AVEZ-VOUS CHOISI LA SPÉCIALITÉ GLOBAL GOVERNANCE STUDIES PROPOSÉE AU SEIN DE L'ÉCOLE DE DROIT ?
Deux raisons m'ont conduit à m'orienter vers cette spécialité. La première est l'intérêt prononcé que j'ai développé pour le droit international public au cours de mon année au Royaume-Uni. Cette discipline éclaire d'un jour différent les relations entre les États et les rapports de force qui les caractérisent. La spécialité Global Governance Studies, qui fait la part belle au droit international, s'inscrivait donc naturellement dans la suite de mon parcours.
La deuxième raison pour laquelle j'ai choisi cette spécialité remonte à un stage de découverte que j'ai effectué en 2017 auprès d'un avocat spécialisé en arbitrage international. Cette expérience, bien que brève, a suscité chez moi une vraie curiosité pour l'arbitrage, qui permet de régler les litiges à forts enjeux entre les acteurs du commerce international, voire entre une entreprise et un État. Or la spécialité Global Governance Studies, dispensée en anglais, est celle qui offre le plus de cours d'arbitrage international, avec une équipe de professeurs composée tant d'avocats de haut niveau que d'universitaires.
QUEL PROJET EXTRA-SCOLAIRE AVEZ-VOUS PU RÉALISER LORS DE VOS ANNÉES À L'ÉCOLE DE DROIT ?
Chaque année, un concours de plaidoirie nommé "La Comparution" est organisé au sein de l'École de droit de Sciences Po. Après une phase de sélection opposant des étudiants jouant le rôle de procureurs à des étudiants jouant celui d'avocats, une finale est organisée en présence d'un jury prestigieux composé d'avocats pénalistes, de magistrats et du doyen de l'École de droit. Ce concours simule des audiences de comparution immédiate, lors desquelles sont jugés certains délits de façon accélérée.
Étant féru d'éloquence, je n'ai pas hésité à participer aux sélections et suis parvenu en finale en 2018 et en 2020. La finale 2020, qui s'est tenue à la Cour d'appel de Paris deux semaines seulement avant le premier confinement, restera gravée dans mon esprit.
QUEL ENSEIGNEMENT VOUS A LE PLUS INTÉRESSÉ ?
Deux enseignements m'ont particulièrement marqué. Le premier est sans doute le cours de responsabilité civile de première année. Bien que très technique et peu attirante au premier abord, cette discipline permet d'envisager le droit sous un angle extrêmement pratique, et d'aborder des problèmes qui se posent quotidiennement tant aux individus qu'aux entreprises.
En deuxième année, j'ai fortement apprécié l'enseignement de droit international public dispensé par la Professeure Emmanuelle Tourme-Jouannet, qui aborde cette matière de façon originale, à travers l'actualité internationale.
QUEL EST VOTRE PROJET PROFESSIONNEL ?
J'ai intégré cette année un master 2 à l'université Panthéon-Assas, afin de compléter mes compétences en procédure civile et en arbitrage. Mon objectif reste aujourd'hui le même que celui qui m'avait poussé à intégrer le master Droit économique, à savoir celui de pratiquer le métier d'avocat en arbitrage et en contentieux.
L'arbitrage, en particulier, connaît une croissance rapide dans les pays du Moyen-Orient et d'Afrique du nord, ce qui ouvre des opportunités pour la nouvelle génération de juristes arabophones issus de la région.
UN CONSEIL POUR CELLES ET CEUX QUI SOUHAITERAIENT REJOINDRE L'ÉCOLE DE DROIT DE SCIENCES PO ?
L'École de droit de Sciences Po est le résultat d'un projet pédagogique ambitieux, fascinant à certains égards, qui a bousculé l'enseignement traditionnel du droit. Cette approche pionnière du droit doit inspirer à chaque nouvel étudiant de l'École de droit l'envie de relever les défis qui lui tiennent à cœur – qu'ils soient d'ordre professionnel ou associatif.
Concrètement, mon conseil serait de prendre une année de césure pour s'immerger dans plusieurs domaines différents du droit et pour diversifier les structures d'accueil : cabinets d'avocats, entreprises, juridictions, ONG ou encore think-tanks, quitte à effectuer trois stages pendant l'année. Cette césure, qui doit être perçue comme une forme d'expérimentation, permet ensuite d'effectuer un choix de spécialité et de carrière éclairé.
Aziz Essid, Diplômé 2020 du master Droit économique, spécialité Global Governance Studies (GGS)
Last modified 2021-07-29
02.09.2021
Over the course of these three days, you will have the chance to meet with numerous Sciences Po students and graduates. All will be actively seeking internships (whether as a mandatory part of their master's course or for a gap year), apprenticeships, fir
15.07.2021
The results of the 2021 Graduate Employability Survey on the class of 2019 show that Sciences Po students remain very attractive to employers, with 9 out of 10 graduates in professional activity. Despite a job market facing difficulties, 82% of our 2019 graduates found their first job in less than 6 months, and nearly ¾ of them have a stable profession. There are still just as many (37%) working abroad, in 84 countries. Discover all the results of our survey!
Read more news